From your friends at Shift, Happy New Year to all of our readers and supporters!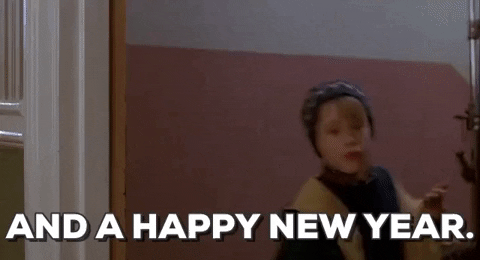 Best of Newsmaker Interviews 2020 Part II
On Monday, we sent out our first year-end special edition with 10 of our favorite Newsmaker Interviews with elected officials.  Today, we send our second special edition of our favorite Newsmaker Interviews with community leaders, policy makers, and advocates.   We hope you enjoy these perspectives on many of the pressing issues in Washington State.
From all your friends at Shift, we wish you all a Happy New Year and we look forward to resuming the Daily Briefing on Monday.
December 11, 2020 – Lynn Brewer
This week's Newsmaker Interview is with noted author Lynn Brewer who has been investigating the mismanagement of the Washington State Employment Security Department (ESD) and how one of the largest thefts in American history was allowed to take place last Spring when hundreds of millions of taxpayer dollars were stolen by foreign criminals.  We first heard of Ms. Brewer when Mike Flynn, the former publisher of the Puget Sound Business Journal, wrote about the lawsuit she filed against the Inslee Administration for failing to provide documents Brewer sought in her public disclosure requests. The few documents Brewer has obtained, and the Inslee Administration's slow response, has led to more troubling questions about what took place at ESD.  As a former executive at Enron and as a book author (Confessions of an Enron Executive: A Whistleblower's Story), Ms. Brewer has firsthand experience of large financial scandals and how executives attempted to cover-up criminal activity.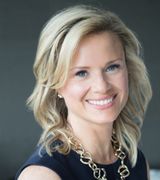 December 4, 2020 – Moya Morgan Skillman
Shift's Newsmaker Interview is with Moya Morgan Skillman, a Bellevue mother of two, who is involved with the local School is Essential group that aims to bring "kids back in the classroom and stop the mental health pandemic and achievement gap that the school shutdown has created."  Skillman discusses the data that shows it is safe to reopen schools and the political reasons why this has not occurred.  Skillman also announces the formation of a new statewide organization, the Washington Alliance 4 Kids, that will be a statewide advocacy group to reopen schools.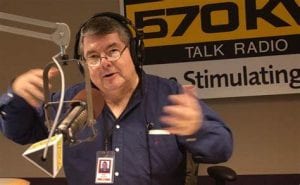 October 23, 2020 – Kirby Wilbur
Shift's Newsmaker Interview is with one of our favorite people in the media, Kirby Wilbur from KVI AM 570 (Weekdays 3:00PM – 6:00PM). Kirby has been a rational and steady voice for the conservative perspective for nearly 30 years.  Kirby shares with us the highlights of his career (including interviewing Richard Simmons in-person in the studio) and the local conservative movement (gaining international coverage with rally against "Hillarycare").  He also shares his thoughts about what conservatives need to do to get elected in Washington State, the local liberal media, and the future of talk radio and the conservative movement.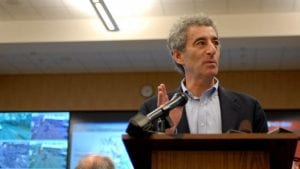 September 18, 2020 – Professor Cliff Mass
Shift's Newsmaker Interview is with University of Washington's Atmospheric Science Professor Cliff Mass. The professor literally wrote the book on local weather patterns ("The Weather of the Pacific Northwest"), yet he is best known by many for his skirmishes with members of the liberal academia and the "cancel culture" who want to silence his scientific findings and viewpoints.  Recently, Mass was fired from public radio KNKX for a blog post he made regarding the current conditions in downtown Seattle and the on-going violent protests.  This past week, Mass again made headlines for refuting Governor Jay Inslee's assertions that the wildfires were caused by climate change.  In his interview with Shift, Professor Mass talks about false climate change declarations, fear in academia, and the dangers of the cancel culture.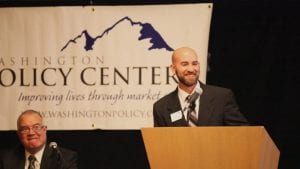 This week's Newsmaker Interview is with Jason Mercier, Director of the Center for Government Reform at the Washington Policy Center. Given the stubborn refusal of Governor Inslee and the Democrat legislative leadership to call a special session to reduce the state's expenditures to align with projected budget revenue, we thought it would be an appropriate time to talk with one of the leading experts on the Washington State budget. Perhaps that will allow us all to better understand the strategy behind the Democrats' irresponsible decisions.  Jason discusses the damage the Democrats are causing to the state's budget, the pay raise Governor Inslee just gave state employees (while millions of Washington taxpayers are facing financial insecurities), the Democrats' desire for a new state income tax, making collective bargaining negotiations more transparent for taxpayers, and finally breaking down to buy a smart phone.
Our Newsmaker Interview for this week is KVI host John Carlson.  John has provided the conservative free market perspective through his radio shows and newspaper columns since the early 1980s.  In our interview John talks about the many successes Republicans had during the 2020 legislative session (despite being in the minority), the impact of KVI on both local and national politics, and what it is like to be a conservative commentator in ultra-liberal Seattle.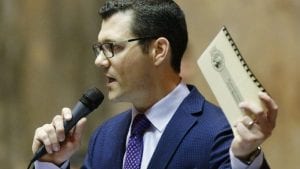 Shift's Newsmaker Interview is with Joe Fain, President and CEO of the Bellevue Chamber of Commerce and former Washington State Senator from the 47th Legislative District.  Fain provides his unique thoughts on Amazon bringing 15,000 jobs to Bellevue, the current political culture, and not giving up on Seattle.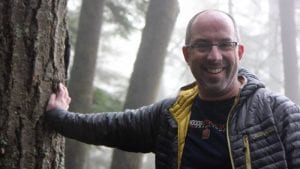 December 27, 2020 – Todd Myers
Shift's Newsmaker Interview is with Todd Myers is the Director of the Center for the Environment at the Washington Policy Center.  He is the author of the nationally acclaimed book "Eco-Fads: How the rise in trendy environmentalism is hurting the environment" and has been published in the Wall Street Journal, National Review, USA Today, and many other publications. Todd is also the President of the upcoming (virtual) 2021 Roanoke Conference.
Like what you read?
Do you like The Daily Briefing?
Please consider making a contribution to ensure Shift continues to provide daily updates on the shenanigans of the liberal establishment.
Forward this to a friend.  It helps us grow our community and serve you better.
You can also follow SHIFTWA on social media by liking us on Facebook and following us on Twitter.
If you feel we missed something that should be covered, email us at [email protected]