This week's Newsmaker Interview is with noted author Lynn Brewer who has been investigating the mismanagement of the Washington State Employment Security Department (ESD) and how one of the largest thefts in American history was allowed to take place last Spring when hundreds of millions of taxpayer dollars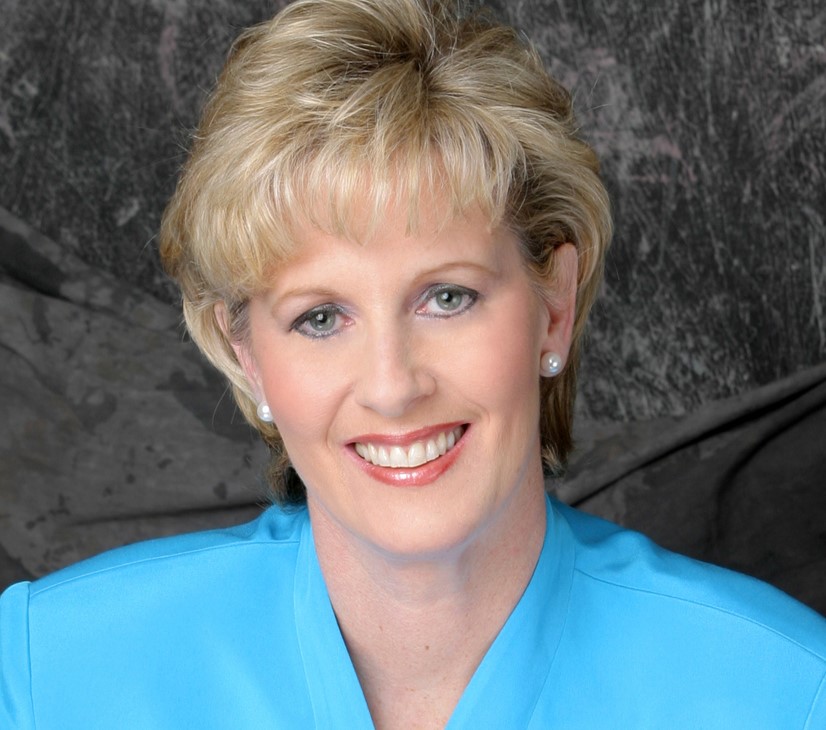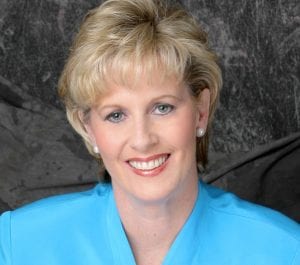 were stolen by foreign criminals.  We first heard of Ms. Brewer when Mike Flynn, the former publisher of the Puget Sound Business Journal, wrote about the lawsuit she filed against the Inslee Administration for failing to provide documents Brewer sought in her public disclosure requests. The few documents Brewer has obtained, and the Inslee Administration's slow response, has led to more troubling questions about what took place at ESD.  As a former executive at Enron and as a book author (Confessions of an Enron Executive: A Whistleblower's Story), Ms. Brewer has firsthand experience of large financial scandals and how executives attempted to cover-up criminal activity.
What are you attempting to learn in your investigation into the Employment Security Department?
This is going to be a process to find out who knew what and when.  I initially wanted to know what (ESD Commissioner and Governor Inslee appointee) Suzi LeVine knew and when, but now I want to know what she is hiding and why?
What have you found or determined thus far from your research?
So far, my research has been limited by Suzi LeVine's refusal to turn over documents, which is why the lawsuit was necessary.
You have filed public disclosure requests with the ESD.  What were you attempting to obtain?  And what was the response to your request?
I have made two separate records requests.
The first one was sent on June 6th in which I requested "all email communications between Governor Jay Inslee and Employment Security Division Commissioner Suzi LeVine for the period March 15, 2020 and June 6, 2020 as it relates to delayed employment security claims and payments."
To this request, I received the following response (linked), stating for this 7-week period of time, there were "tens of thousands" of emails!!  Red flags went up when I realized that in 52 days, the Commissioner sent or received more than 10,000 emails regarding delayed payments.  Ultimately, LeVine has refused to produce any documents requiring we file a lawsuit for violations of the Public Records Act.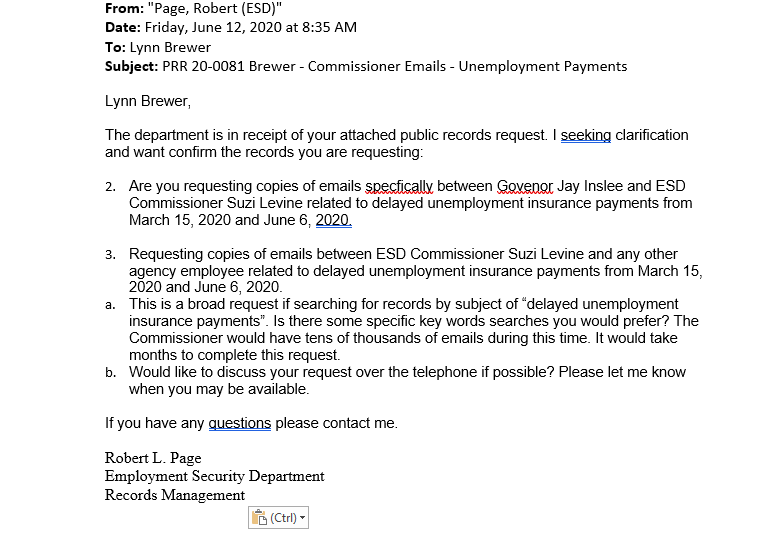 The second records request was sent on June 11, 2020 and it requested:
"Please provide all text messages from Employment Security Commissioner LeVine's state issued AND personal cell phone for any business related to the delayed unemployment benefits for the period March, 2020 to present."  Those records were partially produced on September 16, 2020, despite a promise they would be delivered in mid-August.
I have received Ms. LeVine's text messages, and two stand out as very interesting.  The first says "I just got a text from Gov" but there was no text from the Governor included in the public records response.  The second is shown below (and linked)—the blue is LeVine's texts.  The gray is a response from an unknown person.  Interestingly enough, the fraud began in March but LeVine casually calls it "our imposter fraud situation" – a $600M situation?  She does not ask for a contact for the local FBI until May 14.  The FBI had "warned" ESD about potential fraud in "mid-April".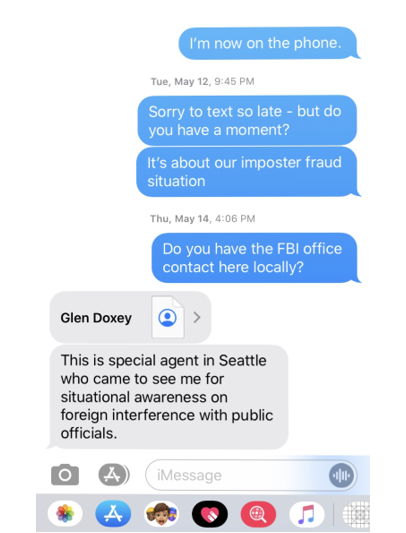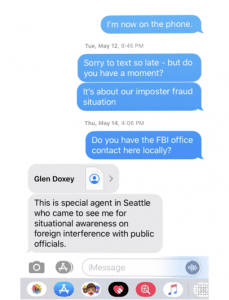 You have since filed a lawsuit against the Employment Security Department. What are you seeking from this lawsuit?  What is the timeline for when the court will make any decisions?
The lawsuit was filed because ESD is violating the Public Records Act. I am seeking all responsive records to my records request.  From there, I will make some decisions about how to proceed based upon what I find.  It is my understanding that a scheduling conference is scheduled with the Thurston County Superior Court on Friday, December 11, 2020.
Why did you decide to investigate the Washington State Employment Security Department?
Each and every state agency exists for the benefit of the residents of Washington state.  The best analogy I have is that residents of Washington are akin to "shareholders" and as such the agencies are accountable to us, just as a public corporation is to its shareholders.
Washington's "rainy day fund" covers 8% of the annual general fund expenditures.  This puts Washington at #26 as far as fiscal responsibility to be able to cover unexpected expenses.[1]  As of June 2019, according to the Office of the State Treasurer, our rainy day fund was approximately $1.6B.[2]  For FY2020, the State has reserve funds of $1.9B.[3]  To fight homelessness, Governor Inslee proposed withdrawing $319M from the rainy day fund.[4]  To respond to the pandemic, Inslee proposed withdrawing another $200M.[5]  These two withdrawals would reduce our rainy day fund to close to $1B.
I immediately asked, from where is the state going to recover the funds if not from the rainy-day fund—which means in essence the state's rainy-day fund could become "insolvent".
So, like most things, my investigation started with "How could this happen?" This led me to my next question, how does Suzi LeVine still have a job? As "shareholders", Washingtonians have a right to know the answer and I realized that I had to do what I could to find out the truth.  While, I had hoped that the State Auditor would find the answers, I now realize that Ms. LeVine, and by default Governor Inslee, are intentionally keeping us in the dark, so my question is – what are they hiding?
How can people follow your lawsuit against the ESD and follow your investigation?
This investigation will be for the people of Washington who have been harmed by the ESD's mismanagement and the failure of Governor Inslee to protect Washingtonians.  As information can be made public, it will be.
[1] https://files.taxfoundation.org/20200422180547/Rainy-Day-Funds-FV2-01.png
[2] https://tre.wa.gov/portfolio-item/23437/
[3] https://taxfoundation.org/state-rainy-day-funds-covid-19/
[4] https://crosscut.com/2019/12/gov-inslee-wants-tap-states-emergency-fund-address-homelessness and https://www.thenewstribune.com/news/politics-government/article241161991.html
[5]  https://kuow.org/stories/washington-state-gets-200-million-in-covid-19-response-aid