Remember earlier this year when Democrat State Senator Rebecca Saldana rightfully received criticism for breaking Washington State laws when she provided testimony in a legislative hearing while operating a motorized vehicle? In Spokane, a liberal candidate for city council is now receiving criticism for operating a bike on Spokane streets while at the same time streaming live videos of himself for his Facebook campaign page.
Just another example of the typical (and hypocritical) liberal approach to public policy: one set of laws for thee, and another for me.
Evidently the candidate thought he was upping his urban hipster cred by flagrantly breaking Washington State laws for operating a bicycle on public streets. He may soon regret that approach.
Meet failed state representative candidate, and current Spokane City Council candidate, Zack Zappone, who filmed a six-minute Facebook live video on his phone during primary week — gleefully announcing to his viewer(s) that he was going to ride his bike in the Shadle neighborhood to a ballot dropbox. All the while talking about the importance of a key civic virtue – voting for him.
No go-pro in sight mind you – just a personal electronic device, a ballot, and a bike. Add some bowling pins, and he might've been juggling his way to the circus.
All the way to the ballot dropbox, Mr. Zappone is clearly holding his phone and with one hand, filming while operating the bicycle with the other.
At one point the stuntman wannabe is filming himself with one hand and lifts up his ballot with the other, operating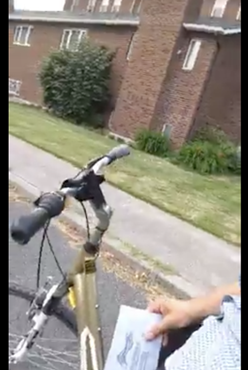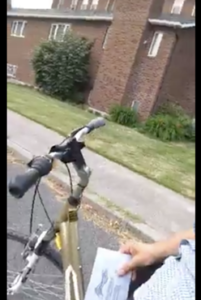 his moving vehicle with no hands on the wheels. A bold move for the attention-seeker, turned city council candidate, let alone any cyclist to do in the middle of a busy street.
Perhaps they don't teach this at Princeton, where Zappone brags he earned a degree, but WSDOT bicycle laws treat bicycles as a legal road vehicle, just like a car. Was Zappone knowingly committing a distracted driver infraction? Hard to say — but his chosen profession makes this even more galling.
As a high school teacher, and ostensibly a role model, one would hope Zappone would know better. It's little better than a teen texting and driving.
Perhaps he learned it was okay after seeing State Senator Rebecca Saldana on video, driving her car while testifying in a Senate hearing earlier this year.
We should note that Zappone is in a race for the 3rd District council seat against Mike Lish.
Now to be fair, it's not worse than the example set by Democrat Representative Timm Ormsby, who after an afternoon of writing the state budget (and drinking beers), drove a jeep into a ditch and was charged with DUI. No surprise — Representative Ormsby has publicly endorsed and even held a fundraiser for Mr. Zappone. Perhaps he'll join him on a future bike ride in an endorsement video.
After all, it was only a few months ago that Zack Zappone was running for State Representative, hoping to serve with Senator Saldana and Representative Ormsby in Olympia, so why not break the law when there are so little consequences for those who make the laws?
In addition to Representative Ormsby, Zappone is endorsed by other Olympia lawmakers who jammed through police reform bills that have tied the hands of law enforcement, resulting in negative impacts in cities across Washington state. He is also endorsed by the Washington State Democrat Party as one of its "Rooted to Win" candidates.
This is the same Democrat party that its Chair Tina Podlodowski has chosen to support the ultra-extremist Nicole Thomas-Kennedy for Seattle City Attorney.  Thomas-Kennedy has gained notoriety for her recent tweets where she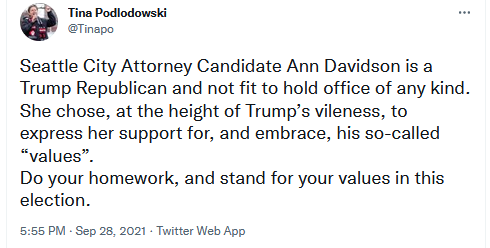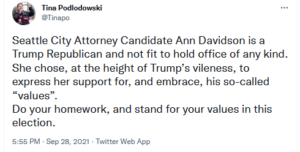 called those who set fire to a youth detention facility "Heroes" and said police should "Eat some covid laced sh*t & quit ur jobs."
What does it say about candidate Zappone that he still allows his image to be used on the Washington State Democrat's website despite its Chair supporting such an anti-law enforcement candidate?  Does he support the radical agenda of Nicole Thomas Kennedy as well?
For now, we do know that, like his progressive counterparts, Zappone shows the same level of disregard for our laws while seeking to impose his own radical "defund the police" views on the people he seeks to represent.
Spokane voters will soon receive their ballots and they will decide if they want someone who openly flaunts breaking state laws while campaigning and is associated with such radical Seattle candidates as Nicole Thomas-Kennedy.