A website and connecting Twitter account have been created featuring the hate-filled Twitter comments of the ultra-extreme Seattle City Attorney candidate Nicole Thomas-Kennedy.  (Many have noted that Thomas-Kennedy is so extreme that not even Socialist gadfly Kshama Sawant has endorsed her campaign.)
Apparently earlier this year the candidate scurried to hide her hatred for anyone who dared to think differently than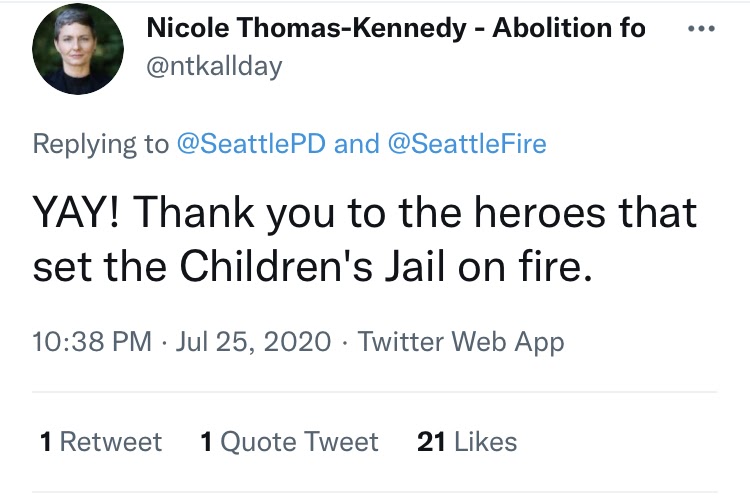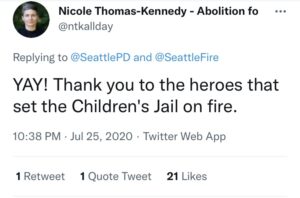 herself by deleting many of the tweets. Fortunately for voters, there were several different sources who had previously captured many of the misguided tweets of Ms. Thomas-Kennedy (who egotistically likes to call herself "NTK", evidently copying national leftists like AOC).
This new website pulls them all together in one place and breaks them down into different categories.
Last week, NTK attempted to defend her hate-filled and violence-supporting tweets by providing the incredibly laughable defense that they were meant as "satire and sarcasm."  It is very difficult to find any satire or sarcasm in comments like, "(Police) Eat some covid laced sh*t & quit ur jobs," or ""Cops are serial killers, and a big chunk of you are serial killer apologists." or when she used the term "Heroes" to describe the criminals who placed explosive devices in the walls of the Seattle Police Department's East Precinct.
This is not satire or sarcasm.  This is hate and this is blatant support of political violence.
As one reads through NTK's tweets, remember that Washington State Democrat Party Chair Tina Podlodowski posted a tweet in support of NTK's candidacy just last week.
In her tweet Podlodowski asserts, "Do your homework, and stand for your values in this election."    If Podlodowski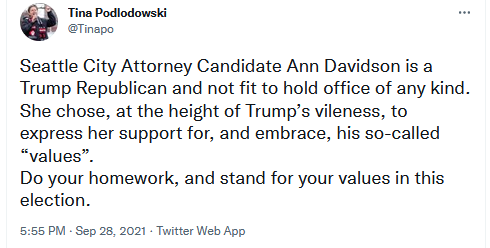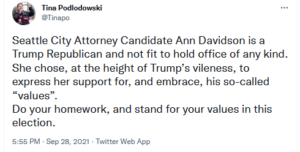 followed her own advice and did her homework, then she knew of all NTK's violent tweets, and the Democrat State Chair still supports her candidacy. So, evidently the "values" current Democrat Party Chair is willing to "stand for" include police hatred, violence, and property crime
This reflects a division among the Democrats, for just hours before @TinaPo posted her support for NTK,  two former Democrat governors (Christine Gregoire and Gary Locke) stated they could not "tolerate" NTK's radical views and announced their support for her opponent Ann Davison.
Chair Podlodowski tweet attacking Ms. Davison shows that those currently in charge of the Washington State Democrat Party are comfortable with the hate and pro-political violence views of Thomas-Kennedy.  Gregoire and Locke's support of Davison indicates there are some "mainstream" liberals who believe the State Democrat Party has become too extreme and its finally time to  radicals.
Democrat elected officials and the local candidates the Democrat State Party is currently endorsing need to be asked if they accept the endorsement of an organization that so strongly supports a candidate who promotes violence and says she "hates this country." (Shift readers should look through the list of local candidates the State Democrat party is endorsing, and should ask their local candidates this question directly.)
Will Governor Jay Inslee and Attorney General Bob Ferguson weigh in on this division?  We all know the answer to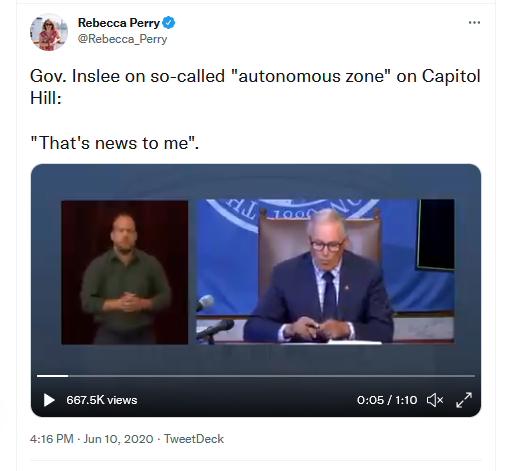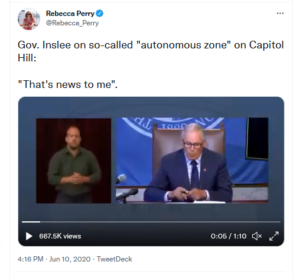 that – no, they won't.  As both career politicians showed during the Seattle riots of 2020, they will go into hiding, just when their leadership is most needed.
If some member of the media actually asks the governor to take a stand on this division within the party, he will do what he did when asked about the illegal and violent creation of the "CHAZ."  He will simply deny he ever heard about it.  And Attorney General Ferguson will hide from the public while his campaign operation continues to build on its $3 million bank account by sending out emails attacking former president Donald Trump.  Hardly the "profiles in courage" President John F. Kennedy used to inspire.