GETTING ON THE TRAIN, SOUND TRANSIT STYLE
SOUND TRANSIT ALREADY PREDICTING FUTURE FAILURES, SO PUBLIC WILL BE READY FOR THEM
Evidently, Sound Transit has become so certain of its inability to do things correctly that it is already preparing any potential riders that the ride on its expensive new train routes will not be smooth. That's the story coming from The Urbanist, which did a deep dive into the agency's plans and found that "approximately one year until Sound Transit plans to begin service on its extension of light rail north to Snohomish County, a clearer picture of some of the growing pains that are likely to come with that service expansion is coming into view."
By "growing pains," the liberal blog means that "crowding could be severe for the entire peak hour at a level rarely observed, even during special events. And this could happen regularly, every day during the week." You can even find out more about how Sound Transit has little hope that failure won't be the daily routine since "only around 70% of the Siemens light rail vehicles that started going into service in 2021 are actually available for use right now, due to maintenance issues."
You can decide for yourself if you agree with the progressive cheerleaders writing the piece that the "fact that the long-awaited opening of Lynnwood Link now looks to be marred by an inability to meet demand should be a wake-up call for Sound Transit, but it's unclear whether the crisis will lead to a greater push for reform" by reading more here… The Urbanist.
DEMS TO PUNT ON RE-DRAWING RACIST LEGISLATIVE DISTRICT – PREFER JUDGE DOES THEIR PARTISAN DIRTY WORK FOR THEM
It's clear that Democrat legislative leaders are just fine with letting a judge draw new legislative district lines to give them a partisan advantage instead of actually doing their job. That's the take from the Washington State Standard, quoting a leading Democrat state representative saying, "We want to see a judge take the map and figure it out," under the belief that those seeking to follow the judge's actual court order by having the re-districting commission re-draw the lines "are trying to delay justice."
It is indeed sweet "justice" for Democrats when they can count on a judge to use a person's race to decide which voters to include in Washington's 15th Legislative District, which evidently was drawn so obviously racist that last year it sent a Republican Latina to the state senate. You can read how Republicans are actually willing to do the work they were elected to do, with State Senator John Braun writing, "If majority leadership prevents the Legislature from reconvening the Redistricting Commission, it will be another effort on their part to abdicate our duty and authority to another branch of government for political gains" here… Washington State Standard, Crosscut.
SEATTLE COUNCIL WILL TAKE ANOTHER SWING AT MAKING PUBLIC DRUG USE ILLEGAL AGAIN – BUT DON'T EXPECT MUCH
It's sad to see the state's largest newspaper reduced to quiet resignation on matters of major public policy, but that's the take from the Seattle Times editorial pages when it comes to the city's experiment with legalized drugs. All the paper is left to ask (and then answer) about the city council's latest attempt to deal with drugs is will "this tortuous process lead to more people in treatment, safer streets and better quality of life for all? If the past is prologue, no one should get their hopes up."
The editorial writers are left in this position since "after failed votes to move a drug-use ordinance forward, the Seattle City Council is poised once again to codify what should happen" to drug users.  Read on to see how this will likely fail, as unfortunately, "the council's Public Safety & Human Services Committee is set to consider at least five different amendments" here… Seattle Times.
DAILY DOSE OF REALITY THAT JAY INSLEE WANTS YOU TO IGNORE – WA STATE GAS PRICES STILL TOO HIGH BECAUSE OF DEMOCRAT POLICIES
In the type of news that Washington Democrats must cling to, as it's as close to good news as they will get, it turns out gas prices went down last week – but don't cheer too loudly. That's because, as Center Square writes, "Washington state fuel prices fell for the first time in months, but still remain above $5 a gallon. Despite the decrease, the Evergreen State still has the second-highest gas prices in the nation, behind only California."
You can read more about how those who have been watching "say the carbon tax plays a major role in Washington's high gas prices, (while the) administration of Gov. Jay Inslee and the state Department of Ecology contend the state's cap-and-trade program" just happens to have occurred at the same time as the price increases here… Center Square.
A REMINDER THAT WHEN WANTED CRIMINALS ARE OUT ON "NO BAIL", THEY OFTEN WANT TO COMMIT NEW CRIMES
In the type of story that could find itself featured in a campaign ad near you, Fox 13 reports, a "man already wanted for burglary went wild at an Ace Hardware store during a robbery in Parkland," highlighting that some judges don't seem too bothered by repeat criminal behavior and not showing up in court.
You can read more about how, this May, a "judge released (this suspect) without bail" after he had been arrested for not showing up when he was previously released without bail. But no fear for the soft-on-crime crowd, read on to find out how he was able to find another judge to go easy on him, giving him one-third of the bail amount after "the prosecutor asked for $70,000 in bail" here… FOX 13.
ARE EVEN PORTLAND AND SEATTLE TIRED OF LEGAL DRUGS AND THE STREET CRIME THAT COMES WITH THEM?
This might be just too much wishful thinking, but a local radio host thinks he has found evidence that even voters in Seattle and Portland are tiring of the scourge that illegal drugs have become in their cities.  That is the gist of an op-ed on Q13 from Jason Rantz, who points to a poll showing "60% of Seattle voters support arresting for public use" of drugs at a time when the Seattle City Council just can't decide if that's the ways to go.
The reason the Council is likely willing to thumb its collective nose at voters is that, as Rantz admits, "I've seen this story unfold before: voters claim they're upset with progressive city governance, but do little to pressure politicians into actually changing course," so you can read on to learn if he thinks "drug legalization (could) be the issue that finally pushes voters in the Rose City or Emerald City to act" here … Q13.
LAST WEEK'S NEWSMAKER INTERVIEW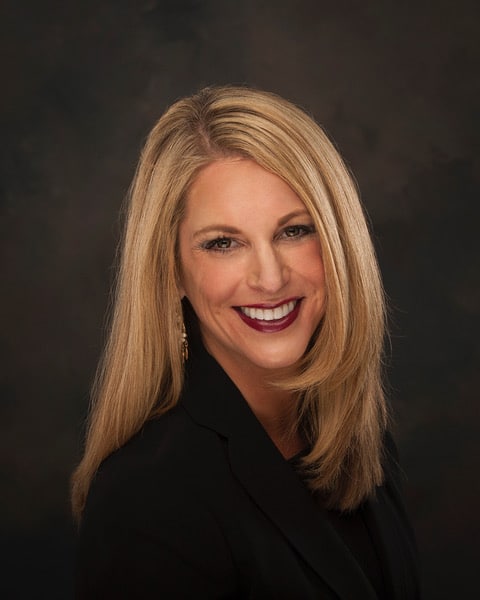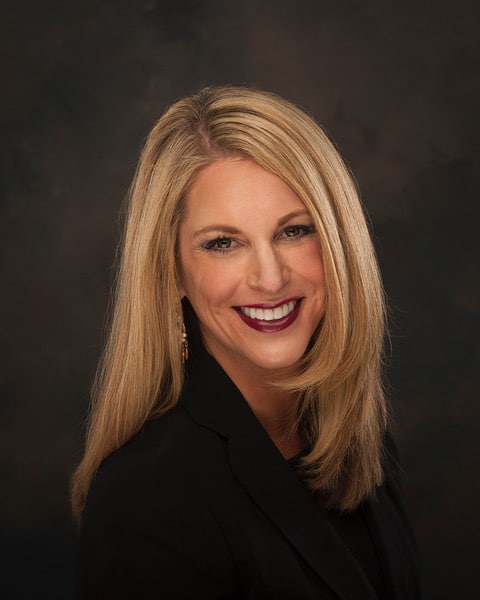 Camas City Councilmember Leslie Marshall Lewallen joined us for last week's Newsmaker Interview. A conservative GOP candidate in Washington's 3rd Congressional District, Lewallen aims to regain the longtime Republican-held seat after progressive Marie Gluesenkamp Perez's victory in 2022. Other Republican contenders in the race include Leslie French and Joe Kent, who previously lost and made unsupported claims of election fraud. In her recent interview, Councilmember Lewallen discussed her reasons for running in 2024, her campaign's top issues, the need to replace Rep. Gluesenkamp Perez, and the significance of receiving an endorsement from 2022 Republican U.S. Senate candidate Tiffany Smiley. Read more.
OVERHEARD ON THE INTERWEBS...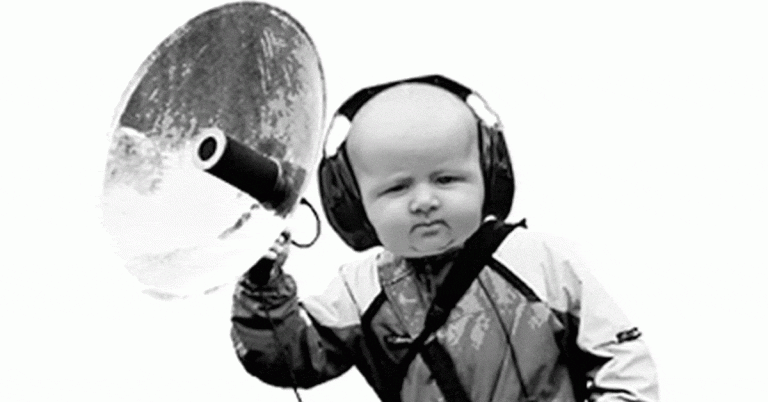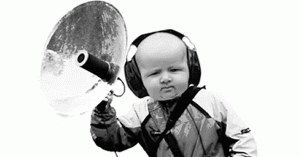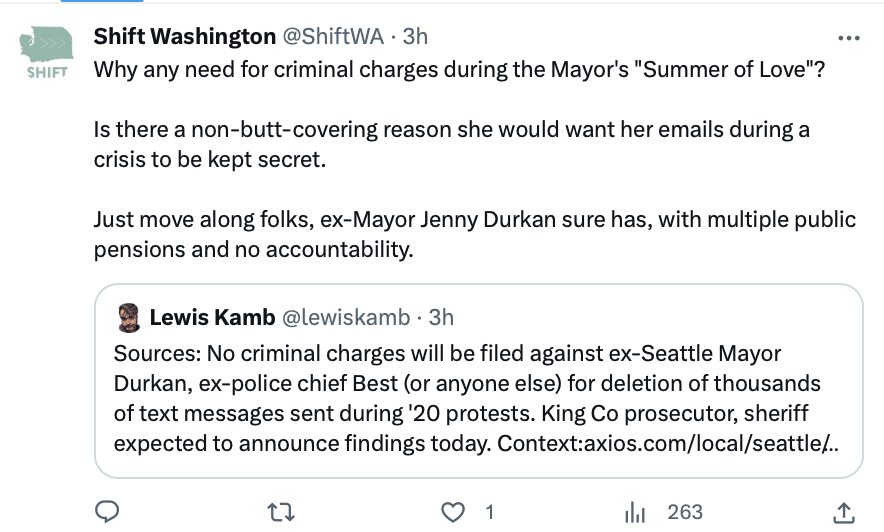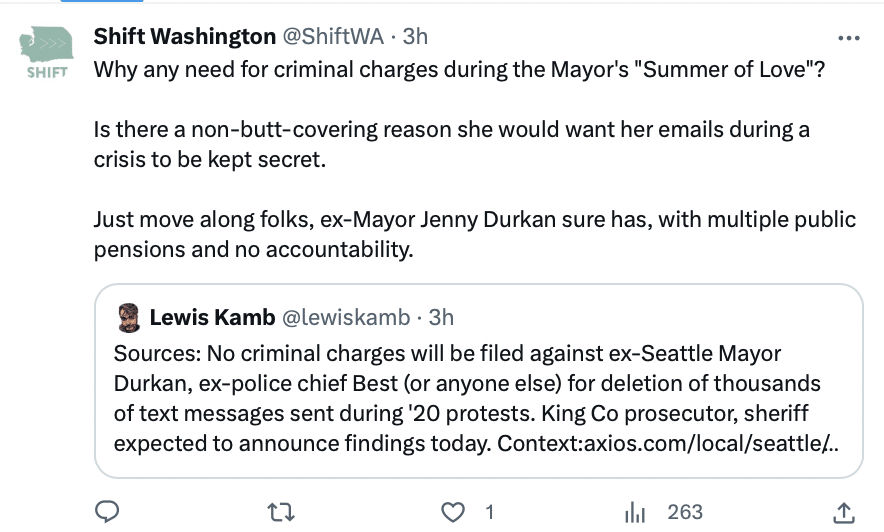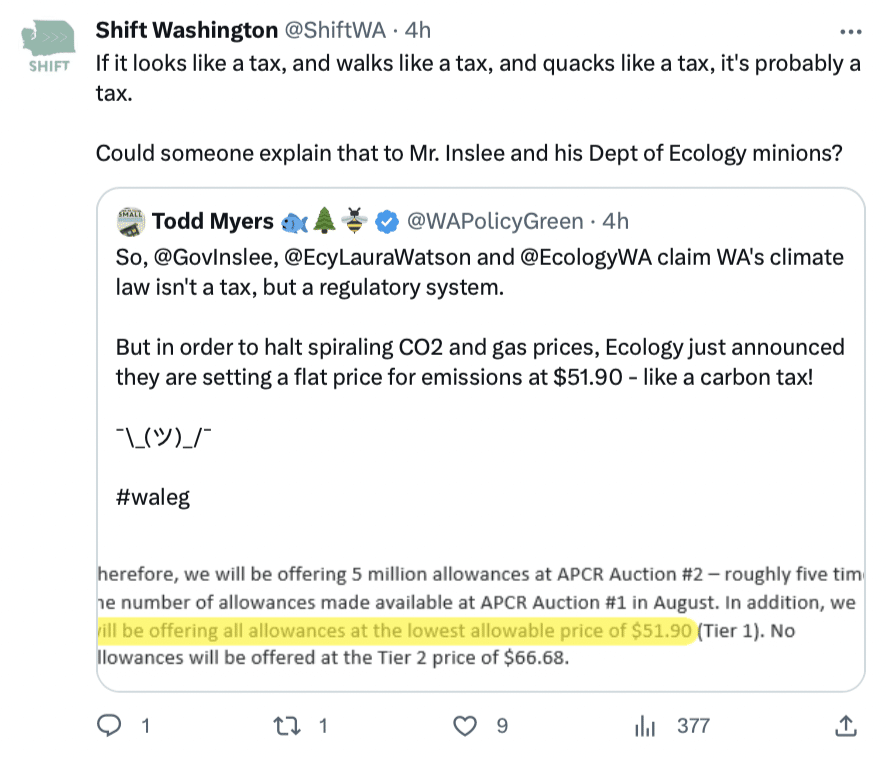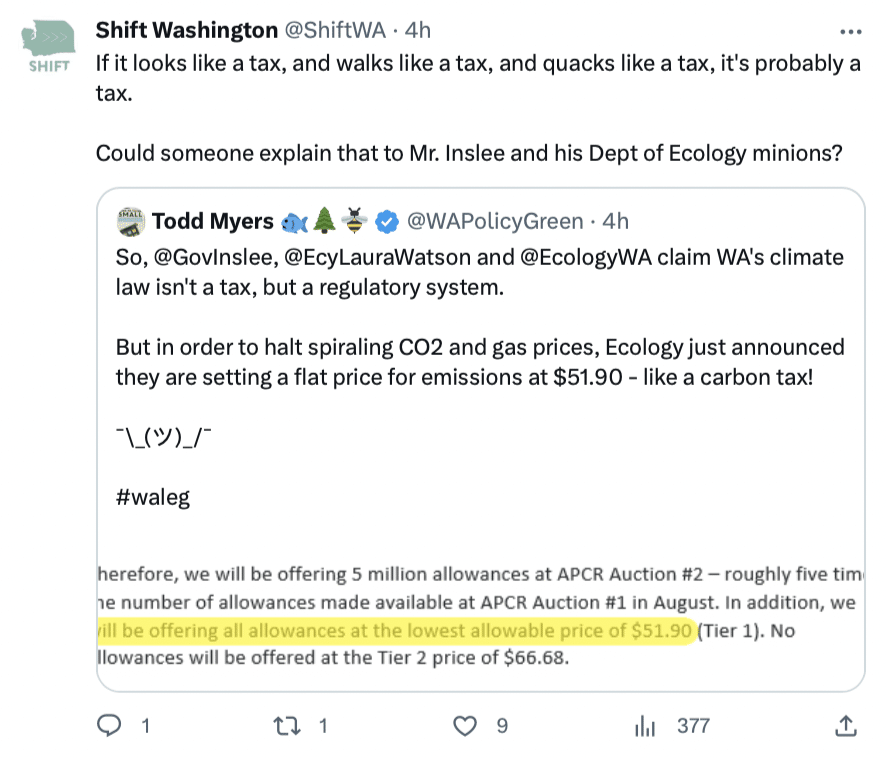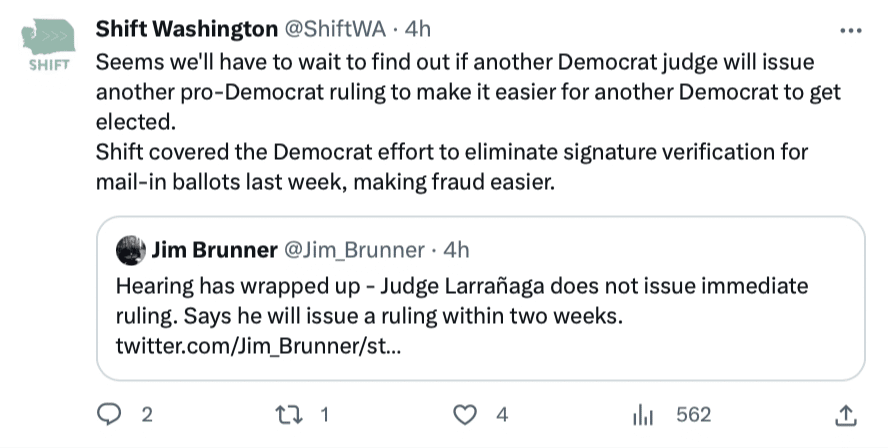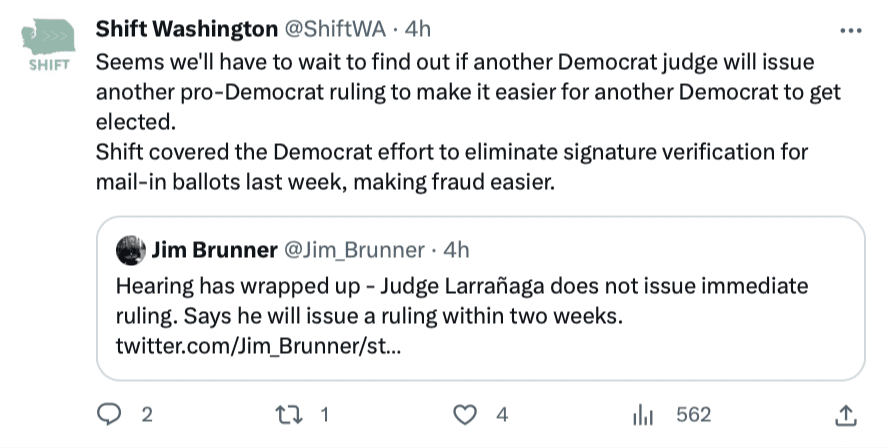 SUPPORT THE DAILY BRIEFING...
Please consider making a contribution to ensure Shift continues to provide daily updates on the shenanigans of the liberal establishment.
Forward this to a friend.  It helps us grow our community and serve you better.
You can also follow SHIFTWA on social media by liking us on Facebook and following us on Twitter.
If you feel we missed something that should be covered, email us at [email protected].