The legislative session is half over, and too many bad bills are still alive to even count. But the Democrats in control in Olympia are singing a different tune.
Newsmaker Interview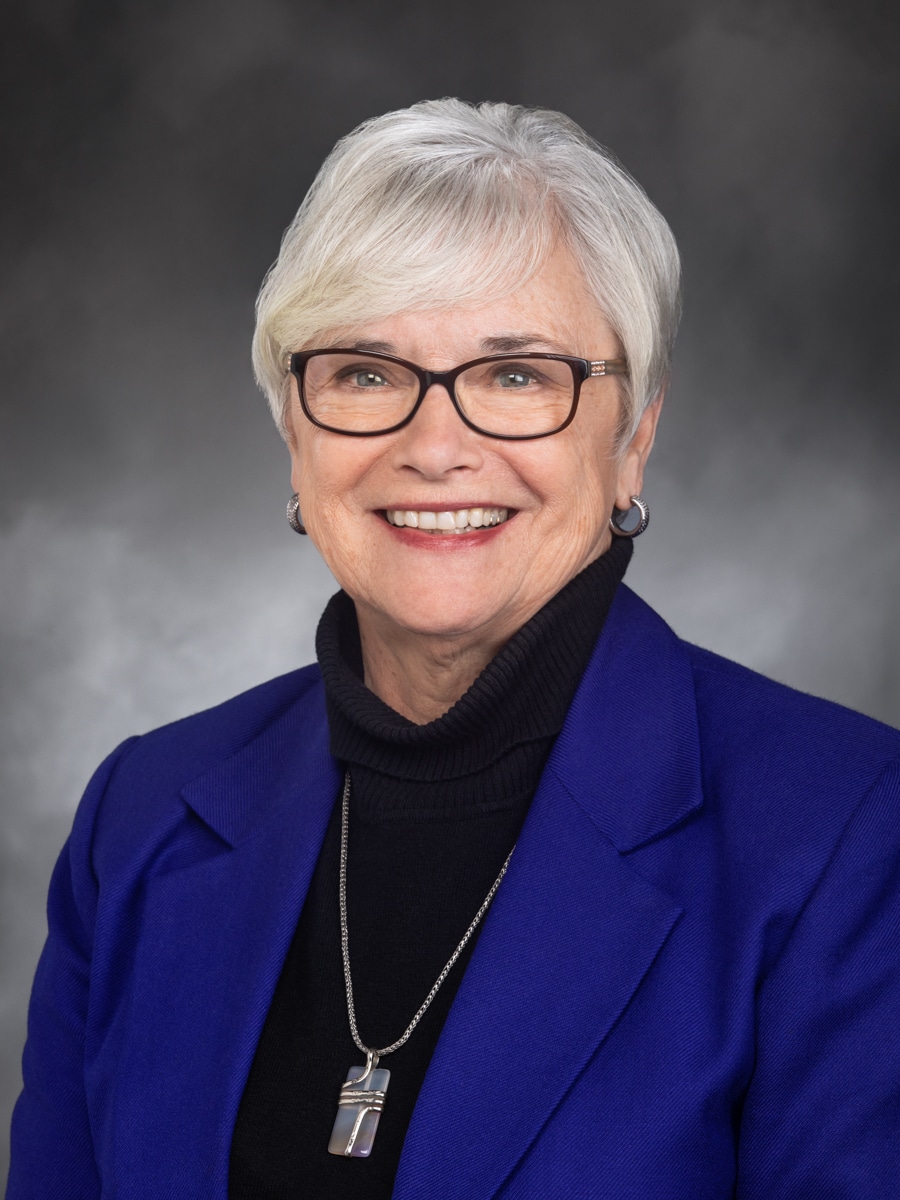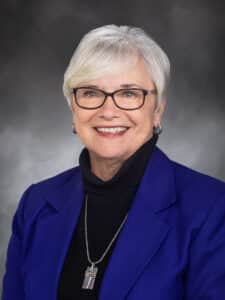 Shift's Newsmaker Interview is with fourth-term GOP Representative Carolyn Eslick from the 39th Legislative District (East Snohomish and Skagit counties). Rep. Eslick, the former Mayor of Sultan, is the Ranking Republican member on the House Human Services, Youth & Early Learning Committee and also sits on both the Education and Budget committees. She is the founder of GroWashington, a non-profit offering entrepreneurship training for small business owners.
In her interview, Representative Eslick provides thoughts on her very innovative "Student First" legislation to give parents "the resources they need to help their children achieve their dreams."  She states why she opposes the Democrats' irresponsible legislation which will reduce student instruction time by 4 hours a week.  The representative asserts the state has plenty of funds to operate and that now is the time for "meaningful tax relief" for lower- and middle- income households.
She does highlight a few legislative measures she is supporting to improve the state's ineffective and costly mental health system, given her committee leadership role on those issues.  Finally, Representative Eslick explains that it is her top priority to improve public safety in the state, and this includes repealing the Democrats' 2021 disastrous restrictions on police pursuit, which nearly every law enforcement agency in the state says is the cause for the state's high crime rate. (Shift interview)
…and here are the Democrat priorities
In contrast to the issues which Rep. Eslick focused on in her Shift interview above, the recently-elected State Democrat Party Chair Shasti Conrad is singing from a different song sheet. Her party's priorities provide a clear counterpoint to the rational Republican approach this legislative session. Just take a look at the far-Left wish list – interfering with parental rights, rent control, reducing teacher classroom time, and raising the minimum wage for prisoners. (Message from Shasti Conrad – YouTube)
Wait, it's the Friday news dump Democrats were hoping you would not notice…
You can count on the Democrats to try and hide stories they know are unpopular by releasing them on a Friday. You know, hoping you (and maybe even their media buddies) won't notice before the weekend?
This one is too good to let pass by without highlighting, however, as Washington State is taking the heroic step of lifting its last non-sensical mask mandate, in health care and correctional facilities. Evidently everyone who could catch the virus in a state-run facility – like Governor Jay Inslee (twice) – has already caught the COVID, so maybe the mandate doesn't make much sense anymore. Or, at least at midnight April 3 that will be the case, since according to "the science" that is when the mandate can actually be lifted. (Seattle Times)
Just what taxpayers need – a bolder (read, bigger spending) Sound Transit
You probably thought that when it comes to wasting your money and raising your taxes that the legislature was the only scary thing you had to watch for this week. But, no. The folks over at Sound Transit didn't want you to forget about them.
Or at least "the experts" who advise the unelected board members who "govern" Sound Transit wanted you to know that the problem with our always late, always over-budget transit agency is that the train-happy bureaucrats are not spending your money "bold" enough. This is why "every month, the price to build a 12-mile Ballard-to-West Seattle train corridor rises $50 million", meaning "current estimates (for Sound Transit 3) are near $15 billion, and likely to rise, compared with $9 billion projected in 2016." Latest estimates include the Ballard and Everett lines arriving four years late (two decades from now), and Federal Way shifting backwards another five years., though "a pair of Redmond stations will arrive only a year late in 2025, as did the Northgate extension in 2021." Nothing like keeping your promises to voters to build public trust – only a year late! – eh Sound Transit? (Seattle Times)
A simple questions for Democrats – should heroin, or fentanyl, possession be punished, or not?
It would seem, given the depth of our region's homelessness "emergency" and ever-rising crime rates, that reducing hard drugs on the street would be a priority. But, not for Democrats in the legislature, who are still grappling with a way to fix the State Supreme Court's misguided Blake decision from 2021, which essentially legalized all drug possession.   As one police leader plainly stated, "Our experiment with effective legalization of drugs has failed. Our jails were never filled with only simple possession cases but now our parks and our sidewalks are." Has enough suffering occurred for Olympia Democrats to admit that their policy has failed? (South Whidbey Record)
It's officially a Spokane choice – reward accomplishments or the Olympia way?
The day after former Jay Inslee-appointee Lisa Brown jumped from her cushy state job into the city's mayoral race, incumbent Nadine Woodward reminded people that one person has been serving the city with success over the last few years. And it was not some longtime politician/bureaucrat from Olympia that's been focused on the needs of the city. Indeed, the contrast between the first-term mayor and the careerist Brown is clear: "She was OK with people sleeping in the field in 6 inches of snow. I'm not." (Spokesman-Review)
Overheard on the Interwebs...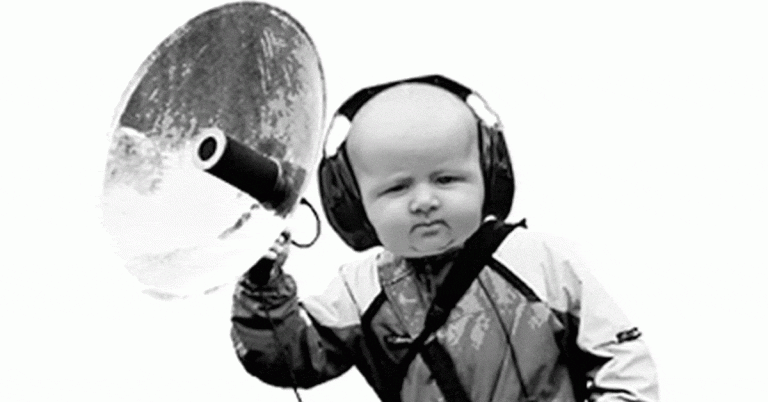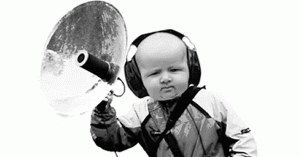 Senator Manka Dhingra should visit Eastern Washington to discuss why she won't allow a police pursuit bill to even be heard in her committee. Shame, Democrats.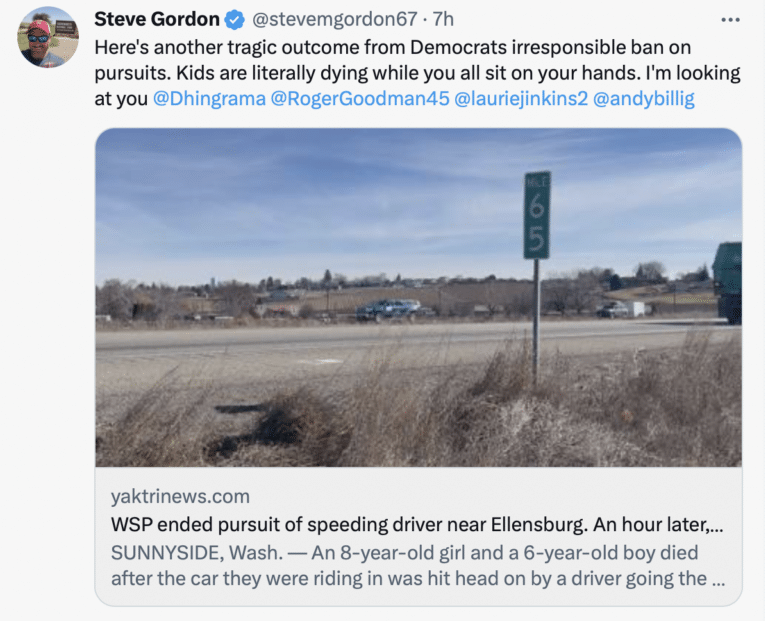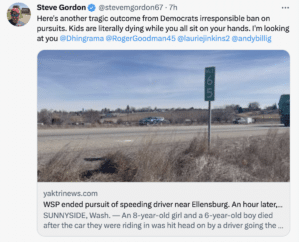 Does anybody think putting hyper-partisans like Bob Ferguson and Jay Inslee in charge of a "Ministry of Truth" is a good idea in Washington State?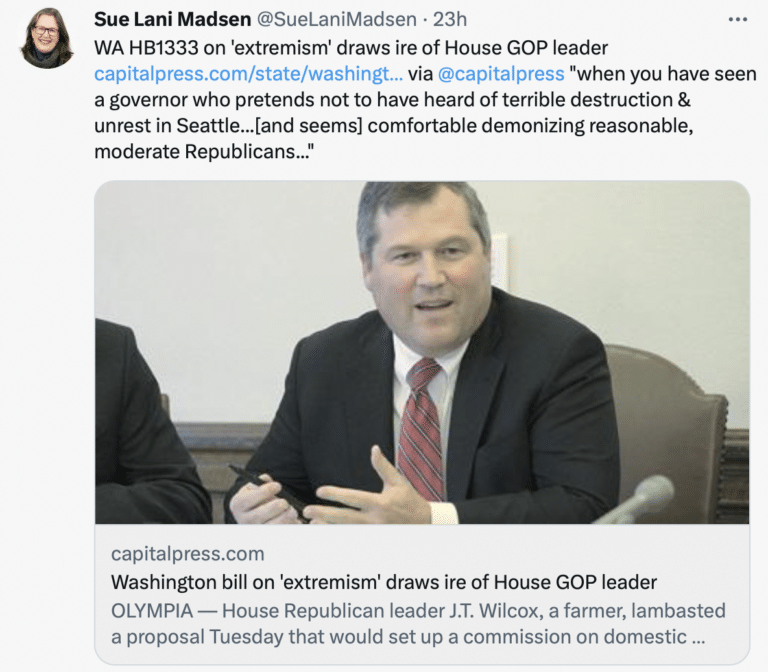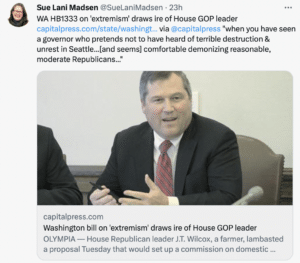 Time for a little truth here Times – it's Democrats who run the legislature, and Democrats who want to keep their embarrassing and corrupt records from prying eyes. Not "legislators", it's "Democrats". Shouldn't be that hard to point out.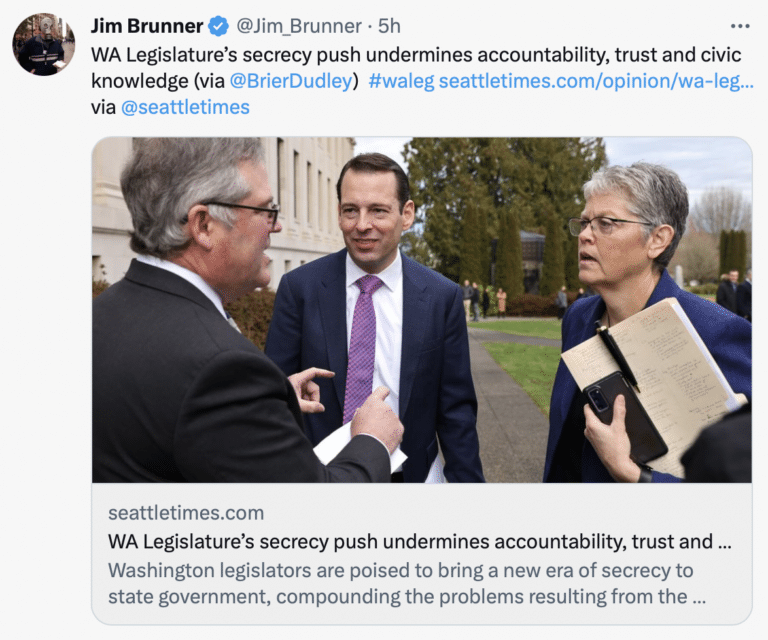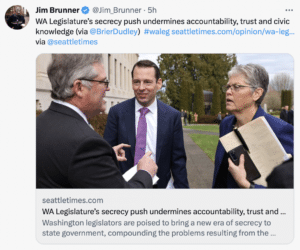 Support the Daily Briefing
Do you like The Daily Briefing? Do you want to keep seeing coverage of issues which are important to you?
We continue to be the only news source in Washington to conduct regularly interviews with Washington State Legislators on the important issues being decided in Olympia.
Please consider making a contribution to ensure Shift continues to provide daily updates on the shenanigans of the liberal establishment.
Forward this to a friend.  It helps us grow our community and serve you better.
You can also follow SHIFTWA on social media by liking us on Facebook and following us on Twitter.
If you feel we missed something that should be covered, email us at [email protected].