Washington State voters defeated Initiative 1098 in 2010 by a 28% margin, rejecting a liberal bid to create a state income tax on people earning above $200,000. Unfortunately, as Shift reported in the past, over 64% of Washingtonians voting against a state income tax is not enough to fend off Democrats and their obsession for a state income tax.
Democrats simply won't take "no" for an answer on this issue. After all, the Washington State Democrat Party lists a state income tax as a "guiding principle" in its party platform. The fact that—legislative session after legislative session—liberals continue to push for a state income tax is our most underreported story of the year.
Democrats – particularly those from Seattle – have never been shy in publically proclaiming their support of a state income tax. Democrat state Sen. David Frockt said he "favors significant taxes on the wealthy—a capital gains tax, income tax, and closing corporate tax loopholes…" during his campaign in 2014. Sen. Pramila Jayapal said she supports "smart, progressive policies—including an income tax on the rich…". And, Sen. Cyrus Habib, who is now running to be Lt. Governor, said he hopes for "eventually passing a capital-gains tax or an income tax on the rich."
Senate Democrats demonstrated their complete disconnect from reality by introducing a bill to implement a state income tax bill during the 2015 legislative session. The bill was sponsored by Democrat state Senators Maralyn Chase, Bob Hasegawa, Jeanne Kohl-Welles and Jayapal, and called for a constitutional amendment that would allow a state income tax.
Apparently, one state income tax proposal was not enough for Senate Democrats. Sen. Marko Liias decided to introduce a state income tax bill of his own during the 2015 legislative session. Liias claimed his state income tax would fund teacher pay raises using typically flawed math. Nor was 2015 the first time Liias pushed a state income tax bill. During the 2014 legislative session, when he was still in the state House, Liias recruited a total of 16 Democrat co-sponsors for his state income tax bill.
Democrat State Treasurer Jim McIntire – who has since decided to retire ratheer than face voters who might remember his desire to pick their pockets – joined his party's state legislators in releasing a plan to overhaul the state's tax system in April of this year. McIntire's plan proposed to implement a 5 percent personal-income tax while eliminating the state property tax and reducing business taxes—what he called a "grand bargain." McIntire's plan required an amendment to the state Constitution that he wanted to place on the 2016 ballot. Like his fellow Democrats' proposals, McIntire's did not get very far.
Not to be outdone, Jay Inslee and state House Democrats proposed a state income tax in the form of a state capital gains income tax as part of their respective 2015 budgets. Of course, Inslee attempted to pass his scheme off as an excise tax rather than an income tax. As Shift reported, the problem with classifying a tax on capital gains income as an excise tax is that the Internal Revenue Service (IRS) and the United States Supreme Court classify it as an income tax. Many viewed the Democrats' capital gains income tax as a backdoor attempt to seek a ruling from the liberal state Supreme Court that would allow for a tax on income.
Democrats' state income tax attacks are all supported by the Progress Alliance of Washington, the secretive Democrat multi-millionaire's club that funds multiple left-wing groups like FUSE Washington, Win/Win, Washington Bus, Washington Budget and Policy Center, etc. All of these groups in return for that money demand higher taxes and bigger government, and do everything they can to push a state income tax. Take a recent Facebook post from the Washington Budget and Policy Center for an example,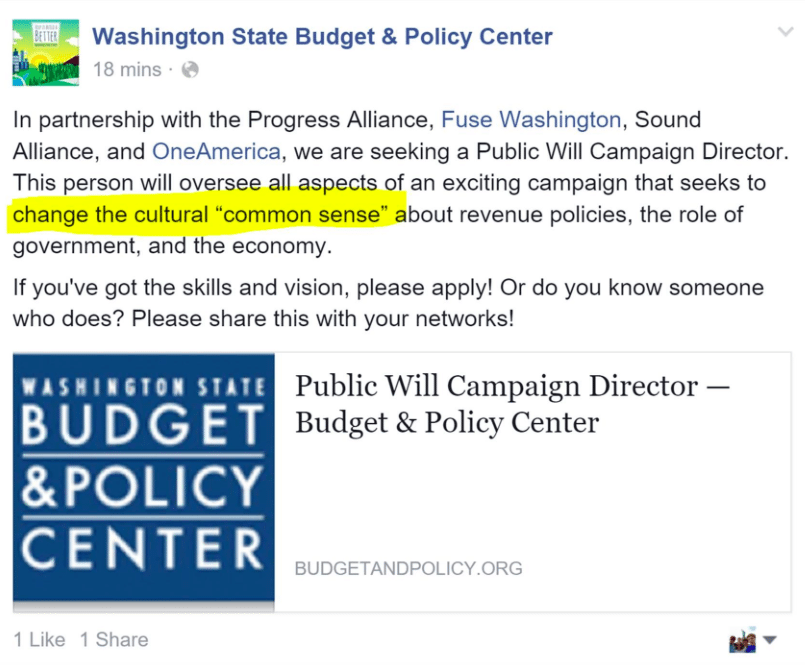 Rather than accepting that Washingtonians do not want a state income tax, the Washington Budget and Policy Center wants to hire someone to "change the cultural 'common sense'" of our state. Yet, the mainstream media continues to ignore Democrats' obsession with the state income tax.
Maybe "common sense" will come their way in 2016.