DEMOCRATS' CAP-AND-TAX LAW IS GOOD AT THE "TAX" THING, BUT NOT SO MUCH WITH THE "CAP" AS PRICES EXPLODE (AGAIN)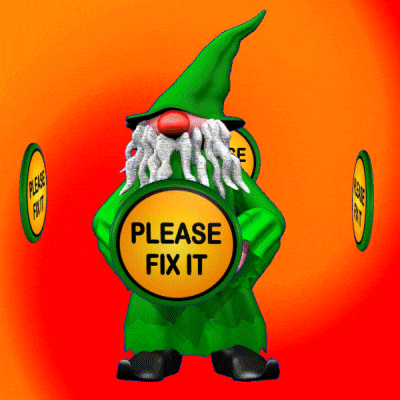 THANKS JAY: CARBON TAX COLLECTIONS SOAR PAST BILLION DOLLAR MARK, KEEPING GAS PRICES IN TOP TWO IN U.S.
A parade of special interests heading towards an overflowing public trough of taxpayer dollars was on display yesterday, with the Washington State Standard reporting that as "millions more in state revenue rolls in from Washington's marquee policy to combat climate change, discussions are heating up over what to do with the windfall." Unfortunately for taxpayers, who were not invited to the press conference, they will not be invited to share in the state's "windfall" of their money, unless they do specific things which benefit specific Democrat campaign donors.
The spectacle of liberal Democrats celebrating how badly they had under-estimated how much taxpayer money they could take with the new carbon tax auctions is not playing well even with some Democrats, as State Senator Mark Mullet said that the cap-and-tax law "could use some work to lower the impact it's having on gas prices and help the families and small businesses who are feeling the hit." You can read more about how that is unlikely to happen, since politicians love to "invest" other people's money with their friends, here… Washington State Standard.
GOOD NEWS FOR TRANSIT RIDERS, SEATTLE-STYLE: FENTANYL RESIDUE NOT NEARLY AS PRESENT AS METH RESIDUE ON LIGHT-RAIL AND OTHER TRANSIT VEHICLES
A union-demanded and very depressing study from the University of Washington has revealed that transit employees – and riders – are enjoying exposure to illegal drugs throughout the region's transit system. That's the news from the Seattle Times, reporting that "(A)irborne fentanyl residues were found in a quarter of Seattle and Portland light-rail transit vehicles tested this spring, while methamphetamine appeared in them all."
Of course, transit officials can't admit anything is wrong on their trains, as "Sound Transit CEO Julie Timm, in remarks to a transit-board committee, compared the drug residues to one-thousandth of a grain of sugar." You can read more about this little bit of "sugar" on the seat next to you here… Seattle Times.
ELECTION IS COMING – WILL SEATTLE POLITICIANS DECIDE TO PAY ATTENTION TO PUBLIC SAFETY IN LITTLE SAIGON AGAIN?
Seattle's Chinatown International District has endured more than its share of public attention recently, mainly a debate over the damage another transit station could do on the West side of I-5. But it's once again on the other side of I-5, in the Little Saigon neighborhood, that KOMO is reporting "safety remains a daily concern for many business owners who operate on or near the corner of 12th Avenue and Jackson Street" with one business owner saying "people are afraid to walk around from one block to another."
The ongoing and very public illegal activity leaves businesses and visitors alike longing for the days when "the city announced hot spot policing in the area in February of 2022, (and) shortly afterward, a mobile police precinct moved in." You can read more about why that police presence has moved on, so the drugs have moved back in, here… KOMO.
SEATTLE CITY COUNCIL RETURNS FROM VACATION, DECIDES TOP PRIORITY IS PUTTING A "LID" OVER I-5
Perhaps Seattle city council members heard the word "lid" and just automatically assumed they were in favor of spending money on one. That guess makes as much sense as the news from KUOW that the embattled council members returning from a summer vacation and prioritized for a vote "a resolution supporting the idea to construct a lid over I-5" just so they can go chase federal money for the idea.
We can only wonder how long it will take for someone to slap them back to their senses by pointing out that a "recent city report estimated a lid project could cost billions of dollars" at a time when the city is projecting huge deficits. Yet "lid booster" Councilman Andrew Lewis is so out of touch with current reality, fiscal or otherwise, that he "called lidding I-5 Seattle's 'next big challenge'." You can read more about how lids are all the rage, with another council member wanting "to see a lid up at 130th station as well", here… KUOW.
VANCOUVER SCHOOL DISTRICT STILL OUT AS ILLEGAL STRIKE CONTINUES, BUT NEIGHBORING DISTRICT AGREES TO FOLLOW STATE LAW AND RETURN TO CLASSES
Shift is now is week two of pointing out the simple truth that public teacher strikes are illegal in Washington state, and that Democrats like Jay Inslee will do absolutely nothing to enforce the law against their major donors at the Washington Education Association. In fact, Gov. Inslee showed KOMO viewers just how much he disrespects the parents and students locked out of classes through the illegal action by saying during a local visit that "(W)e encourage both parties to have honest discussions as rapidly as possible so we can keep schools going", evidently unaware that the schools have not been "going" at all, and that one "party" is engaging in an illegal strike. But you can at least read how the Camas district came to its senses here… KOMO, KGW.
OVERHEARD ON THE INTERWEBS...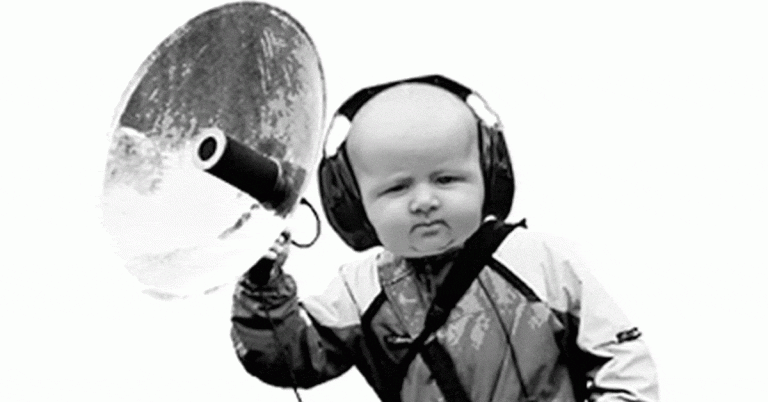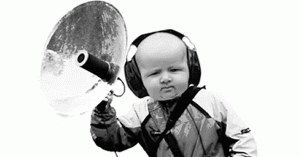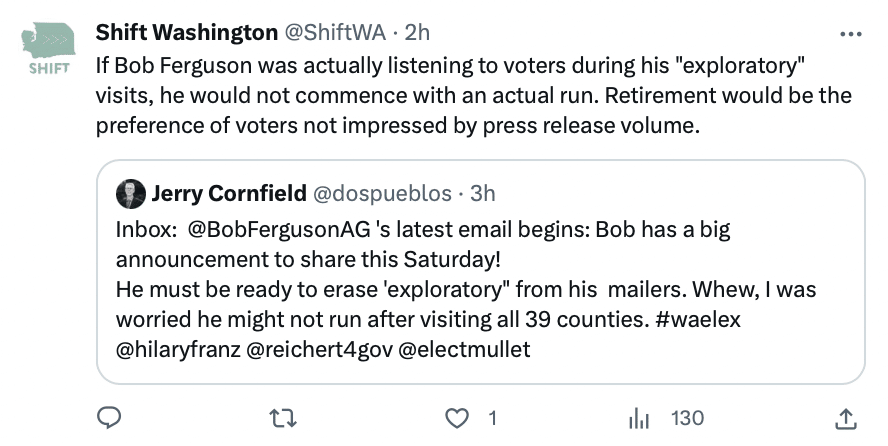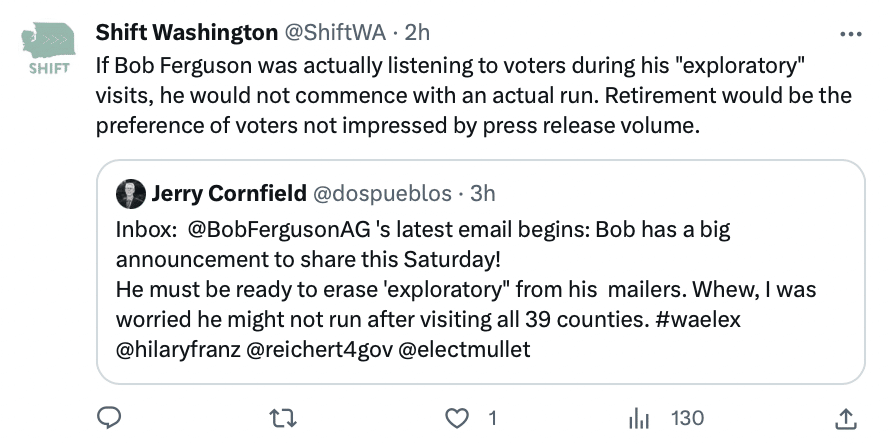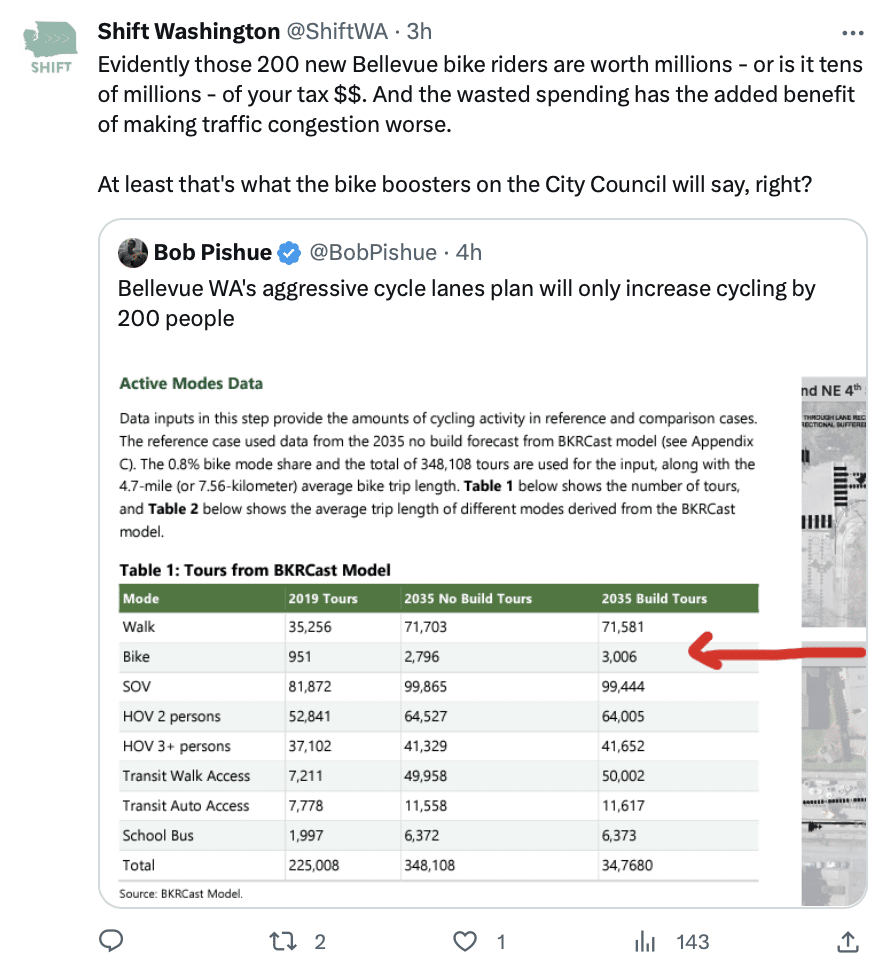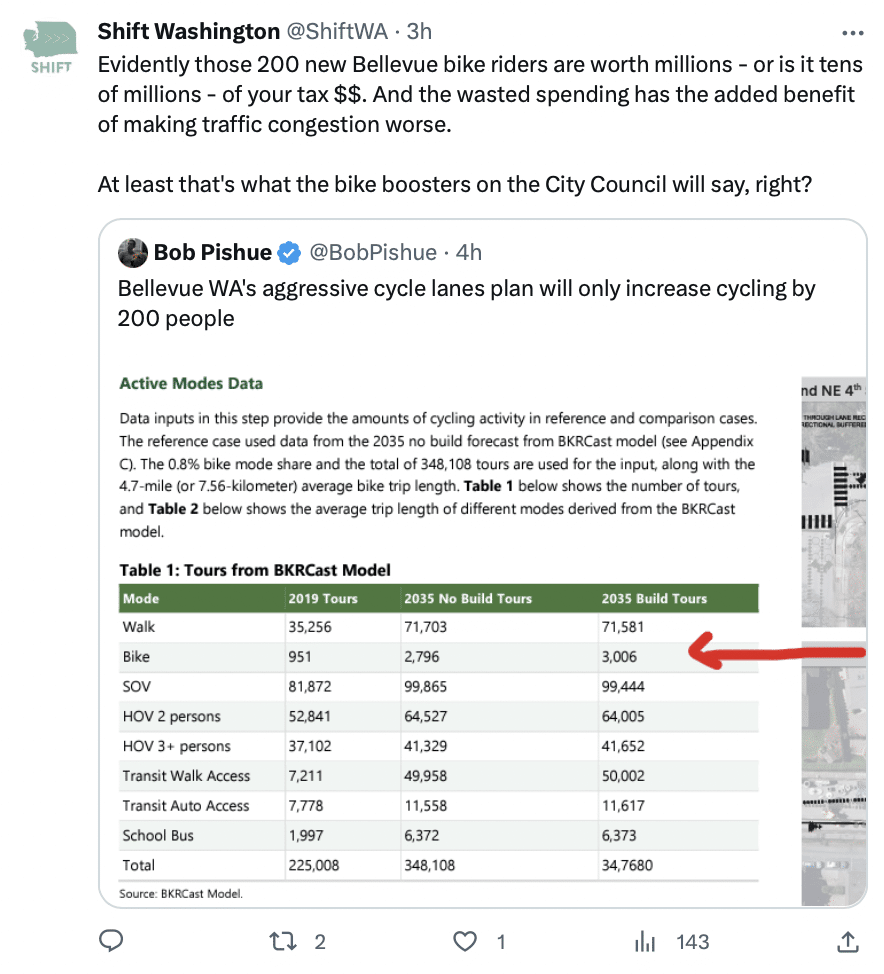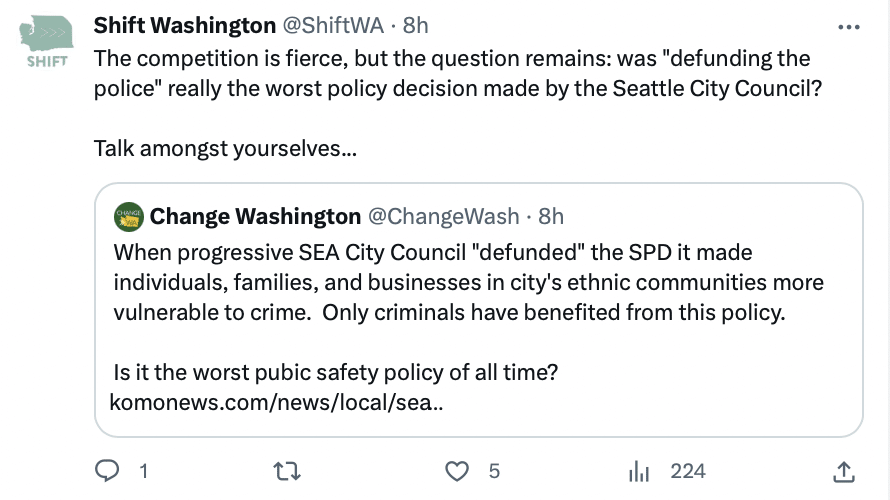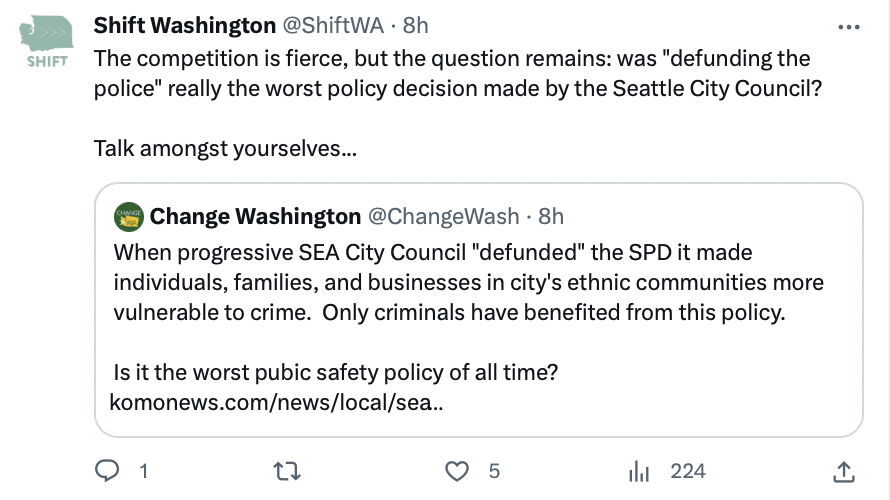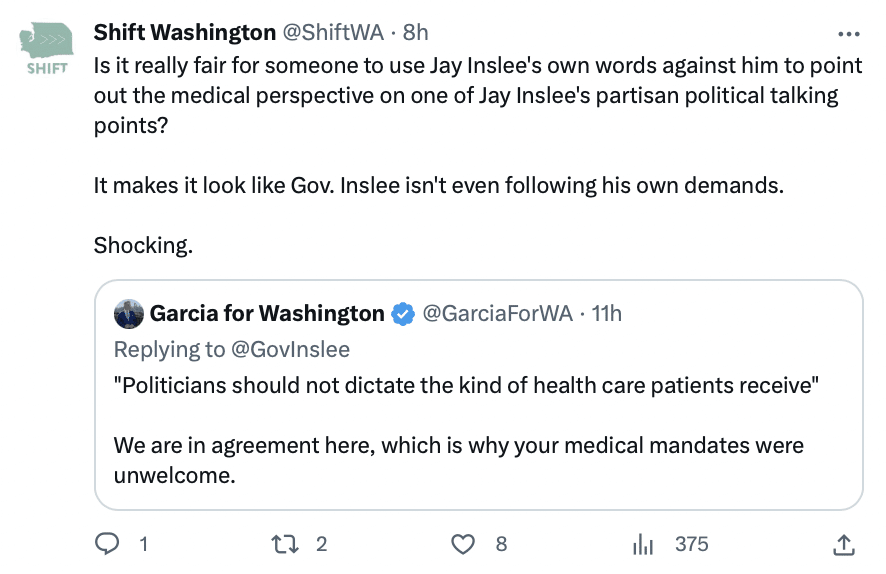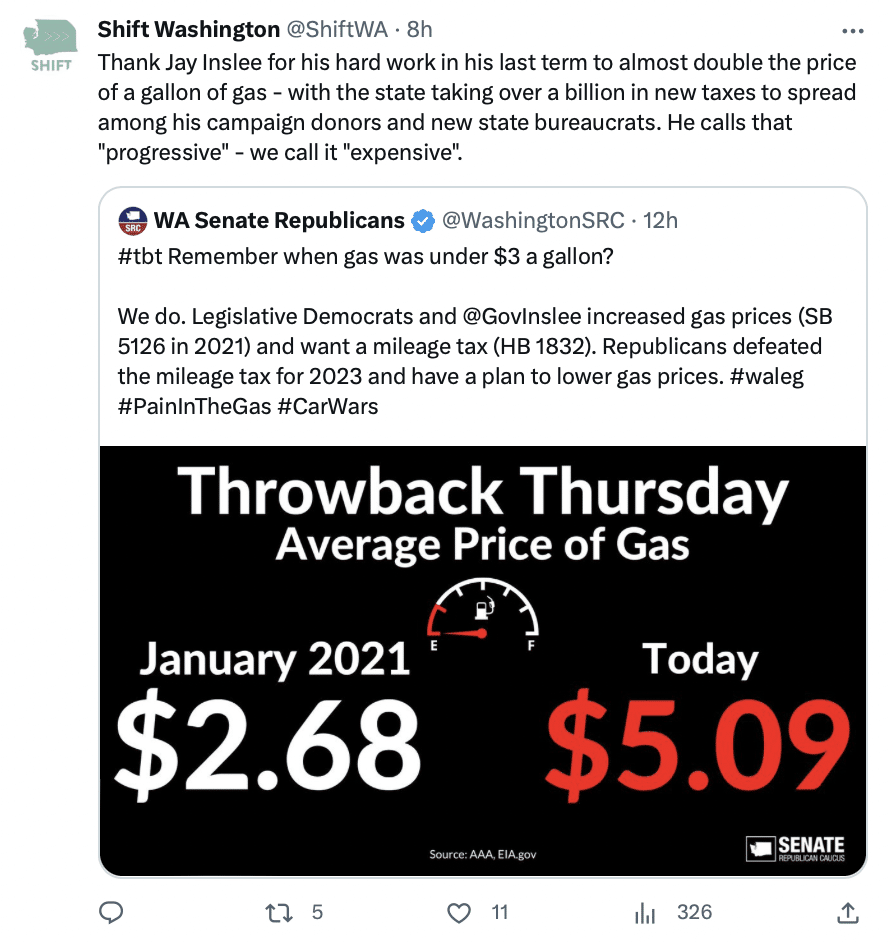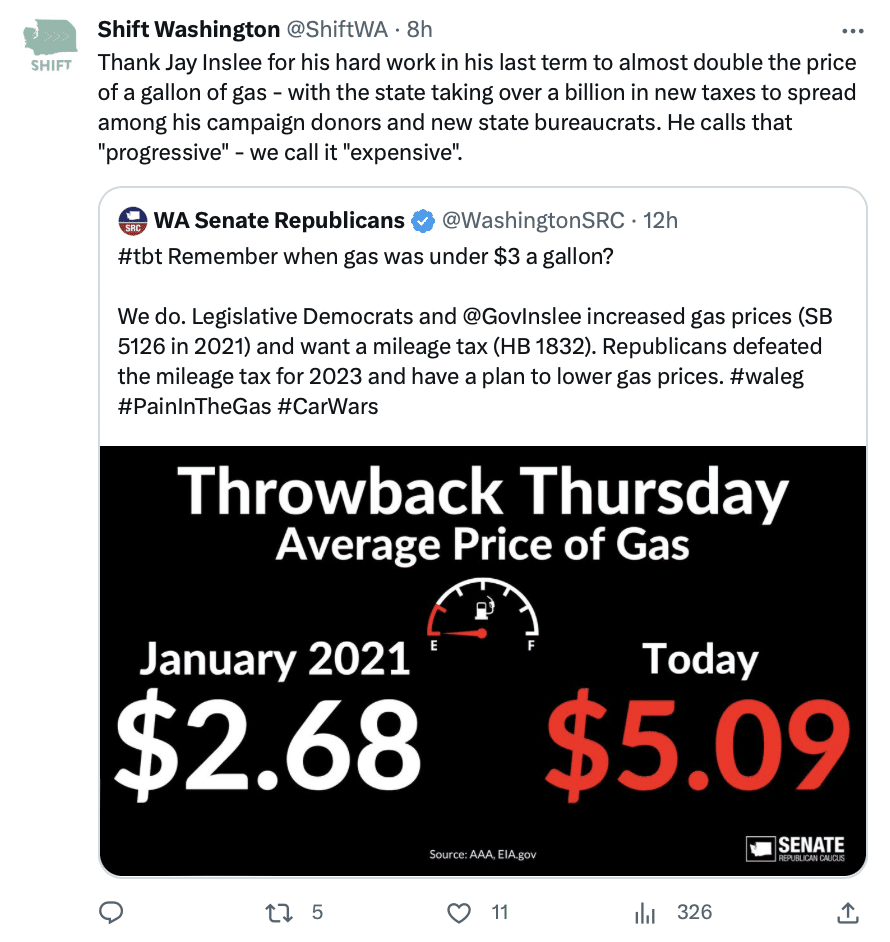 SUPPORT THE DAILY BRIEFING...
Please consider making a contribution to ensure Shift continues to provide daily updates on the shenanigans of the liberal establishment.
Forward this to a friend.  It helps us grow our community and serve you better.
You can also follow SHIFTWA on social media by liking us on Facebook and following us on Twitter.
If you feel we missed something that should be covered, email us at [email protected].