SPOKANE CITY COUNCILMAN ZACK ZAPPONE DOESN'T THINK MUCH OF THE INTELLIGENCE OF HIS VOTERS
DEMOCRAT WHO SPONSORS PARTISAN CAMPAIGN MEASURE TO CENSURE FOE THINKS VOTERS DO NOT KNOW THE MEANING OF THE WORD "CENSURE"
File this one under the category of "couldn't make this up if we tried," courtesy of the Spokane City Council's often-confused member Zack Zappone. That's an undercurrent in the Spokesman-Review's coverage of last night's city council meeting, writing of a last-minute change in a Democrat-sponsored and taxpayer-funded attack resolution against Mayor Nadie Woodward by noting Mr. Zappone's view that "the change was out of concern that the public would confuse 'censure' with 'censor.'"
You can read about more fun at the liberal circus and how it included "mayoral challenger Lisa Brown's own association with a man reportedly convicted of attempted murder in the 1970s and later convicted of federal charges related to tampering with electrical grid infrastructure" here… Spokesman-Review.
DOES SEATTLE REALLY WANT THE ABILITY TO ACTUALLY CLEAR ITS STREETS?
Some say the homelessness industrial complex exists in large measure thanks to court decisions substituting judicial oversight for government control over city streets. That's why it was refreshing to see Seattle City Attorney Ann Davison throw a little elbow in the debate, as PubliCola reports her signing on to a legal brief against a policy to "compel local governments to choose between providing shelter or surrendering public lands to encampments that harm local communities."
You can read deeply on this subject here… PubliCola.
A LITTLE UNPLANNED DOWNSIZING IS JUST ANOTHER DAY FOR RIDERS ON JAY INSLEE'S BOAT SYSTEM
Edmonds is the local community left standing after a game of ferry musical chairs. That's the story from the Everett Herald, which reports the bad news has hit home as "the 64-car Salish ferry (is) taking the place of the 202-car Puyallup on the Edmonds-Kingston run. The Salish is 'temporarily' assigned, according to Washington State Ferries."
You can read where your favorite boat has gone, whether it's still floating, and more about just how long "temporarily" can be here… Everett Herald.
BURIEN COPIES BELLEVUE, BANS CAMPING
Another Shift update on the long-running homelessness saga in Burien, next to SeaTac. You can watch a lengthy piece from Q13, as the "Burien City Council voted on Monday to approve a public camping ban after months of heavy debate and postponing votes."
As could be expected, neighbors have been leading the charge to have some local control over city streets, with one pointing out "(W)e must stop enabling homeless encampments. We must reject tent encampments as a solution and shift the conversation to treatment and housing." You can decide if you think this vote is a step in the right direction here… Q13.
ICYMI: INSLEE ADMINISTRATION CAUGHT IN ANOTHER DEPARTMENT OF CORRECTIONS LAWSUIT
Yet more news came out last Friday, just another chapter of the "Washington Story" that Jay Inslee skips over now that he is looking for his next job. That's the story from the Spokesman-Review that the "Washington Department of Corrections officials have been using shoddy over-the-counter drug tests as grounds for harsh punishments that in some cases significantly delayed inmates' release, a group of inmates argued in a class-action complaint filed Friday."
According to the suit, "over-the-counter tests are known to be extremely inaccurate and are not allowed to be used for punishment in some states." You can find out more about how much this will eventually cost the state here… Spokesman-Review.
LAST WEEK'S NEWSMAKER INTERVIEW
Last week's Newsmaker Interview was with Andrea Suarez, Founder and Executive Director of the non-profit volunteer organization We Heart Seattle. In a very short time the group has made a significant impact in cleaning up encampments and helping people get off the streets.  Created during the height of the COVID pandemic in 2020 when homeless encampments were filling Seattle's parks, sidewalks, and other public places, We Heart Seattle challenged the status quo regarding how best to help those struggling with drugs and homelessness. Along the way, they have encountered protests from a small group of extremists as volunteers have cleaned up encampments and attempted to help those who were suffering.
In her interview, Suarez described the creation and mission of We Heart Seattle and explained why the group has ruffled the feathers of many in Seattle's establishment. She stated her appreciation for some of Seattle's public officials who are finally acknowledging the impact of the group's efforts, and Suarez encouraged everyone to use their "superpower" of voting. She explained why the devotion to "housing first" philosophy and using the wrong data points are hampering the city's ability to help those suffering on the streets. Finally, Suarez outlined how Shift readers can help We Heart Seattle in their efforts. Read more…
OVERHEARD ON THE INTERWEBS...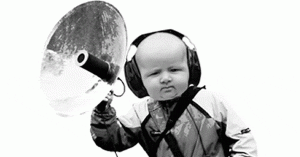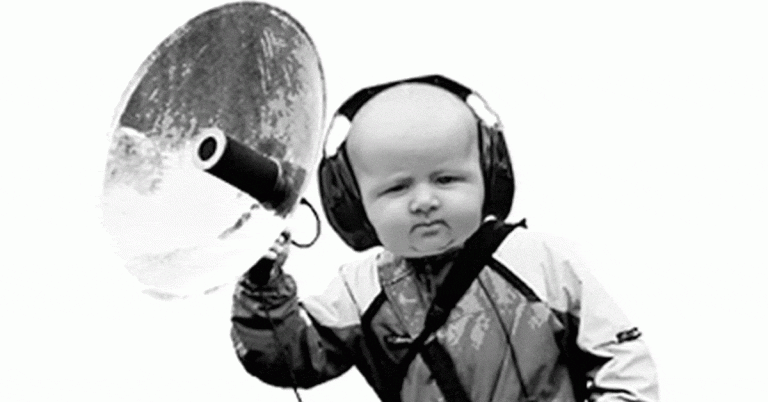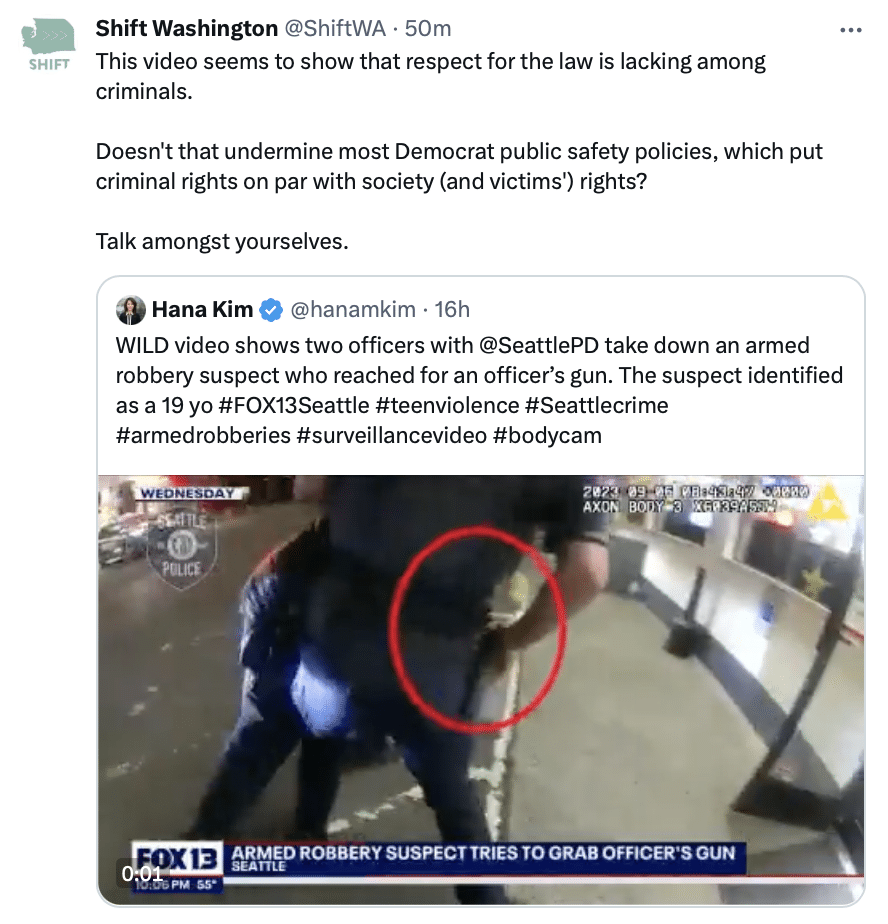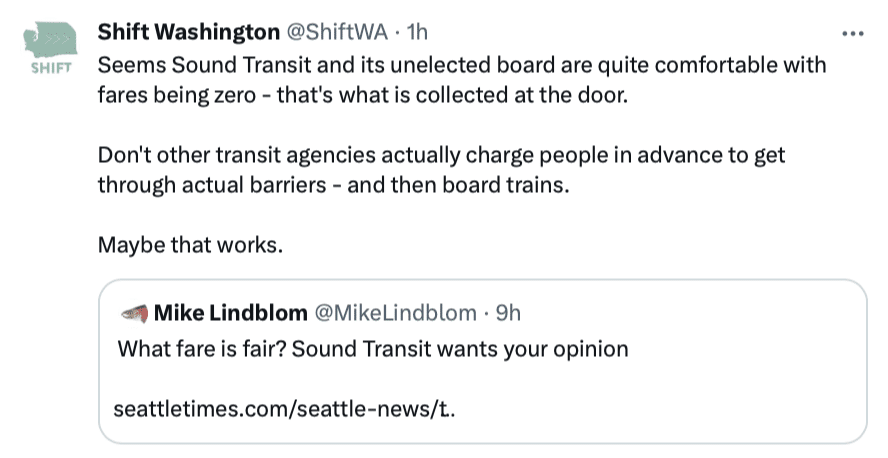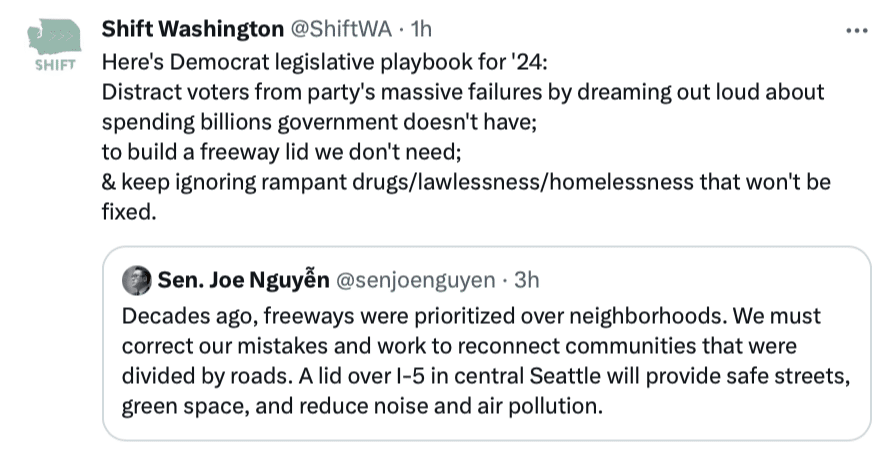 SUPPORT THE DAILY BRIEFING...
Please consider making a contribution to ensure Shift continues to provide daily updates on the shenanigans of the liberal establishment.
Forward this to a friend.  It helps us grow our community and serve you better.
You can also follow SHIFTWA on social media by liking us on Facebook and following us on Twitter.
If you feel we missed something that should be covered, email us at [email protected].