INSLEE HOSTS A POLICY PANEL ON CLIMATE CHANGE, DOES NOT INVITE ANYONE WHO MIGHT DISAGREE WITH HIM
SEARCHING FOR ANYONE TO CHEER HIS EFFORTS TO JACK UP GAS PRICES, JAY INSLEE HEADS TO THE U.N.
You would think that Governor Jay Inslee might have enough work reasons to be staying in our state these days, what with gas prices soaring, homicide rates breaking records, and the ferry system breaking. Not even to mention Covid being back on the upswing, with his "emergency powers" nowhere to be seen. But fear not – his office is letting us know that he'll be spending next week attending and speaking at something called "Climate Week NYC 2023" at the United Nations.
Shift found out about this because evidently the governor needed some additional taxpayer-funded public relations work for his attacks on anyone who disagrees with him before going to the U.N., so his taxpayer-funded office sent out just yesterday a notice for today's "virtual panel discussion with leading scientists and fossil fuel industry experts." Of course, the panel doesn't actually feature any "leading" anything, no one who works in the fossil fuel industry, or anyone from private industry at all – just Inslee, three university professors, and an environmental lobbyist.
But, since everyone in the public missed today's panel, you can read in this release about arranging time on Gov. Inslee's New York interview schedule, just "Contact Jim Kopriva for details at [email protected] or by phone at (253) 281-2923." You can look for those interview time slots (remember, all time ET) here… Governor Inslee's press office.
THIS WEEK'S NEWSMAKER INTERVIEW
This week, Jason Rantz, a KTTH radio host and national FOX News contributor, discussed his upcoming book, "What's Killing America, Inside the Radical Left's Tragic Destruction of our Cities," set to release on September 26th. Rantz delved into the failures of liberal policies, emphasizing the impact on Seattle and other American cities in terms of crime, homelessness, drug addiction, and taxes under one-party liberal control. He offered insights into the content of his book and his goals in writing it, addressing the activities of the Radical Left and suggesting ways for moderates and conservatives to counter these policies. Rantz also highlighted his perspective on media double standards, criticism of certain liberal arguments, and his stance on specific policies such as "housing first" and Universal Basic Income, while hinting at the possibility of future books. Read more.
WHY WOULD ENVIRONMENTALISTS WANT TO BURN MORE TREES?
The folks at Shift are not sure why environmentalists would want to make Eastern Washington forests more susceptible to fire, but that's the argument coming out of Spokane's Spokesman-Review. Or at least in this op-ed, where it was pointed out that the "litigation driven collapse of the Colville National Forest's historically robust forest restoration and fuels management programs raises a seemingly unanswerable question. What do litigious environmentalists want, not just in the Colville National Forest but in every national forest in the West?"
That question is far too big for our briefing, but you can find out more about how the "Kettle Range Conservation litigants aren't conserving anything. They pose a far greater danger to the Colville National Forest and its communities than forest restoration work ever has or will" here… Spokesman-Review.
FEWER COPS PLUS HOMICIDES AT A RECORD PACE ARE THE PUBLIC SAFETY EQUATION SEATTLE FACES
Controversy is again swirling around the Seattle Police Department, much of it self-inflicted this week. It's when activists are yelling the loudest that it is most important to recognize what the cops on the street are facing in Seattle every day, with KING 5 reporting, "Seattle has seen the most homicides in at least 15 years, with 57 as of Sept. 7." You can read on about how tragically in "just about half of those cases, no one has been arrested" here… KING 5.
ONE PERSPECTIVE ON SCHOOL SAFETY – MORE RESOURCE OFFICERS
My how a return to school can change minds. That's the news out of Olympia, according to KOMO, as the "Olympia School Board adopted a new policy Thursday to bring back school resource officers (SRO)."
As alert readers will recall, the "Olympia School District (OSD) was one of many districts in Washington state and across the country that severed ties with resource officers in June 2020 after George Floyd's murder." You can read how policy changes were "sparked after two incidents where students brought guns to Capital High School within four school days" here… KOMO.
AND A COMPETING PERSPECTIVE FROM THE SEATTLE LEFT: "DEBUNKING THE DEFUNDING MYTH"
There are those in Seattle who are very concerned that the wrong lessons will be learned from places like Olympia. That is evident from the South Seattle Emerald piece making the argument that "a pronounced characteristic of post-2020 America is the scapegoating of imaginary police defunding for societal failures."
The rising Seattle homicide rate must be one of those "imaginary" things in the mind of the author, who also says the City Council's budget and policy actions have done nothing, as "(T)he truth of the matter is that there was never any change to our city's police budget that kept them from paying officers or hindered their ability to prevent or solve crime." You will find more surprises here… South Seattle Emerald.
FUN FRIDAY NEWS: BARBER PUNISHED BY INSLEE'S MANDATES RETIRES, FIND'S REPLACEMENT TO CARRY ON LEGACY
The news out of the city of Snohomish is still one of defiance. However, the Everett Herald, in revisiting a COVID story about a business owner who refused to follow Governor Jay Inslee's lockdowns, reports that "Bob Martin, the rogue barber who became a symbol of conservative resistance in the pandemic, has put down his clippers."
Read on for what should be a fun story, even though Gov. Inslee's minions are determined to chase Mr. Martin for $90,000, as a state bureaucrat claims to have "attached a lien to his house so when/if it's sold someday, the fine will be paid to us"… Everett Herald.
OVERHEARD ON THE INTERWEBS...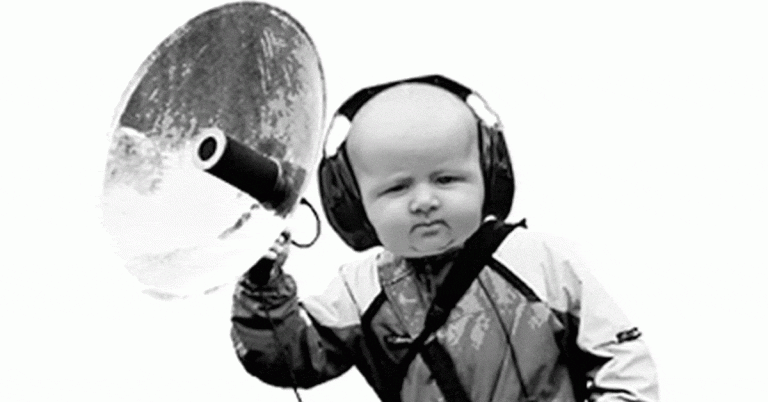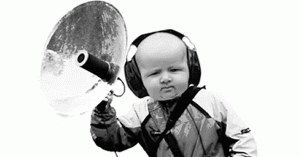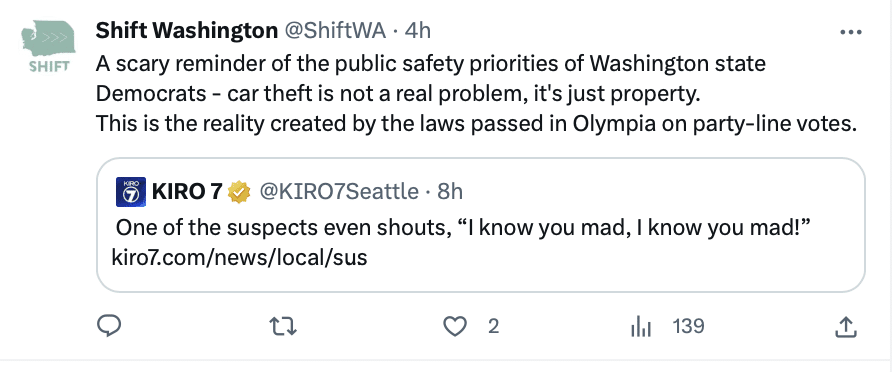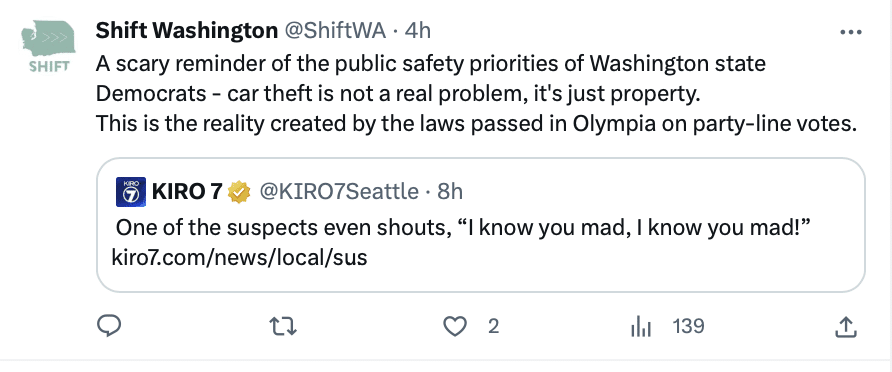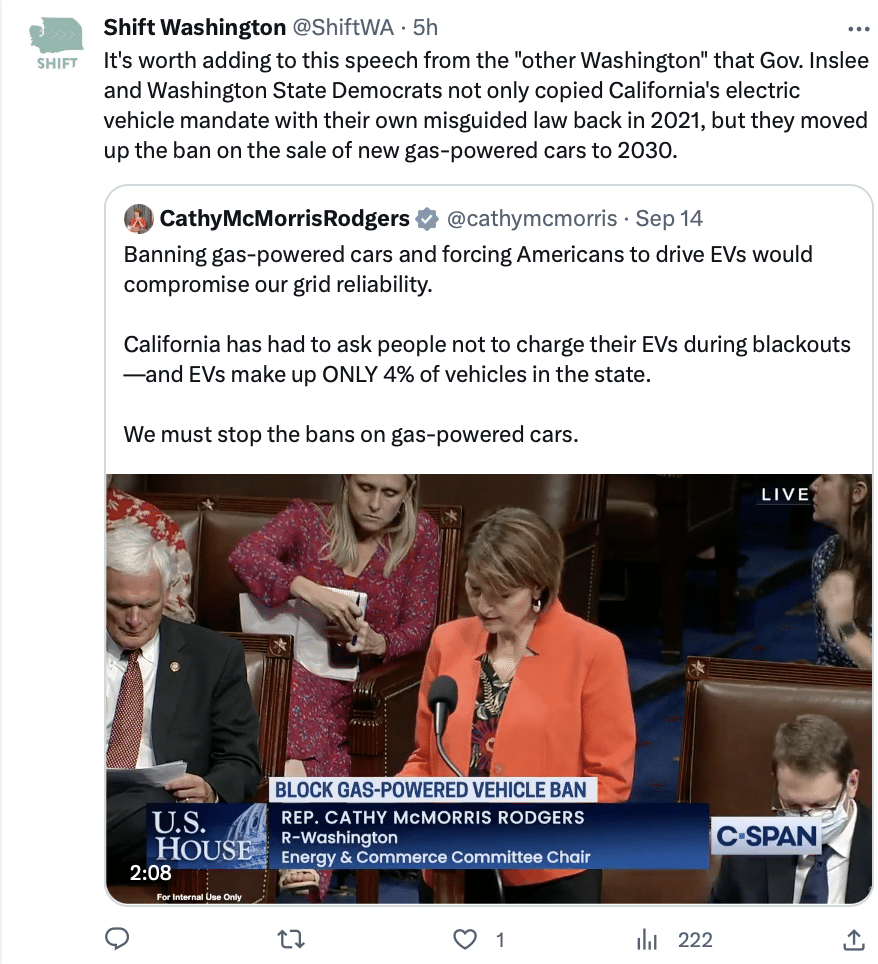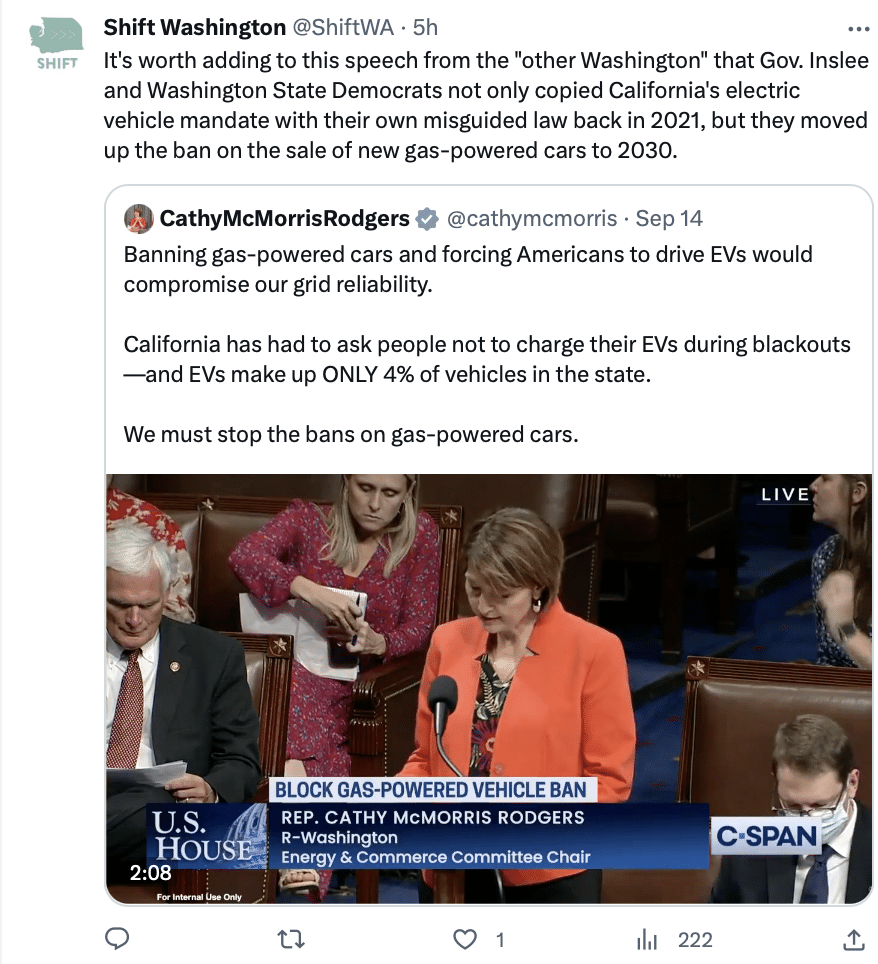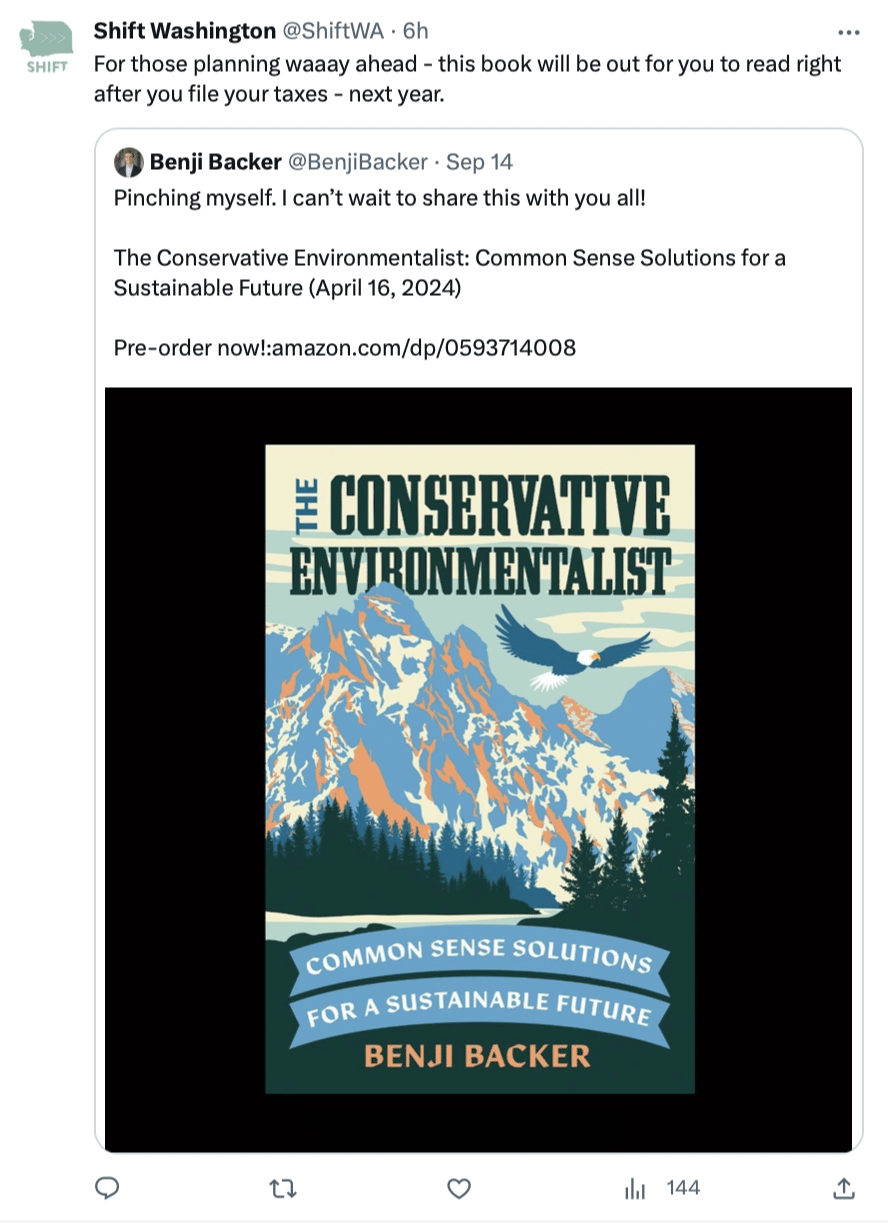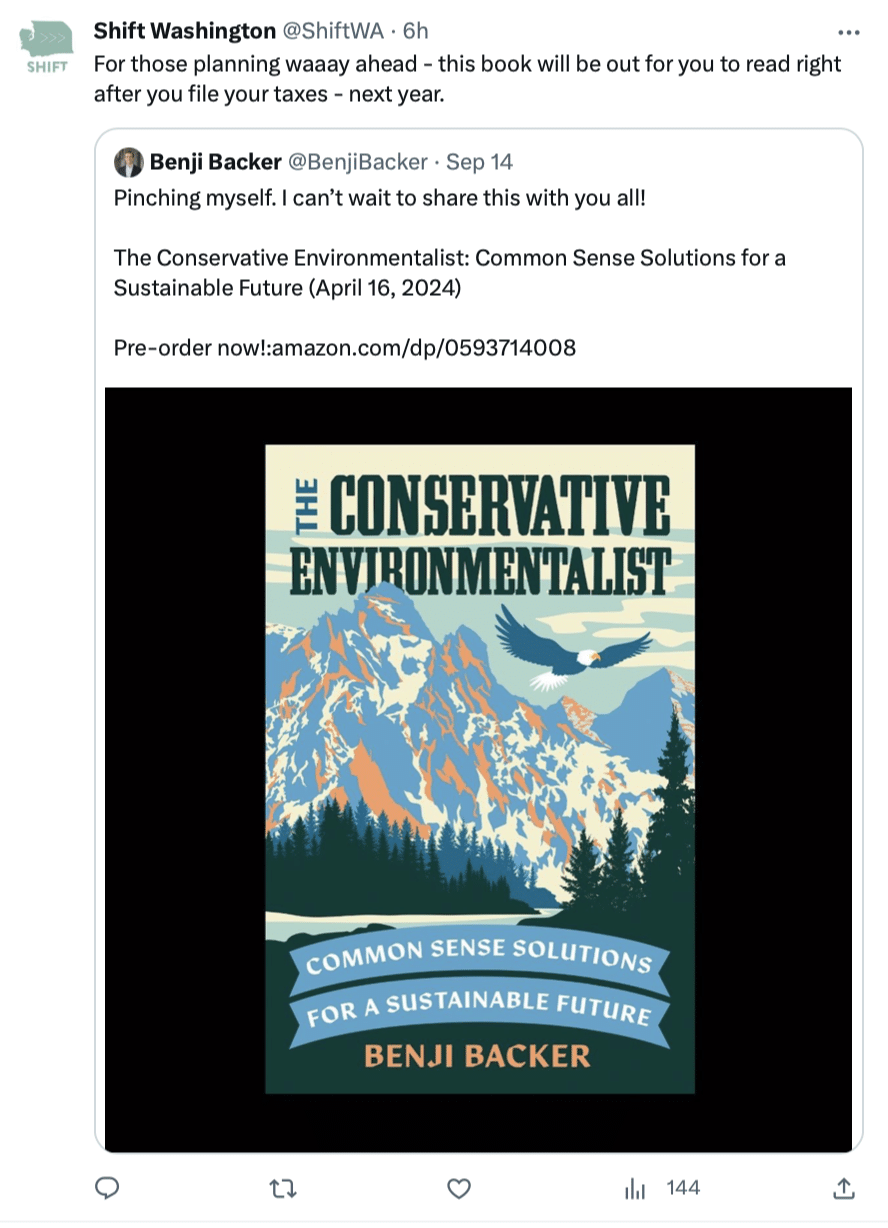 SUPPORT THE DAILY BRIEFING...
Please consider making a contribution to ensure Shift continues to provide daily updates on the shenanigans of the liberal establishment.
Forward this to a friend.  It helps us grow our community and serve you better.
You can also follow SHIFTWA on social media by liking us on Facebook and following us on Twitter.
If you feel we missed something that should be covered, email us at [email protected].