IN CASE YOU (OR MAYBE GOVERNOR INSLEE) WERE WONDERING, THE STATE IS MAKING SURE IT'S TAKING A BIGGER SHARE OF WHAT YOU PAY FOR A GALLON OF GAS –THE NUMBERS DO NOT LIE (LIKE SOME THINGS DO)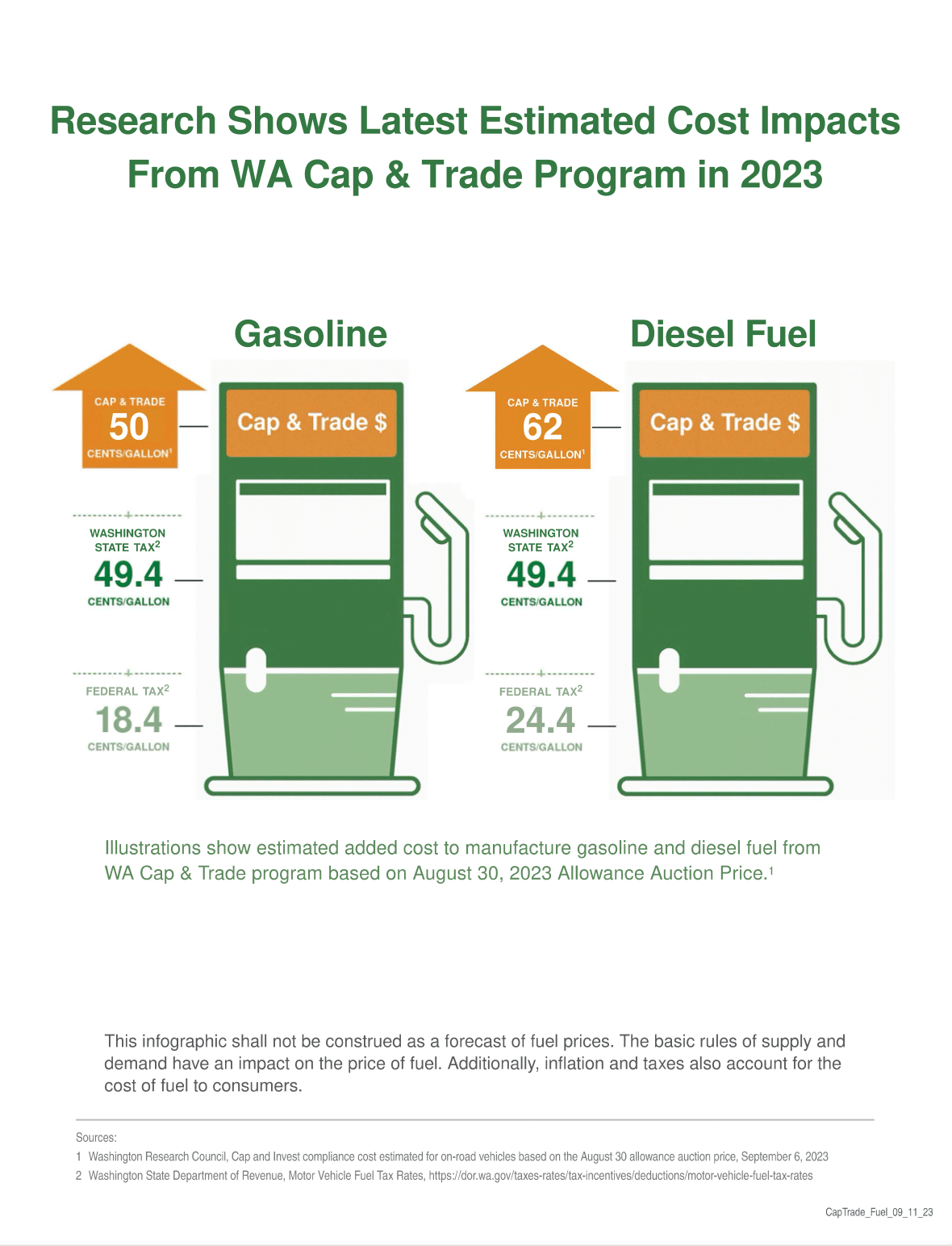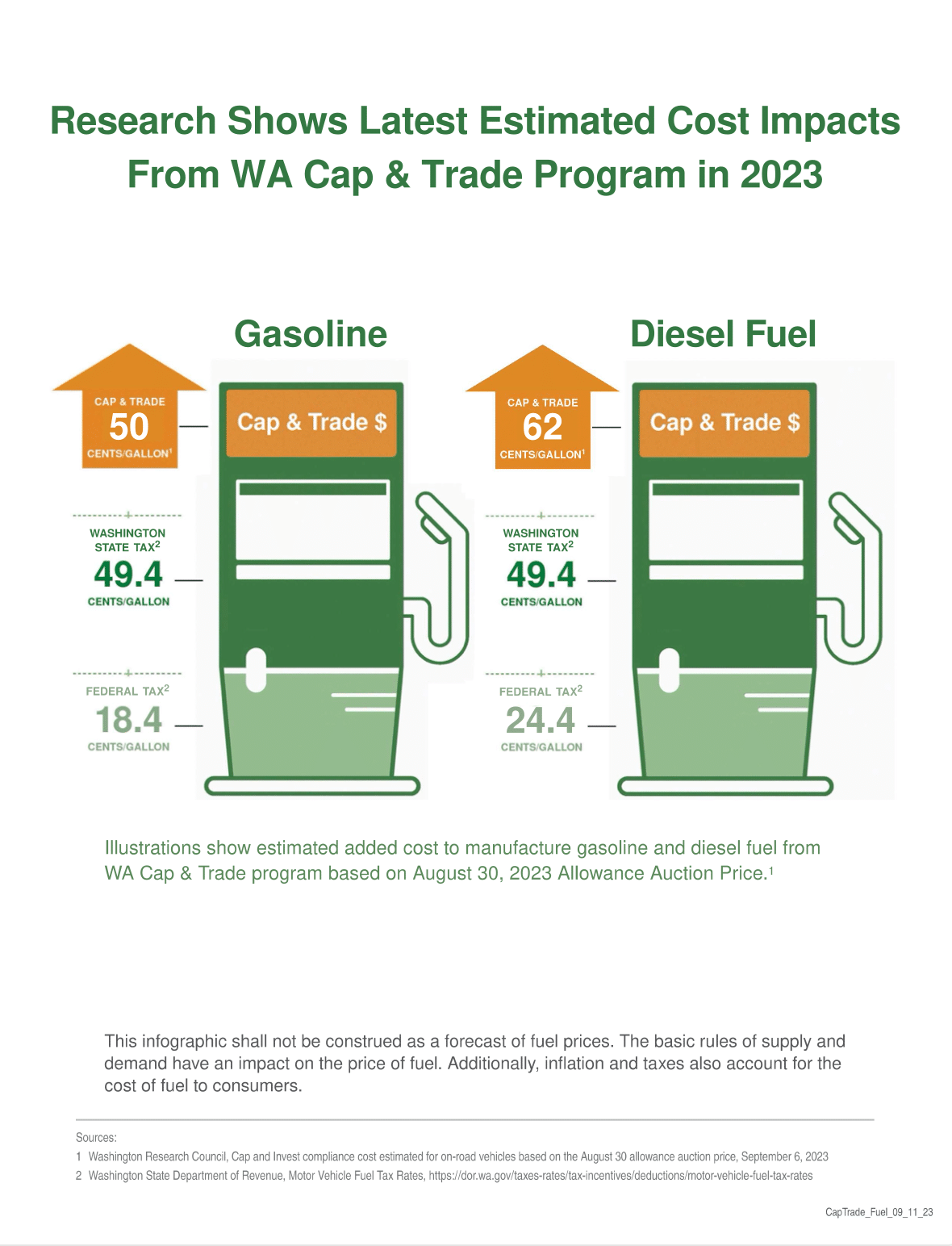 Thank the folks over at Future42 for finding a fun way to highlight a very un-fun truth – the state is taking a growing cut out of the price of a gallon of gas. And while almost all of the gas tax constitutionally goes to our state's roads, Inslee's cap-and-tax slush fund lends itself to mischief.
A one-day celebration of pre-Jay Inslee as Governor gas prices drew a big crowd to Kent, but will that same fervor lead voters to SHIFT their thinking next year? Read on to find out more about one issue that could cause some shifting here… Future42
SPOKANE'S PROGRESSIVE TICKET DRAWS FIRE IN CITY'S PUBLIC SAFETY DEBATE
The Spokane Mayor's race was already the state's most expensive, leading into last month's primary.  And some folks are helping it become even costlier, as the "Spokane Good Government Alliance has kicked off a billboard campaign to highlight Lisa Brown and Betsy Wilkerson's 'plan' to address public safety within the City of Spokane."
Linking the wannabe mayor, fresh off a stint on Governor Jay Inslee's executive team, with the veteran City Council member allows voters to link their "progressive" policy positions as well. You can decide for yourself whether "our community's safety is on the ballot this fall" by reviewing the record here… Spokane Good Government Alliance.
SHOCKER: WA STATE SUPREMES GET ONE RIGHT
Proving the wisdom of the old adage that even a broken clock is right twice a day, the all-Democrat Washington State Supreme Court got a case right. That's the surprising news from the Washington State Standard that "a 5-4 decision on Thursday invalidated some of the restrictions the state Legislature put on law enforcement's use of tear gas to suppress riots."
It certainly wasn't a complete victory, but the "ruling overturns part of a state law passed in 2021 that requires police to get approval from the highest elected official in the jurisdiction where tear gas might be used before deploying it." You can read how a slim court majority came around to the obvious conclusion that "quelling riots is a core function of the sheriff's office" here… Washington State Standard.
ANOTHER SEATTLE DEMOCRAT BRINGS PURE GIBBERISH TO A BID TO TAKE ANOTHER STATEWIDE OFFICE WAY OFF TO THE FAR LEFT
The retirement of Governor Jay Inslee after 12 years of being in the way on Washington's political ladder has unleashed an avalanche of far-Left ambition and, with it, a torrent of buzz words trying to capture the attention of the far-Left voters who decide most Democrat primaries. Yet even we can't figure out what Democrat State Senator Rebecca Saldana was talking about as reported by the (Tacoma) News Tribune the "people of Washington deserve a Public Lands Commissioner with a new approach of co-governance, deep relationship building, and mutual accountability."
Sen. Saldaña actually strung those words together while talking to living people, adding that this "is the vision sorely missing from our state leadership." You can decide for yourself whether Sen. Saldana was insulting just the current Democrat Lands Commissioner Hilary Franz with her crack about "deep relationship building" or Gov. Inslee as well in the whole lacking of "co-governance" thing, or even AG Bob Ferguson's lame approach to "mutual accountability" here… (Tacoma) News Tribune.
ANOTHER LOCAL COMMUNITY STANDS UP TO INSLEE ADMINISTRATION'S GREEN PLANS
Some folks over in Eastern Washington continue to fight an uphill battle against wealthy West side environmentalists (and their political supporters like Governor Jay Inslee) who don't care much about what people in Eastern Washington have to look at outside their homes. That was highlighted this week when "the Benton County Commissioners passed a resolution formally opposing the Horse Heaven Wind Farm Project.  First proposed by Scout Clean Energy LLC in June 2021, the project area would run roughly 29 miles in unincorporated Benton County."
These local officials are standing up for their local constituents in part because this is one of those green energy dreams that helps the governor sleep at night. You can find out more about why people who would actually have to live near this project will get less sleep because "the Horse Heaven Wind Farm Project's industrial use, project size, and location make 'the project inconsistent and incompatible with required outright permitted uses in the Growth Management Act Agricultural Zoning District'" here… Benton County website.
OVERHEARD ON THE INTERWEBS...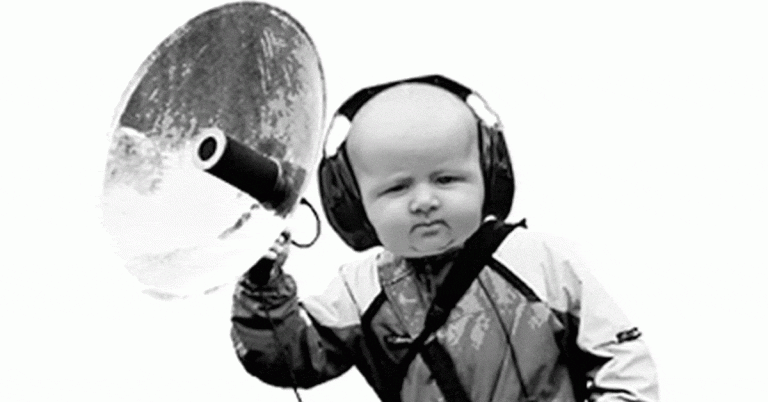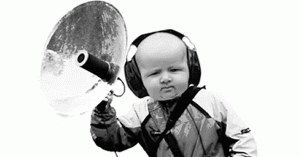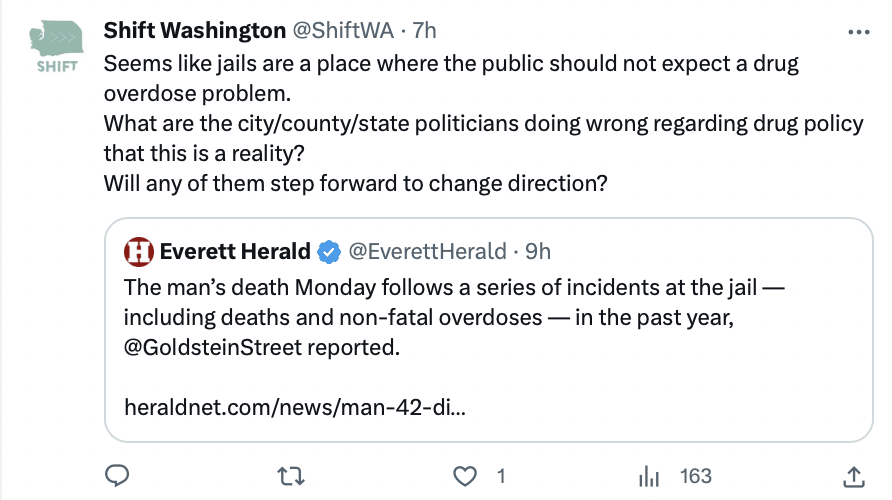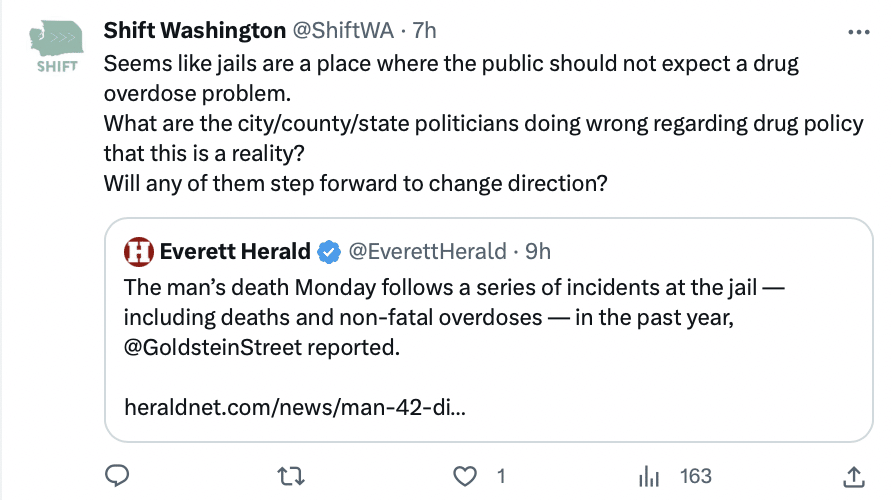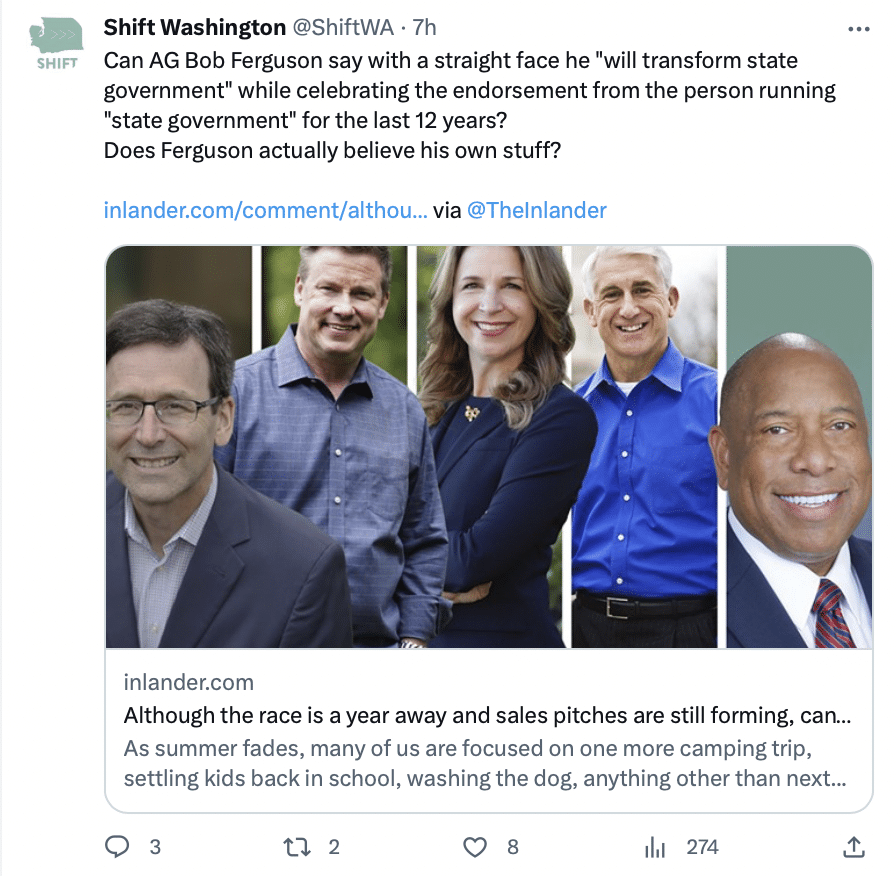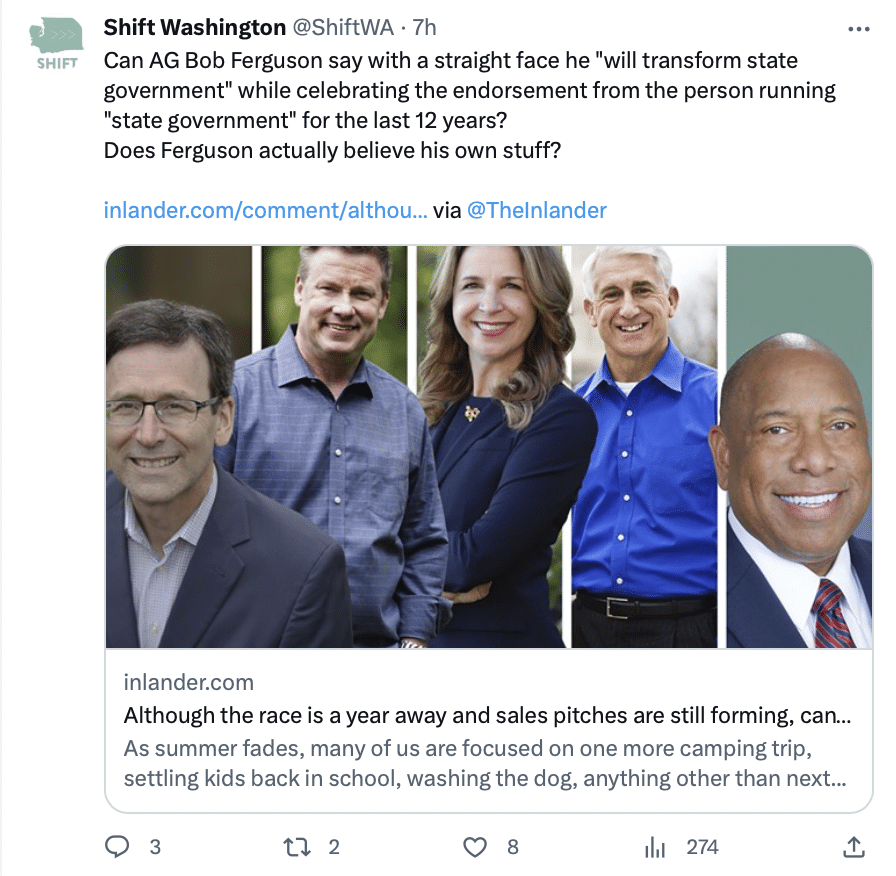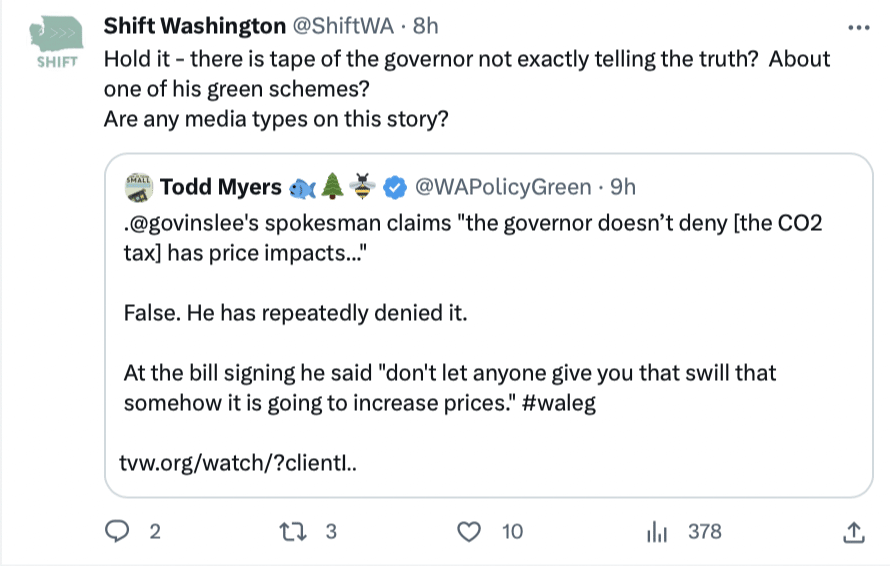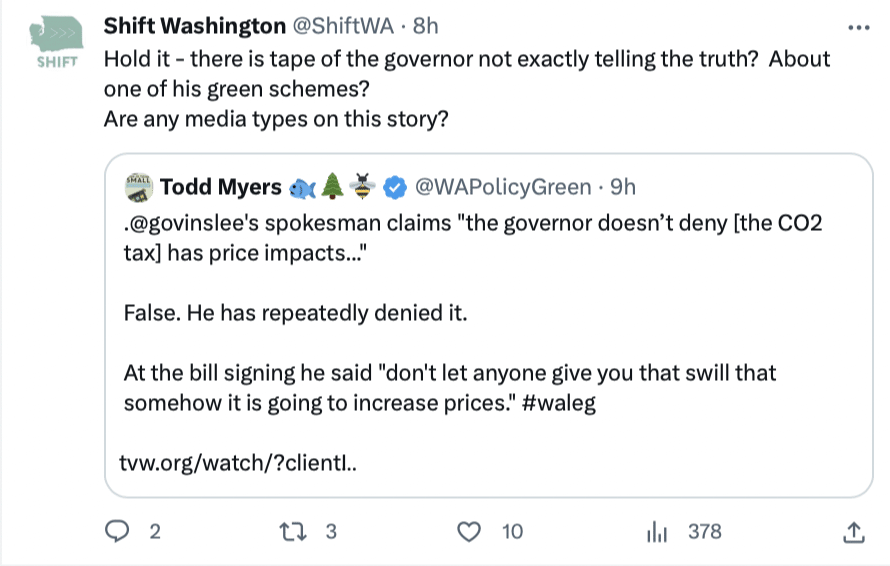 SUPPORT THE DAILY BRIEFING...
Please consider making a contribution to ensure Shift continues to provide daily updates on the shenanigans of the liberal establishment.
Forward this to a friend.  It helps us grow our community and serve you better.
You can also follow SHIFTWA on social media by liking us on Facebook and following us on Twitter.
If you feel we missed something that should be covered, email us at [email protected].