SHIFT NEEDED TO TAKE TODAY OFF – IN MOURNING FOR THE M'S AND TO PREPARE FOR SEAHAWKS ON MONDAY NIGHT FOOTBALL – BUT THAT REQUEST WAS DENIED
ONLY IN SEATTLE – PROTESTORS MARCH ON MAYOR'S HOUSE DEMANDING POLICE BUDGET CUTS FOR ONE COP'S COMMENTS
Some might think that Seattle gets an unfair rap from the national media for being the poster child for loony, far-Left ideas. Those people should have to read this KING 5 story, explaining that because one police officer is under fire after the release of his reprehensible out-of-context remarks, "protesters are calling for SPD to have its budget cut. They were outraged to learn Mayor Bruce Harrell's proposed 2024 budget gives the police department over $391 million, an increase of $17 million from the 2023 budget."
That's right, in the face of a record-breaking homicide spree in the city, on top of an out-of-control fentanyl epidemic, these protestors think a public safety budget increase of 4% is outrageous.  More loony thoughts here… KING 5.
DEMOCRATS MUST THINK PUBLIC SCHOOLS HAVE ENOUGH MONEY TO WASTE
News about government waste is hardly news. Yet, the Seattle Times still manages to stir up a little outrage by covering that the "U.S. Department of Education officials found flaws in Washington state's oversight of more than $1 billion in federal dollars intended to help public schools weather the pandemic."
It sure would have been nice to have had the media watchdogs paying attention when the waste was actually occurring under "Emergency Powers" Jay Inslee and his band of masked Democrats, as "investigators found the public didn't have sufficient insight into how school districts planned to spend the money." You can read about how this particularly expensive horse has already left the barn here… Seattle Times.
WILL DEMOCRATS LISTEN TO ONE COMMON SENSE IDEA FROM THE COLUMBIAN EDITORIAL BOARD – DON'T SPEND EVERYTHING
The editorial contains some dubious number crunching (since the state's operating budget has more than doubled under Jay Inslee's tenure, let alone 20 years), but The Columbian does get one basic point right: "When they return to work in January, legislators should heed a lesson most of us learn at an early age: Just because you have money doesn't mean you are compelled to spend it."
That's it, Democrats.  Just read that sentence again and the rest of the story if you must… The Columbian.
WILL INSLEE STOP DEMOCRAT ATTEMPT TO PUSH LATINA LEGISLATOR OUT OF HER DISTRICT?
The press conference held by conservative Hispanics last Thursday (which Shift highlighted at the time) continues to have some legs. This week, it's Crosscut picking up that it's actually now up to Governor Jay Inslee to make the legislature fulfill a constitutional duty that some of its leaders want to turn over to the judicial branch, highlighting the quote, "Governor Inslee, you should call a special session and get this Commission back on track to do its job."
As Crosscut points out, "Democratic leaders in the Legislature and the Latino Democratic Caucus want to let the court decide on the new maps, with input from the people and organizations who brought the lawsuit challenging the maps drawn by the Redistricting Commission." Read on to see if you think the governor would actually make members of his party do some work here… Shift, Crosscut.
ICYMI – IT'S NOT JUST CONSERVATIVES GETTING MUGGED THESE DAYS
At least that's the conclusion drawn by Seattle Times columnist Danny Westneat, remembering the old adage that a "liberal is a conservative who hasn't been mugged yet" in pointing out a change of tunes in places like Seattle. He finds it telling to find Seattle among "the many West Coast cities and other groups that collectively filed more than two dozen briefs this past week expressing a sense of desperation about 'desolate scenes' and 'pits of squalor'" and asking the court to allow more aggressive handling of illegal street camping.
The amount of money being wasted to wake up liberal elected officials is staggering, according to Seattle's legal filing: "Los Angeles is devoting a staggering $1.3B (10% of its total budget) to homelessness. Seattle similarly spent $153.7M in 2023." Read on for more depressing enlightenment here… Seattle Times.
LAST WEEK'S NEWSMAKER INTERVIEW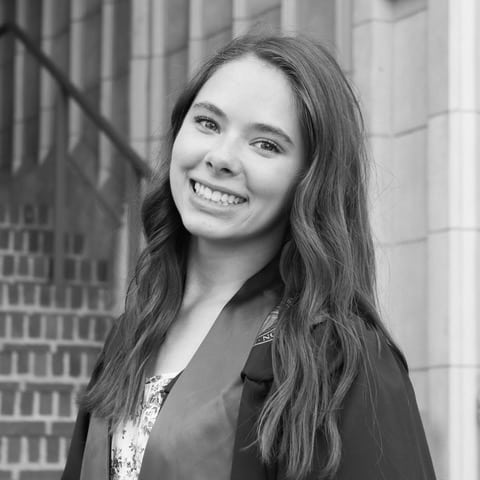 Last week's Newsmaker Interview was with Caitlyn Axe, the author of the latest Discovery Institute Fix Homelessness project report. Our interview highlighted the failure of the King County Regional Housing Authority's collaboration with local companies, costing taxpayers nearly 10 times more to house homeless individuals than non-profits can. The report revealed a lack of accountability in how taxpayer funds were distributed to local homeless organizations. In her interview, Axe discussed the report's findings, criticized the "housing first" policy, and shared insights on the future of the KCRHA and ways for readers to keep public pressure on the authority. Read more.
OVERHEARD ON THE INTERWEBS...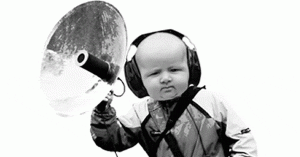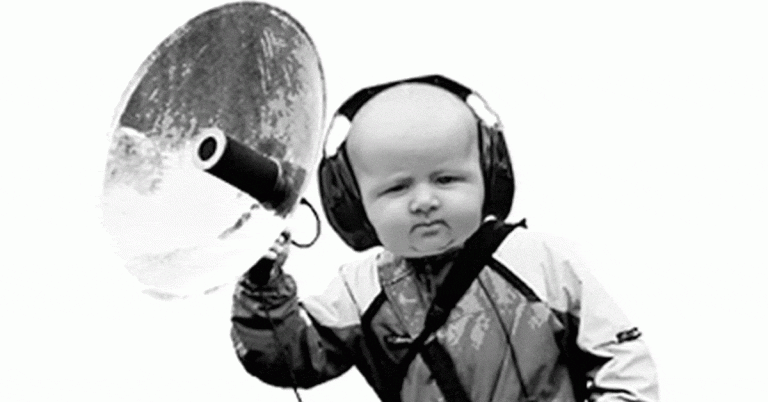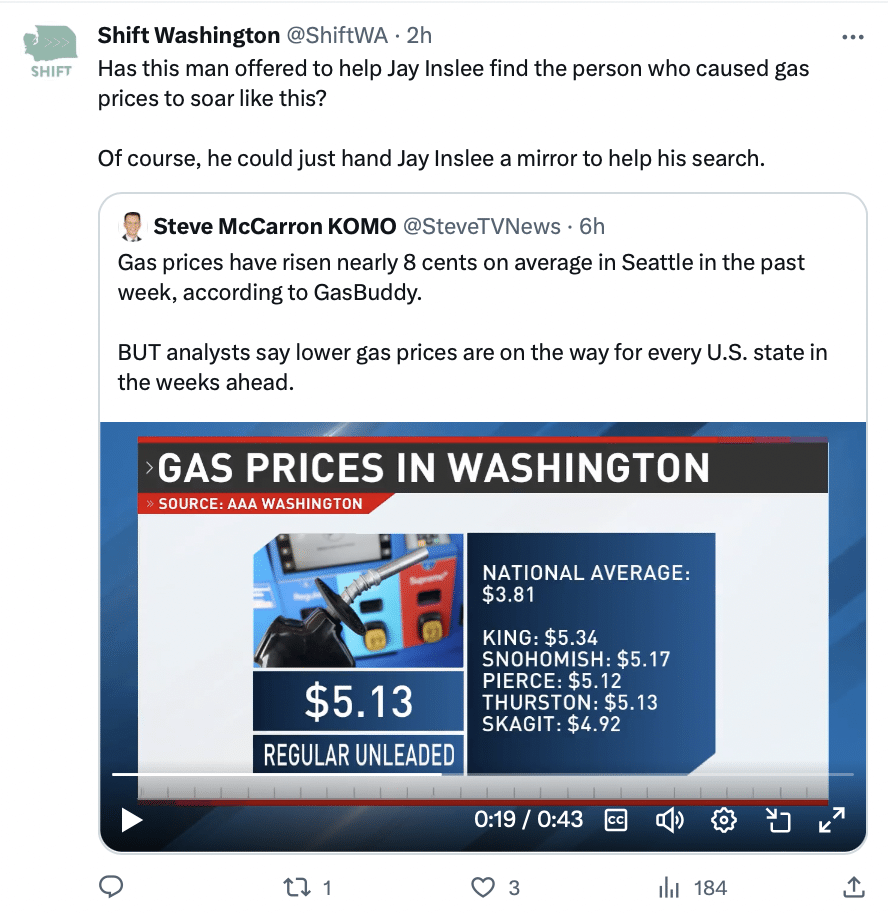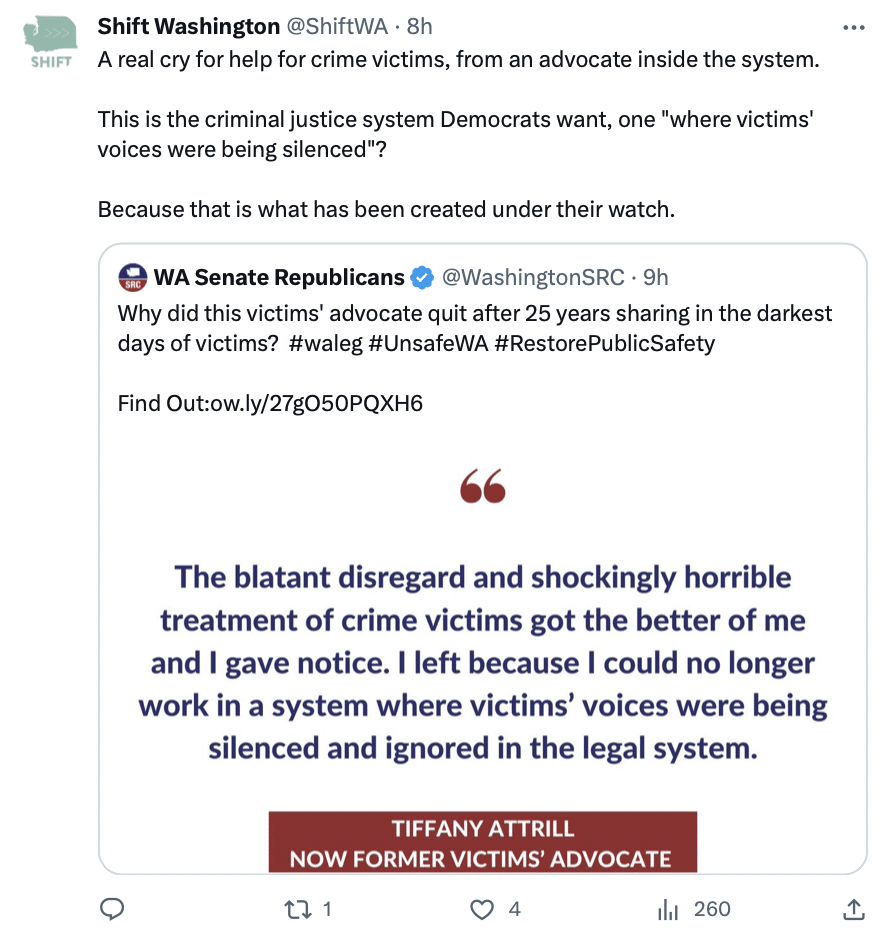 SUPPORT THE DAILY BRIEFING...
Please consider making a contribution to ensure Shift continues to provide daily updates on the shenanigans of the liberal establishment.
Forward this to a friend.  It helps us grow our community and serve you better.
You can also follow SHIFTWA on social media by liking us on Facebook and following us on Twitter.
If you feel we missed something that should be covered, email us at [email protected].