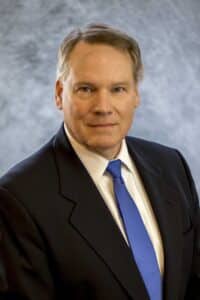 Our Newsmaker Interview is with Paul Guppy, the Vice President for Research at the Washington Policy Center.  He is the former Chief of Staff for an U.S. Representative, and he is often featured in the local and national media commenting on important policy decisions. Guppy works on a wide array of issues as the free-market think-tank's staff conducts research and produces reports on topics being discussed by Washington state and local government officials. The organization is considered one of the premier state-based policy organizations in the country (and is often cited in Shift).
Guppy provides his thoughts on the growing tax burden the Democrats in Olympia are placing on Washington State residents and employers, and that despite budget surpluses, liberal legislators will likely seek to raise taxes even more during the 2024 legislative session. Guppy is critical of Governor Inslee demand for even more money to remove encampments on state properties.  He describes how the City of Seattle's radical anti-business policies have hurt opportunities in the community. Finally he discusses WPC's Annual Dinner which will be held Friday, October 13th in Bellevue with Dr. Sebastian Gorka and the leaders of the popular satirical website Babylon Bee.
First, for the few Shift readers who do not know, please provide a brief description of what the Washington Policy Center does.
Thanks for the opportunity to be part of Shift's Newsmakers Interview.  Washington Policy Center in a non-profit, independent research and education organization.  We are a non-partisan think tank working to make life better for everyone in our state.

We are devoted to principles of free markets, low taxes, a strong business environment, and access to great jobs.  We believe the role of government is service – to help individuals, families and business owners pursue their dreams, not simply serve as obedient "revenue generators" for those in power.
We are a member-supported organization.  One of our principles is we believe in voluntary association and the right of people to support causes and ideas they believe in.  Unlike many left-wing groups, we do not believe in forced contributions, and we do not take government money.
It seems to many Washington State residents that Olympia is taking more and more of their money with both new and higher taxes. Is this feeling justified?  Do residents have a higher tax burden today?
Yes, that feeling is absolutely justified.  The sense people have that they are being milked is confirmed by the numbers, both compared to other states and to our own history.  In the last few years every other state, including Democrat-run ones like California and New York, has provided some form of tax relief for its people.  The level of tax relief in Washington state stands at zero.  In fact, over the years Governor Inslee and the Democrats have added several new taxes, including regressive payroll taxes that hit working families hardest.
State officials get plenty of money, yet they always act like they are broke.  It would be a pleasant change if our elected leaders appreciated how hard people work.  When was the last time you heard a government official say "Thank you" to taxpayers?
It also seems to be a more difficult time for employers, especially those who operate in and around the City of Seattle. How does this negative business climate impact the community?
There is a basic aspect of human nature that Leftists refuse to understand: communities thrive when relationships are voluntary.  When a particular city becomes too harsh or expensive people simply leave, or at least they pull back on their business and social activities.  That is what Seattle has seen in the last few years.  Daily activity in the downtown business and shopping core is down about 40%.  That's because downtown doesn't feel like an attractive, or particularly safe, place to be.
Part of this is because of the de-fund the police policy Seattle leaders adopted so enthusiastically and are now trying to reverse.  Part of it is because of urban riots and rising crime.  But mostly the negative business climate is due to structural causes: high property taxes, a high sales tax, Seattle's unique "head tax" on large employers, a high mandated minimum wage and the city's policy of encouraging retail theft.
All of this adds up to lost opportunity.  Sure, Seattle isn't going to shut down, but it is not as vibrant and livable as it could be, or once was not so long ago.  Small neighborhood businesses are hit hardest because they tend to have the slimmest profit margins.  It also hurts entrepreneurs who have a creative idea and would like to start a business of their own.  City officials focus a lot on collecting tax revenue, so they usually don't think about businesses that are gone or never started, but when a family-run restaurant closes, or a well-loved shop folds up, it makes the whole community poorer.
Governor Inslee has said that he needs more taxpayer money to clean-up the encampments on Washington State Department of Transportation properties around the state.  What are your views on this idea?
Cleaning up dangerous and illegal encampments is a good idea, and WSDOT doesn't need more money to do it.  Democrats like to say they are "defending democracy!" and then they ignore democratically enacted laws they don't like, like rules against camping in parks and other public spaces.
City officials will say it's WSDOT property so they can't do anything about encampments along roads and highways.  What the public sees is circular finger-pointing.  A school district points at the city, which points at the county, which points at the state, etc.  Arguing over jurisdiction is just a shell game to avoid responsibility.
The first responsibility of government is to provide for the safety of its citizens.  Neighborhood streets, schools and small businesses near illegal encampments are not safe, and the people left to languish in them certainly aren't – they need help.
The state has plenty of money, whether its in transportation or some other budget, to provide safe public spaces, and to help the homeless and the mentally ill.  What's lacking is the political will to do anything about it.
What do you believe will be the big issues of the 2024 Washington State Legislature?
The Democrats' priority (not surprisingly) will be to increase spending.  State revenues are strong, and the Inslee carbon tax is bringing in records amounts of money.  The short 60-day session is to allow tweaks to the 2023-25 budget.  Instead, Democrats are likely to vote in major spending increases.
This is the standard tactic for big spenders, which I've seen first-hand in Congress and at the state level.  They rush to lock up new revenue by folding into the current budget.  Then when someone suggests returning money to taxpayers they squawk "budget cut!"
Only in the public sector is a slowing of increase called a "cut," as if public officials have more right to the money than the people who earned it.  In the next session expect the Democrats to add $500 million to $1 billion to the current $69 billion budget.
However, there are some agenda items the Democrats can't control.  Several Initiatives to the Legislature are circulating right now.  These popular proposals would repeal the capital gains income tax, enact a ban on local income taxes, authorize police pursuit of criminal suspects, ban schools from hiding student information from parents, and let workers opt-out of the Long-Term Care payroll tax.
Democrats consider these topics off limits, but that's not how voters feel.
Lawmakers must consider any initiative that gets 325,000 signatures.  If lawmakers do nothing the measures will appear on the November 2024 ballot.  The legislature can also propose alternatives, in which case people get to vote on both.
We're heading into a competitive election year so Democrats may want to deal with the initiatives early to get them out of the way.  Then again the loudest left-wing activists might not let them do that, so one or more of these controversial topics may go to the ballot.  If any do expect them to spark public enthusiasm and drive voter turnout, which is more likely to help the Republican side.
The WPC's Annual Dinner is occurring next week (Friday, October 13th) in Bellevue.  What can you tell us about the event and are there still tickets available?
Yes, our Annual Gala Dinner is on October 13th in Bellevue.  Tickets are available at www.washingtonpolicy.org.  And the same event we are hosting a special dinner for our Young Professionals program, so lots of students and young people will be in attendance.
Our dinner speakers include Sebastian Gorka and the editors of the popular comedy site Babylon Bee, so the evening will include insight about national politics plus a light-hearted take on current issues.  The opening reception is as lively as the dinner itself, with lots of great conversations and socializing.  This is one of the largest gatherings of conservatives and independents in the country, and you don't even need to travel to D.C. to be part of it.
To learn more about the Washington Policy Center, please visit its website.