Some Democrats and liberal organizations are seeking to remove public opinions from the legislative process by attempting to discredit the advisory votes on statewide ballots, largely because voters often disagree with the taxes imposed on them by Democrat lawmakers.
Non-binding advisory votes on legislative tax increases are mandatory in Washington State due to the passage of I-960 by the voters in 2007. And just like this past week's advisory vote #37, on the unconstitutional state income tax on capital gains (which 61.2% of Washington voters want repealed, as of today), often voters strongly disagree with the tax.
The liberals like to claim that it is a knee-jerk reaction by voters to reject new taxes and thus such votes are meaningless. Yet as Jason Mercier of the Washington Policy Center points out, that argument is factually incorrect. There have been 10 times in the past decade when voters have supported a tax increase in the advisory votes.
The Democrats want to do away with the advisory votes as they attempt to completely remove the public's opinions from legislation.  State Senator Sam Hunt (D – Olympia) and State Representative Javier Valdez (D – Seattle) wrote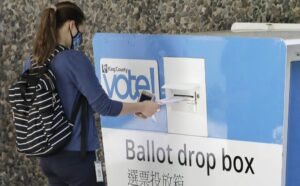 in a recent Seattle Times op-ed that they support legislation (SB 5182), sponsored by Senator Patty Kuderer (D – Bellevue), which would end the advisory vote requirement.
This desire to silence any possible dissenting voices is not surprising coming from the Democrats.  For over 600 days, Governor Inslee has already eliminated every person but himself from the decision-making process on his "emergency orders", which have impacted the lives of every Washington citizen.
Democrats "moved heaven and earth" to make sure voters could not repeal their new state income tax on capital gains through a referendum, by falsely declaring their tax an "emergency" (despite more than $3 billion in state reserves).
The Democrats cut off all access to legislators this year by putting up a fence around the state capitol, to silence any protests as they were passing the state income tax on capital gains and expensive climate bills.
Senator Hunt notoriously allowed only a couple of dozen citizens (out of 1,637 who signed up) to speak remotely for just one-minute (before he laughed as staff cut people off at exactly one minute) on a bill to end the governor's one-man rule of the state.
And there's more…
Democrat legislators (including their 2020 nominee for Secretary of State Gael Tarleton) sponsored legislation (HB 2529) which would eliminate statewide elections in years ending in odd numbers, because not enough liberals can be bothered to vote in them.
When citizens voted to reduce car tabs (I-976), Governor Inslee and other Democrats filed lawsuit to overturn the decision of the public, and they refused repeated calls to pass legislation which reflected the people's opinions.
Repeatedly, Washington State Democrats have clearly demonstrated they do not believe the public should be involved in deciding their fate in our democracy.  And yet Democrats wonder why people are resisting various government mandates when only one liberal politician (Governor Jay Inslee) determines them and their elected representatives are denied the constitutional right to be included in the decision.