It's Halloween and, thanks to Democrats, we don't have to look very far to find what scares us most. In the past year, liberals managed to scare us time and time again with their extreme agenda—whether it's a state income tax, a $1.17 gas tax scheme or simply the corrupt tactics they employ to stay in office. So, to return the favor, we here at SHIFT have compiled a list of the perfect Halloween costumes for a few of these Democrats.
1. Democrat candidate for State Senate Tami Green as "the green thing."
Green loves "green stuff." She once said of her opponent Sen. Steve O'Ban, "Senator O'Ban is a nice man, but we just have very different philosophical points of view, to our priorities… My priorities are middle class priorities, clean air, green stuff, and I'm not saying his priorities are wrong, they're just not my priorities. His priorities are about small government, low taxes, and doing the best you can for business. Some of those things are important to me, too, but they're not my priorities."
In keeping with Green's priority of all things vague and green (i.e. Inslee's extreme green agenda), we imagine the State Senate hopeful will sport a costume that looks something like the "green thing."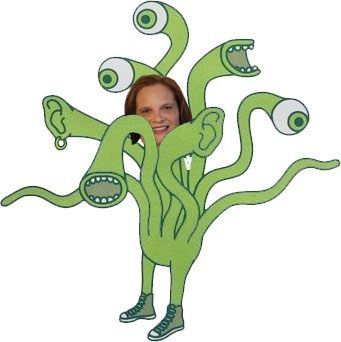 2. Democrat candidates for State Senate Shari Song as the travel gnome and Seth Fleetwood as William Shatner.
Song moved to the 30th LD for the express purpose of running for its open State Senate seat. Fleetwood performed a similar relocating act. He lived outside of the 42nd LD right until he decided to run against Republican Sen. Doug Ericksen. The details of Fleetwood's move remain questionable. The home Fleetwood listed for his voter registration is, by all indication, not his primary residence. In fact, the home—worth millions—is up for sale, "with a sign and fliers for the taking waiting at the edge of the private drive." Nonetheless, Fleetwood claims the "landlord has had the house on the market for years" and allows him to use it as home.
So, what better Halloween costume for Song and Fleetwood—traveling candidates that they are—than a couple of the travel industry's best mascots? We expect Song to dress as Travelocity's travel gnome and Fleetwood as Priceline's William Shatner. After all, it does appear Fleetwood successfully named his own price on his million dollar home.
3. California billionaire Tom Steyer as a Sugar Daddy and Jay Inslee as Sugar Babies.
Earlier this year, Steyer promised he would invest millions into handing Washington State's Senate back to the Democrats in order to remove all obstacles standing in the way of Jay Inslee's extreme environmental agenda. And, as SHIFT reported, Steyer followed through. Indeed, he has become a sugar daddy for Democrats seeking election to the State Senate—and for liberal organizations across the state.
It's no secret that Jay Inslee has a rather close relationship with California billionaire Tom Steyer. After all, the two have a lot in common. They both want to implement an expensive, tax-raising environmental agenda that benefits Steyer's pocketbook and leads to higher taxes for the rest of us. And, both liberals refuse to let science—or the legislative process—stand in the way of their plans. Inslee and Steyer even met for a private lunch to talk through Steyer's plan to hand the State Senate back to Democrats—though Inslee denied it only to accidently admit to it months later. Despite their close relationship, it's clear that Jay knows Who's your Daddy: Steyer… and his billions.