The Washington Education Association (WEA) continues to prove that its illegal teachers' strikes are not, in fact, about benefitting education. Rather, the illegal strikes are a highly partisan effort to attack state Senate Republicans and disparage Republican leaders.
As Shift reported, the WEA signaled what the illegal strikes were truly about when it decided to exclusively attack Republicans, though the GOP budget does more for education than Democrats' spending plan. Specifically, the WEA has set its sights on attacking top GOP budget writer state Sen. Andy Hill. Ad after ad and sign after sign specifically targets Sen. Hill. Presumably, the WEA is threatened by Hill's growing popularity (a result of his responsible leadership record).
The latest in WEA's attacks on Sen. Hill has to do with… yard signs. The Lake Washington Education Association (the local chapter of the WEA) is asking residents of Sen. Hill's 45th legislative districts to place yard signs around their neighborhood with the familiar line: "Tell Sen. Hill: Don't Increase Class Sizes."
Check out the recent Facebook post: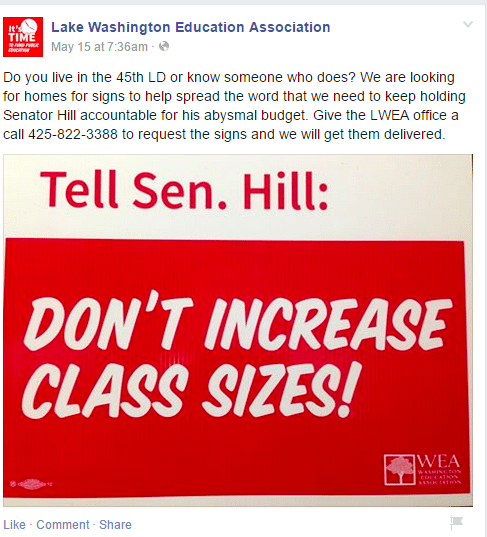 Of course, Sen. Hill's budget does not increase class sizes. It actually decreases them. Like House Democrats' budget, the Senate Republican budget would decrease class sizes for Kindergarten through 3rd grade. Studies have shown that smaller class sizes make a difference in grades K-3 and are not as effective as is so often assumed in later grades. The state's money could be put to better use for students in later grades. However, as Shift has pointed out, being smarter with taxpayer dollars would not generate more dues dollars for the WEA.