It's campaign season, so Democrats have been talking a lot about education. It's something they always do, even though after 40 years of Democrat control in Olympia the state is under Supreme Court order to actually fully fund public education.
Talk, it seems, is cheaper than funding for Democrats.
That's why it's worth remembering which party wanted – in this year's legislative session – to remove the college tuition freeze that the Republican-led Senate put in place in 2013. That's right, in the House Democrats' initial 2014 budget, the higher education tuition freeze was removed .
Of course, the Majority Coalition Caucus in the Senate said no, ensuring that the tuition freeze would continue to stay in place until 2016.
This truth has not prevented Democrats — like Speaker Frank Chopp — from actually taking credit for tuition freezes. To prevent future mix-ups truth or bouts of amnesia, here is a screen shot of Democrats' 2014 supplemental budget:
Notice the slashed out removal of the MCC's tuition freeze.
House Democrats' attempt to remove the tuition freeze falls in line with their past approach to budget writings. Under Democrat leadership in the Legislature, students pursuing a higher education have faced an exponential growth in tuition rates — budget after budget has leeched off students in order to pay for Democrats' special interest agenda. Essentially, it was a middle tax class increase so Democrats in Olympia could fund the programs their campaign-funding special interests like, such as higher public employee pay.
A recent study revealed that Washington State is the second highest in the nation for college tuition costs, with public universities also increasing tuition at the second highest rate in the nation over the past few years.
As SHIFT previously noted, funding for higher education has declined under Democrat leadership. As can be seen in the graph below, all other funding (including Human Services) has fared significantly better under the Democrat controlled budgets—except, of course, K-12 education, which Democrats have also always underfunded.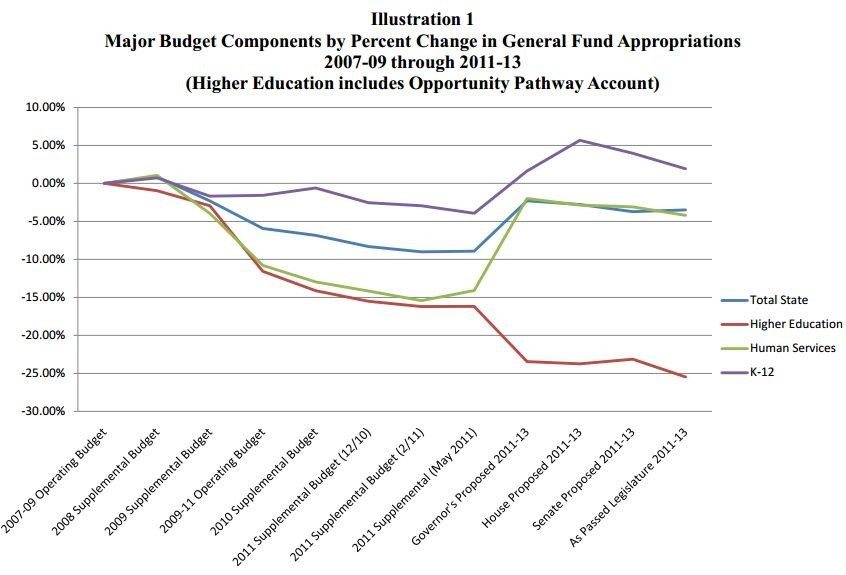 However, during campaigns the Democrat try not to let facts get in their way. But the reality is that Democrats have a lot to answer to when it comes to education funding – and those answers have been lacking.