Shift's Newsmaker Interview is with Republican Senator Simon Sefzik, who is running in the 42nd Legislative District (Whatcom County) to retain the seat he was appointed to last January, after the passing of former Senator Doug Ericksen.  The young senator made an immediate splash in Olympia when he proposed using the state's surplus funds to suspend Washington's 49-cents-a-gallon gas tax. Unfortunately for lower and middle class workers who are impacted the hardest by rising fuel prices, the Democrat majority ignored their financial concerns and refused to even discuss the proposal.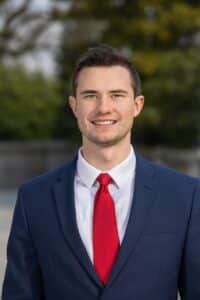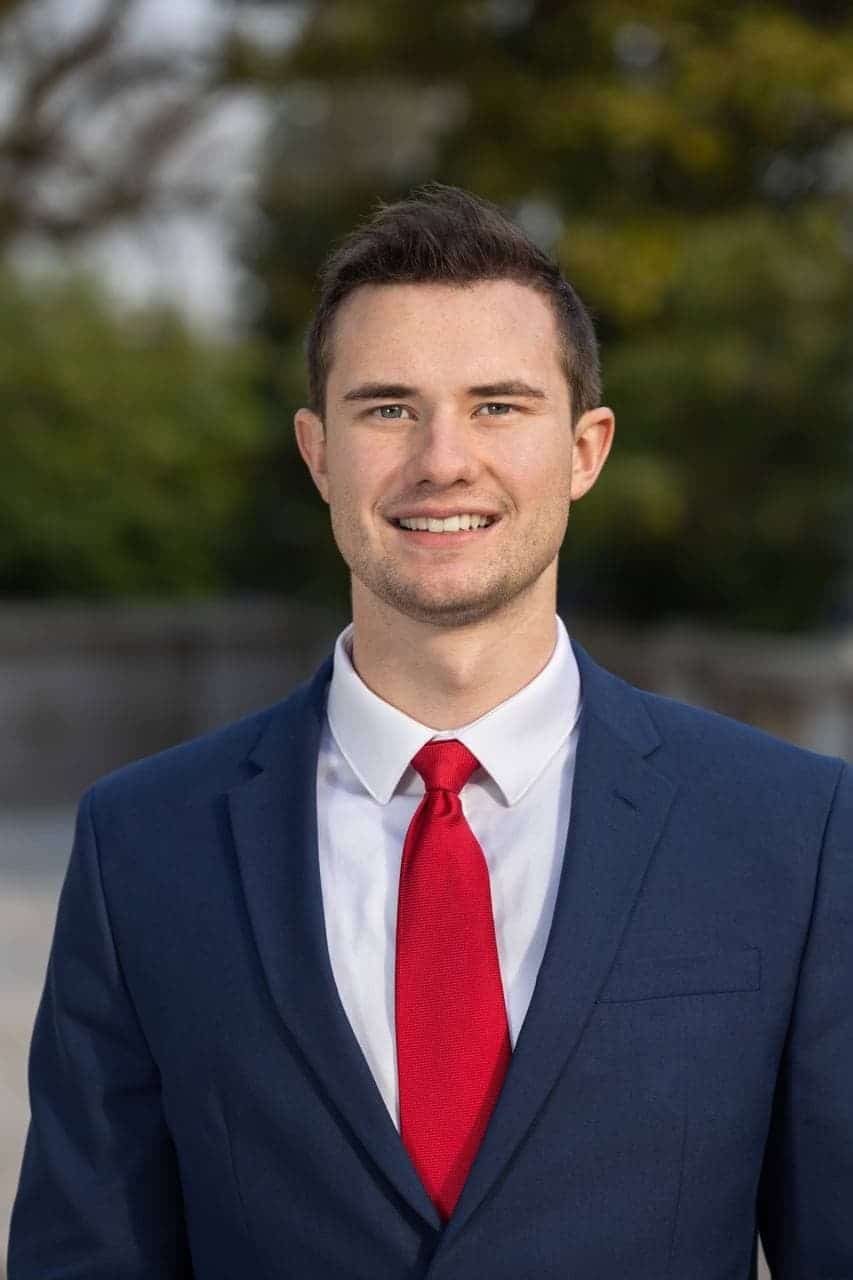 In the interview, Senator Sefzik discussed his re-election campaign and how he differs from his opponent who supports the Democrats' anti-police legislation, while he has been endorsed by law enforcement. He states his opponent has supported bills which have made housing more expensive (state regulations increase the cost of homes by 24%!), while he supports legislation which will help families purchase a new home. He states he will support a state budget that "prioritizes education and tax relief" and helps small employers. The senator outlines his thoughts on how to help students who have endured a poorer quality of education the past two years and he says a Russian classic is one of his favorite books.
First, please re-introduce yourself to Shift's readers by telling us about yourself and then why you have decided to run for re-election for the Washington State Senate.
I'm Senator Simon Sefzik and I have the privilege of representing most of Whatcom County in the Washington State Senate. I grew up on a farm in Ferndale, mucking out stalls and taking care of the goats and chickens.
Although I didn't plan to run for office at this age, since being appointed to the Senate in January, I've gotten an upfront seat, not only to the legislative process, but the first-hand impacts of legislation on people across the state. Every day I hear another story that affirms just how important it is for my generation to have a seat at the table and weigh in on the decisions being made in Olympia – after all, my generation and future generations will pay the bill.
I believe that if we come together, we can overcome the challenges facing our state and make Washington a place where young and old folks alike can afford to work, buy a home, have a family, and live in peace.
Your tax gas relief legislation received considerable attention both during the 2022 legislative session and when gas prices hit an all-time high earlier this year. Tell us about your bill and do you believe it will ever pass if Democrats remain in control of the legislature, even after gas prices rise even further when Governor Inslee's climate bills take effect next year?
My FUEL Act which would have suspended the state gas tax until the end of the year, saving consumers almost $0.50 a gallon on gas. The legislation I introduced included a key component to make sure that these savings went directly into your pockets and weren't picked up by oil companies; it also reappropriated money from our $15 billion budget surplus to make sure our transportation needs were funded.
It was a good piece of legislation that would have made a direct difference on the lives of Washingtonians – especially in a time of record high inflation. Ultimately, I want to work with both sides of the aisle to accomplish good ideas that benefit the people of Washington.
The majority party passed legislation that will raise the cost of gas by almost a dollar a gallon starting next year.  These types of regulations will make it harder for the average family to get by. Washington state already has the third highest gas tax in the country. We don't need more taxes like this that will make it harder for the average person just to get by.
We are hearing from candidates across the state that voters are very concerned about public safety.  Is this the case in your race?  How do you differ from your opponent on this issue?
Yes. Public safety is one of the top issues in this race. I've heard hundreds of stories and concerns  from law enforcement, small business owners, and parents, who are all devastated by the policies passed from Olympia. One hairstylist in downtown Bellingham told me that her small business is not only struggling because folks are afraid to come in and get their hair cut, but that small businesses in the area now come together in the mornings to clean the feces and drug needles off the sidewalks outside their businesses.
I've heard from a woman who started using drugs at ten years old, has been arrested more than seven times, but there's no mandatory detox facility for her to get her the help she needs. I've heard from parents who are concerned about the prevalence of fentanyl, worrying that their kids will be exposed to this poison. I've heard directly from law enforcement about how legislation passed in Olympia is keeping dangerous criminals on the street. Just last week, the Whatcom County Sheriff's Office arrested a man who had 20 previous convictions and is awaiting trial on 18 charges.
My opponent has voted not only for the legislation that escalated our problems and handcuffed law enforcement's ability to respond (HB 1054 and HB 1310), even after being warned by law enforcement about the dangers of such legislation. In contrast, even my opponents' Democratic seatmate voted against many of these anti-police reforms. Votes have consequences. Unfortunately, the people of Washington state are paying the price for politicians prioritizing political correctness over people's lives.
During my time in the senate, I've advocated for common-sense reforms for our law enforcement and taken the lead on this issue. In fact, I'm hosting a forum with Whatcom County Sheriff Bill Elfo and local police chiefs on September 29 so you can hear directly from our law enforcement on solutions to our public safety crisis. This event will be live-streamed and I'd love to have you join me. Find more information at SimonforWA.com/publicsafety.
I'm the only candidate in this race endorsed by law enforcement, including Sheriff Bill Elfo, the Washington Fraternal Order of Police, and the Washington Council of Police & Sheriffs.
You say on your website that you want to return affordability. What does this entail for you?
Returning affordability to our state is one of my top priorities. I will advocate for the legislature to address Washington's affordability crisis by reducing taxes, passing a budget that makes sense and prioritizes education and tax relief, and protecting and supporting small businesses, rather than regulating them out of existence, and blocking the majority party's efforts to impose the income tax.
Washington ended the fiscal year with a $15 billion budget surplus, yet the majority party refused to pass any meaningful tax relief or reform. A $15 billion budget surplus is a flashing light to let us know that we need to reevaluate and reduce taxes so that hardworking taxpayers get to keep more of their money.
Despite these surpluses, every year the majority party finds a way to pass another tax, increase another fee, and add another burdensome regulation on our middle class workers and families. This practice has to stop. I believe that you know how to spend and save your money better than a group of politicians in Olympia.
Of all the state legislators, you have the most recent personal experience in education.  What can the legislature do to improve our education system which seems to be losing the trust of many parents?
In Washington state, 70 percent of our students are not meeting statewide math requirements and 53 percent of them are not meeting English requirements. I'm running for senate to return accountability to our government. It's unacceptable that politicians and officials have been ignoring these numbers and prioritizing systems over students.
We need to get back to the fundamentals of reading, writing, and arithmetic so that we set our students up to win. One study found that learning losses from the pandemic could cost our students almost $17 trillion in lifetime earnings. That's the cost of putting politics over our kids – a cost which has extended far beyond the pandemic.
As we address the challenges and learning losses students experienced during the pandemic, we should be increasing school choice and options for our families and ensure that our students have the resources and support they need to recover from both the educational and mental health impacts of the pandemic.
To restore parents' trust in our education system, the legislature should increase transparency and accountability. Parents should be able to review online what their children are being taught in the classroom.
Recent studies have shown that a growing number of Washington residents cannot afford a new home.  What can the state do to help new home buyers?
In Washington, state government fees to build a home equal 23.8% of the total cost of a home, according to the Building Industry Association of Washington. Make no mistake – the policies coming from Olympia have pushed the
American dream further and further out of reach and crushed the middle and lower classes. As the only renter in the legislature that I know of, I know this challenge personally.
My opponent has said that affordable housing is her top priority in Olympia and after four years in the House of Representatives, she's accomplished nothing towards this goal. In fact, my opponent has made our affordable housing crisis worse by voting for the laws that make zoning more difficult and permitting more expensive. I will advocate for common-sense reforms like improving the GMA, reducing unnecessary regulation, and creating zoning regulations that work for the people of Washington state and not for special interest groups from Seattle.
What is your favorite book?  Why?
One of my favorite books right now is Anna Karenina by Leo Tolstoy. I believe it speaks to the folly of chasing our vices and intemperances. It's difficult to summarize a masterpiece in such few words, but I believe this book reminds us of the importance of virtue and character even when it may seem inconvenient. Despite being incredibly realistic, Tolstoy's writing transcends place and time.
If you would like to know more about Senator Sefzik or his campaign, you can visit his webpage at www.SimonForWa.com or his campaign's Facebook page.