The first of many prohibitive regulations necessary to fulfill Seattle's Green New Deal resolution have been unveiled. Thus far, Mayor Durkan has proposed a 24 cents per gallon tax to punish the 63,000 families who heat their homes with heating oil and councilman Mike O'Brien has introduced legislation to ban natural gas. They've partnered with well-funded Washington DC activists who provide the rhetorical smokescreen to convince you that we are in the midst of an extinction-level crisis of catastrophic proportions. Meanwhile, your elected leaders are recklessly pushing policies through under the guise of an emergency and hoping you remain distracted enough not to notice.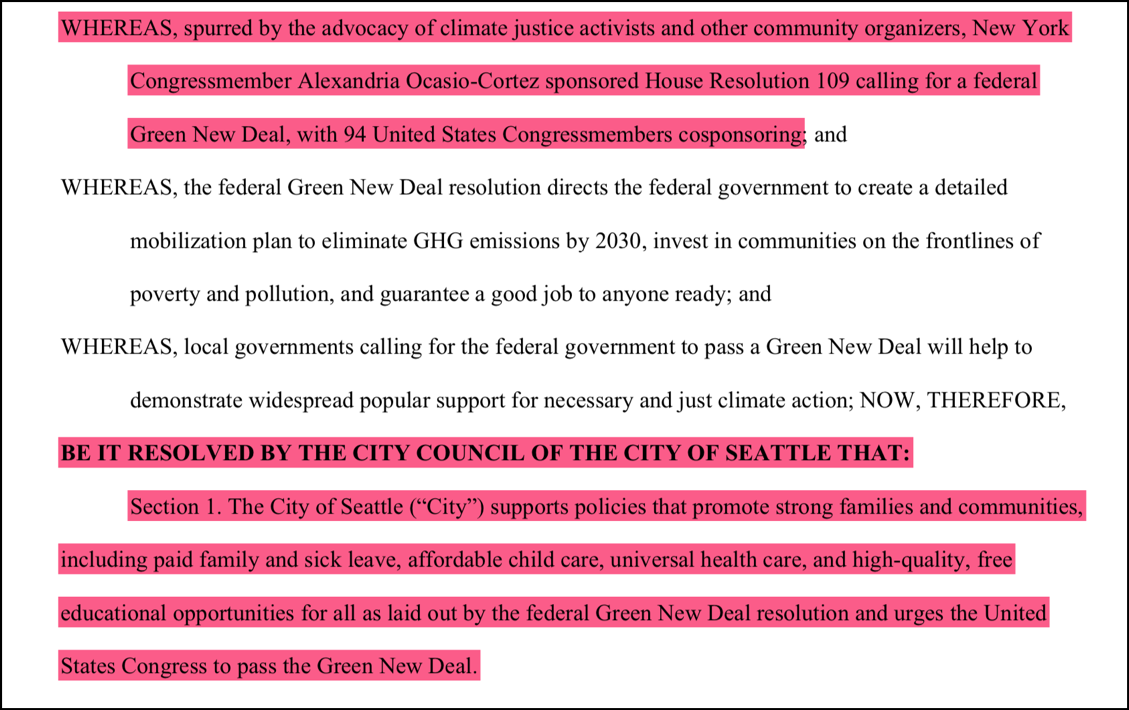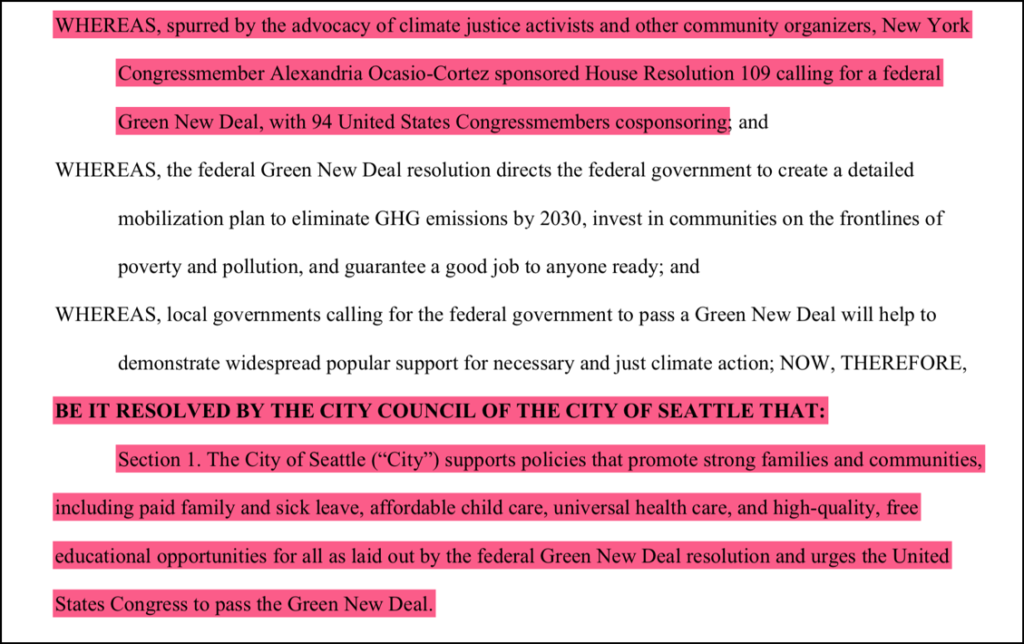 The Green New Deal is nothing more than the latest manifestation of a political con game as old as time. As was mentioned in a recent piece, the ultimate objective is a complete takeover of our economy and country by a political party that is desperate to reclaim power. Not to be deterred by their abysmal failure in DC, the radical progressives from 350.org packed up their show and brought it to their favorite PNW testing ground. Here they have been met with unanimous support from the Seattle City Council who instead of criticizing Representative Ocasio-Cortez, went so far as to credit her in the legislation.
Make no mistake, this two-front attack on our civil liberties is not your typical local grassroots hippy movement. It's powered by multi-national corporations such as Microsoft and crony capitalists like Tom Steyer who are poised to make millions in selling green technology after they drive the fossil fuel industry out of business. They're the same politically connected firms who teamed up with Obama to commit $1 billion of your tax dollars to the Paris Accord trade agreement that President Trump pulled us out of.
This unholy alliance of politicians and bureaucrats and the self-serving plan they're rapidly advancing deserve much more of our attention. Questions need to be asked about how the most cost-prohibitive housing markets in the country can justify mandates that will increase the cost of homeownership by doubling heating expenses. Those who genuinely care about the disadvantaged communities need to ask about where the mostly lower-income and elderly residents in those 63,000 older homes will go when they are unable to afford the required $10-$15,000 heating system upgrade. Someone needs to ask Mike O'Brien how he plans to force over 383,000 homeowners and 409,000 business owners who currently depend on natural gas for energy, to upgrade or replace their property so that he can uphold his vow to "eliminate all fossil fuels in our city in the next 10 years."
Has he even considered the impact of requiring nearly half a million Seattle businesses to spend upwards of 10 billion dollars in building upgrades and how those prices will inevitably be passed along to consumers? This is only the beginning of countless onerous regulations that are coming because of the Green New Deal agreement. Councilman O'Brien believes a ban on natural gas is a "relatively modest first step".  If this is not met with pushback from the public, we will see devastating long-term effects on our local economy and in the short-term, thousands of energy, manufacturing, and shipping industry workers will lose their jobs.
When panic dominates discourse, exploitative politicians swoop in with their foolish, authoritarian policies. The mere thought of stopping to debate or consider the ramifications while our "house is on fire" becomes a crime in itself. After it's all said and done and this end-of-days rhetoric doesn't pan out, we'll again be left holding the bill for the freedoms we traded away while unaccountable and unaffected policymakers quietly retire to their waterfront home with their public pensions and not a care in the world.