Earlier this week, Shift presented Part I of former Congressman Rod Chandler's Top 21 Photographs of 2020.  Today we post Part II which includes his top 10 pictures.  We know you will agree that these are some of the best images of the beauty we are fortunate to experience living in the Pacific Northwest.  We thank our friend Rod for these images and we look forward to seeing more in the coming year.  If you would like to see more of his work, please click on his webpage at RodChandlerPhotography.com
HONORABLE MENTION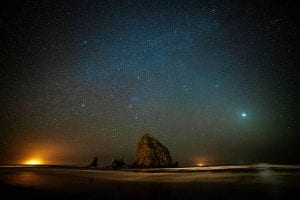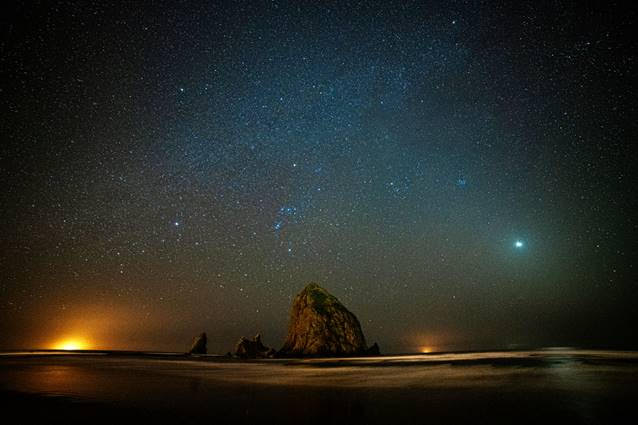 As you will read later on, I had picked an image that wife Joyce decided was not as worthy as the picture she liked.  This was my choice and I love it still so let's give it an honorable mention.  Last March we were at Cannon Beach, Oregon for a few days and I made some nighttime images of Haystack Rock and the stars.  At the time, fishing vessels were operating in the ocean behind the Haystack.  Those boats have enormous stacks of bright lights on board but from a distance they simply create an interesting glow on the horizon.  The stars were bright in a perfectly clear sky and lights from ashore illuminated the Haystack.  I did a lot of astrophotography in 2020 and I continue to enjoy learning this challenging process.
10)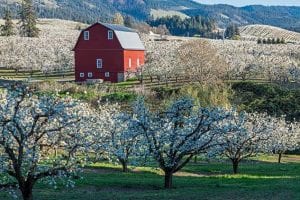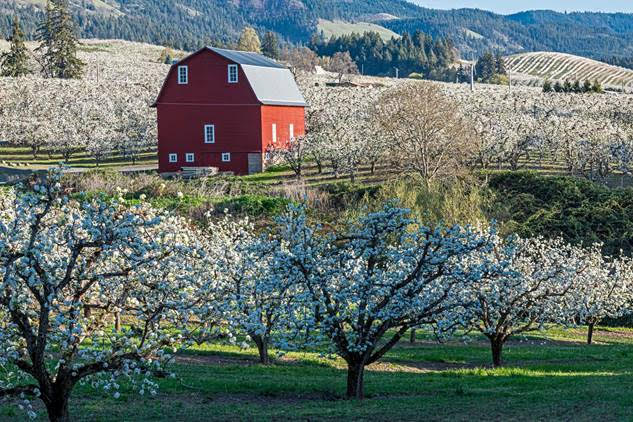 Every spring, orchards in the Hood River Valley of Oregon burst into a blanket of color.  On April 11th I was making photos of the orchards, most of the pictures with Mount Hood looming in the background.  In the past I have included this red barn with Mount Hood and the orchards.  This time, I decided to give that beautiful barn top billing.  It was late afternoon when I made the image.  The light is good here early and late in the day.  The owners of this orchard granted me permission to come onto their property, something I believe is very important.
9)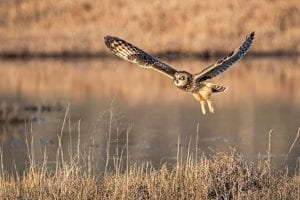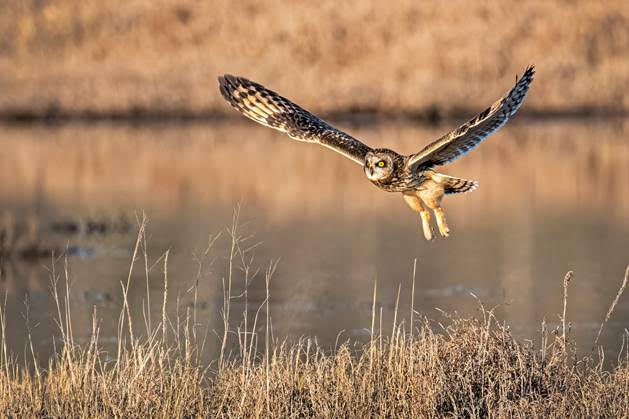 One of the delights we find during Pacific Northwest winters is the presence of short eared owls.  Some are residents but most migrate from northern nesting grounds to warmer climates.  They hunt in grasslands and are far more visible than most other owl species, particularly during daylight hours.  Early morning and late afternoon are the best times to find them.  This bird was one of several hunting the dry grasses December 4th along Admiralty Bay on Whidbey Island.  The birds fly very fast and dart about, which creates a sometimes-frustrating challenge for the bird photographer.  Northern harriers are often found hunting in the same area as the short-eared owls.  I have witnessed some exciting aerial combat between the territorial competitors.  Short eared females are very reluctant to leave the nest when a predator threatens.  If flushed, however, she will defecate on the eggs, perhaps leaving behind a disagreeable odor to discourage the predator.  Look up the Cornell Lab of Ornithology for more information on these and other fascinating birds.
8)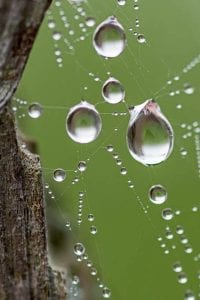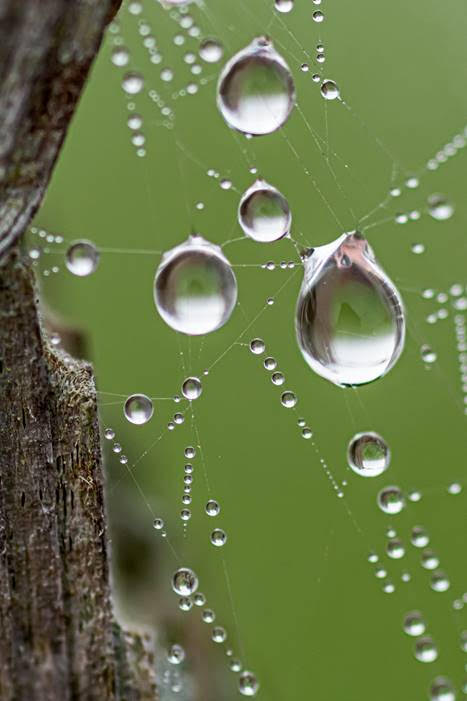 Oh, how I do love macro-photography.  Here we find ourselves on a foggy, damp morning (October 2nd) on the county road by my brother's farm east of Sedro Woolley, the fog was really thick that morning and I wondered if there was anything I could photograph.  I could hardly believe my eyes.  A spider had strung a web on a fence of dried up, old, wooden posts.  Dew drops formed on the spider webs overnight, leaving behind a jewel-set of immaculate beauty.  My feet and pants legs were soaked when I returned to Al's house for a cup of hot coffee.  Little did I mind the minor discomfort.
7)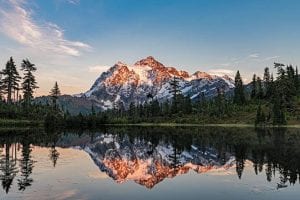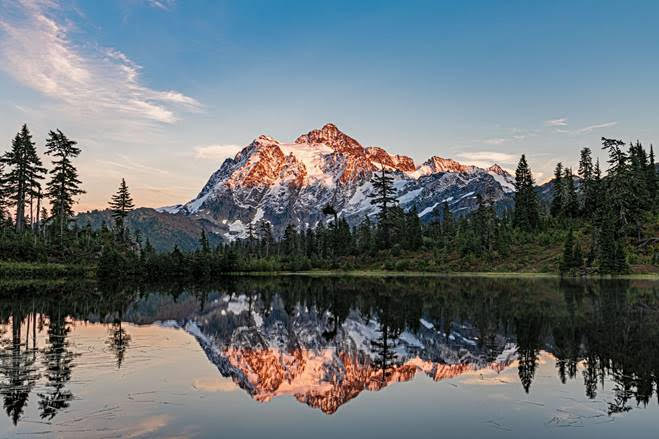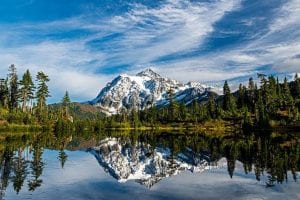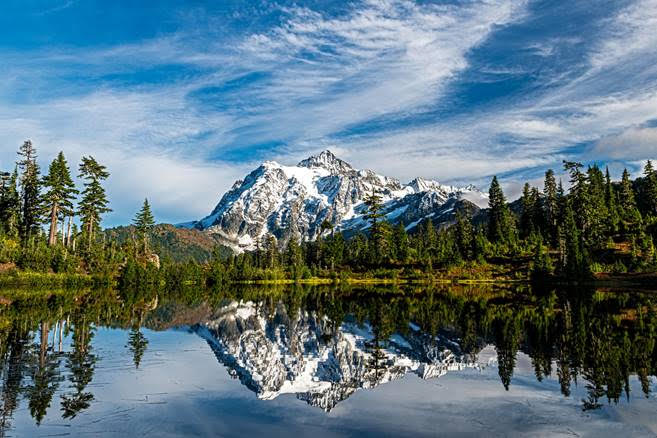 It is very likely that you have seen a photograph of Mount Shuksan reflected in Mirror Lake; it is an iconic scene from the state of Washington.  The rainy weather cleared on September 27th and I had a hunch that snow might have fallen on the higher mountains; Shuksan is 9,131 feet in elevation.  Joyce, Sadie-Doodle (our golden-doodle) and I jumped in the truck and drove the 60 miles on the Mount Baker Highway to the lake.  My instinct was proven correct, snow had fallen on the mountain, making for a much more dramatic view of the peak.  The only time of day to make a good picture here is late afternoon – sunset. I made a series of images from the time when Shuksan and the foreground were both in sunlight to the one here when only the mountain itself was illuminated.  As luck would have it, those gorgeous clouds in the earlier shots began to move away but, at least, the lake remained calm.  I will go here again and again.
6)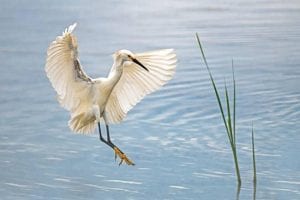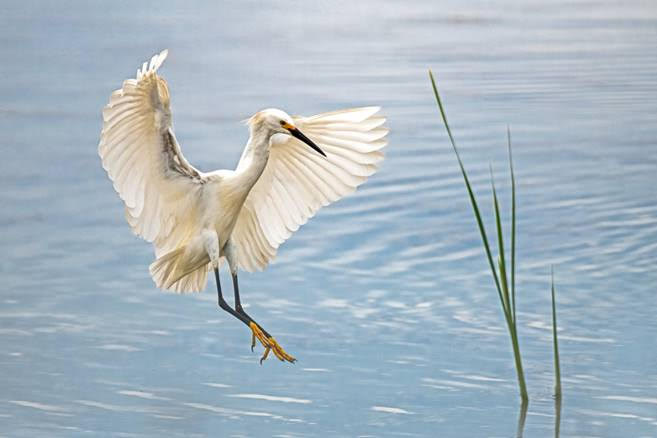 In June, Joyce and I were on our way to Colorado for a visit with our grandchildren Maddie and Thomas.  As we often do, we made a stop at the Bear River National Migratory Bird Refuge near Brigham City, Utah.  Thousands of birds nest there in the spring, a veritable wonderland for a bird photographer.  This lovely, white egret approached a landing site and framed itself perfectly with a couple of cattails.  If you are ever in the area, I recommend a drive through the refuge.  I was able to make this image from the window of my truck; you need never leave your vehicle to see the birds.  The road passes by ponds and canals where you will find everything from giant pelicans to tiny songbirds.  I do not recommend a summer visit.  The water has dried up in many places by then and the stench of decaying fish is most unpleasant.  Spring?  Oh yes!
5)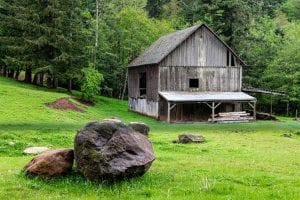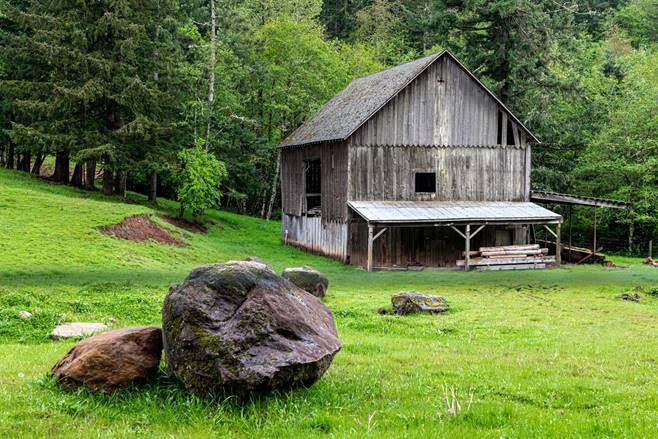 It was the first Saturday in May and we had been having a lot of cloudy skies and rain.  Oh well, Joyce, Sadie-Doodle and I decided to go for one of our frequent rides, this one up the Clackamas River east of Oregon City.  The road was new to us, an area I wanted to explore for possible photo locations.  I had my camera gear along, of course, but there seemed little hope that I would find anything of interest to photograph under those soppy skies.  However, I spotted an old barn that looked interesting.  I told Joyce that, if the rain lets up, I will make a picture of that old barn.  Well, luck was with us; on the way back downriver, the rain stopped.  It was still cloudy but, in this case, that was a good thing.  The greens saturated beautifully in that muted light while the rock and the bare boards of the barn stood out without any garish glare.  To me, this barn would have been a fabulous photo in any event, but that big rock just made it.  I have a large print of this image in my home.  I am afraid that the building may be gone; the horrible fires that burned so much of western Oregon extended well beyond this point.  I sure hope the barn survived but I doubt it.
4)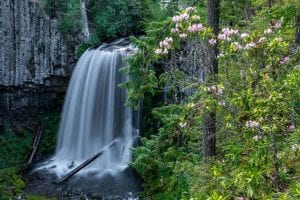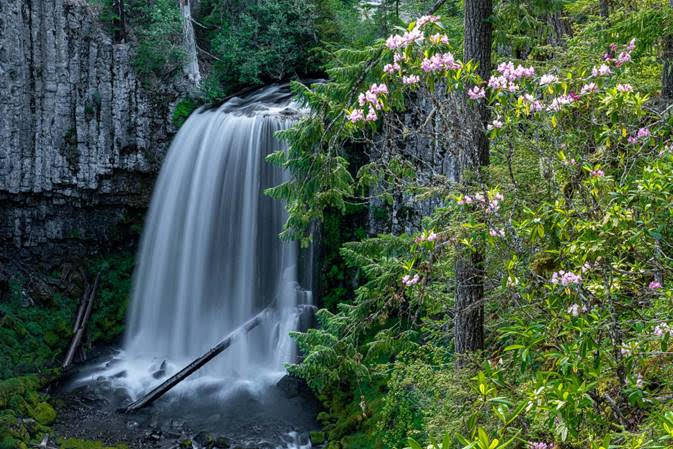 While on a camping/road trip we spent a good deal of time in south central Oregon.  I have always wanted to be there when the wild rhododendrons were in bloom.  Oh my!  Did we ever time it perfectly.  The next wish was for a lovely waterfall with rhododendrons in the foreground.  Here you go.  Normally, Joyce does not hike with me but I insisted she trek in and experience this spot.  Warm Springs Falls tumbles over a cliff of basalt columns, a geologic feature common throughout Oregon.  Basalt Creek is part of the greater Umpqua River drainage area and is gorgeous any time of year.  This image was made on June 24th.  Chances are those rhodies will be blooming about that time in 2021.  The hike in there is not a long one.  The trail is mostly flat and very few people ever go there.  J
3)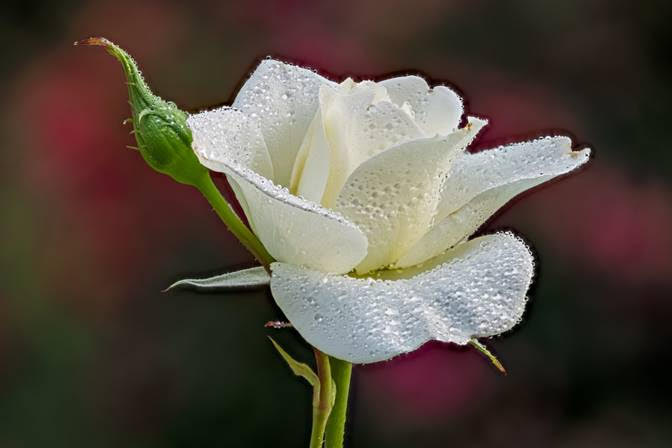 Nothing strenuous was involved with making this image, a white rose in my Sedro Woolley backyard.  I used that focus-shift-shooting method to make numerous images focused throughout the flower.  With a special program, those images are combined so that the entire flower is in focus, leaving the background a lovely, soft blur.  I wanted to frame the white rose with those red ones behind it, but only with their gentle color.  It worked out pretty well.  This one is Joyce's selection.  My first Top Ten had Haystack Rock in this slot but Joyce insisted on including the rose in its place.  I am glad she did.  J
2)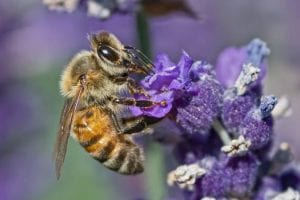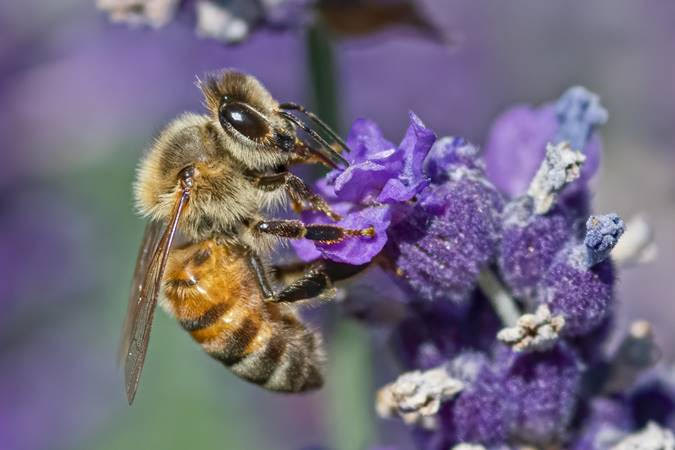 I hope that I did not include this image for the reason that I worked so darned hard to make it.  To begin with, those lavender plants are only a couple of feet high, so it was necessary to lower my 78-year-old carcass to "bee level."  Secondly, it requires hours over days to ever get really good shots of bees.  Those little buggers move so darned fast.  (I use a macro lens, so the effort produces better images but also makes it far more difficult.)  I have bees that are flying, others are in various poses as they worked to collect the pollen and nectar for their winter's food storage.  The overwhelming majority of the pictures are totally unusable, which, incidentally, is why I prefer photography to golf; in photography I simply throw away my bad shots, in golf I have to count them all.  This one, however, is so sharp, the lighting is so perfect, and that catch-light in the bee's eye is so pronounced that I had to include it.  I am glad you did not see me as I struggled back to my feet.  Not a pretty sight.
1)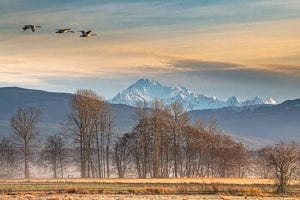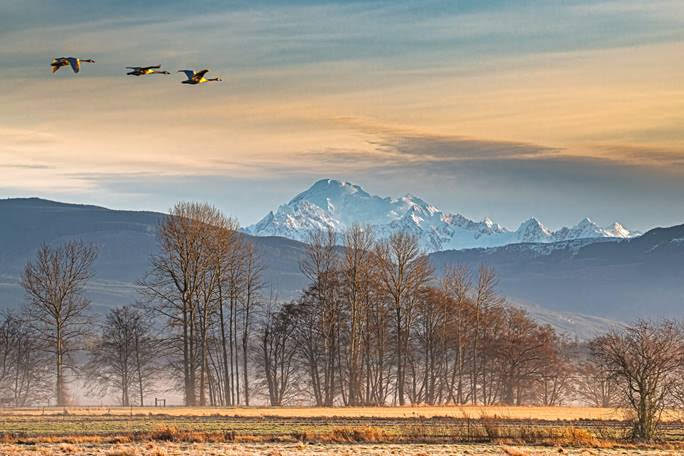 If years of making pictures has taught me anything it is this:  The most important thing in photography IS BEING THERE.  On November 29th I drove west from Sedro Woolley into the Skagit Valley farming area.  I was looking for trumpeter swans, snow geese, eagles, hawks, an American kestrel, maybe even a landscape.  Then I spotted this.  Fog was just lifting from the valley and the birds were flying.  Mount Baker was radiant in the new-day sun and the sky was pastel blue/yellow/orange.  I set up with those bare trees in the foreground to add contrast to the blue in the foothills beyond and to compliment the sky.  PERFECT!  Now all I needed was some birds – not too close but near enough to see them clearly.  How they did accommodate my wishes that morning.  I have images with flocks of birds on both sides of the mountain.  I had some snow geese, even an eagle flew through the scene.  But these three trumpeter swans made, for me, the ideal photo, my personal Number One for 2020.
I hope you enjoyed the images.  I am at work on what I hope will be some good ones for 2021.
Rod