Demonstrating – literally – that they care far more about teacher union politics than helping students learn, an activist group operating under the name of Badass Teachers Association will disrupt rush-hour traffic in downtown Seattle to show how loud they are—and how much they don't really care about improving public education for the kids in their classrooms.
The Seattle Times points out the group's motivations in a piece today, but their socialist-tinged rhetoric—yes, of course, Kshama Sawant will be there – has been helpful in recruiting literally dozens of teachers to their cause over the past year.
And that cause – attacking Bill Gates and his foundation for investing millions to improve public education in the United States.
So, after the state Supreme Court has ruled that politicians in Olympia have under-funded public education in Washington State for a generation – and in a history lesson for these union activists, remember that a Democrat Governor supported by their union has signed every state budget for 30 consecutive years, with Democrats supported by their union in control of at least one legislative body for 28 of those 30 years- these protestors think the biggest problem in education today is a
foundation that invests in student learning.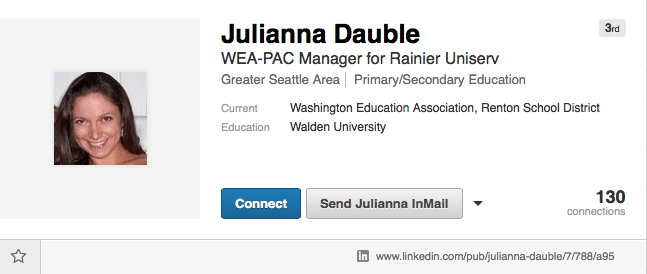 The Times identifies the "local organizer" for this protest as Julianna Dauble, who identifies herself as teachers union official in Renton. In her bio, she suggests that her role is to "Create positive relationships through interactions between district, building, union, and state government."
Apparently in Ms. Dauble's world nothing says "create positive relationships" like a traffic-snarling protest aimed at a local success story and the world's largest philanthropy, complete with class warfare and profane rhetoric to make your point! What a positive "interaction" for this union official to be "organizing."
Consider that the slogan for this group says that "WA-BATS refuse to be blamed for the failure of our society to erase poverty and inequality and refuse to accept tests and evaluations."  Evidently the problem for these specific protestors is that the Gates Foundation doesn't just do what the state government does, like give the money to their teachers union and then not ask about results – you know, like "evaluations."
One has to wonder though, if these protesters really cared about recruiting students to the cause of improving public education, why did they chose a profane name for themselves that might get one of their students in trouble in their class for repeating it?