Inslee pinky swears he won't seek a cabinet post.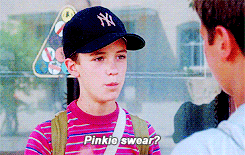 Happening in Olympia
The campaign may be over, but the stench of taxpayer funded security costs still linger.  Hours after ending his Presidential campaign, Jay Inslee announced he will be running for a third term as Governor.  At his press conference, Inslee was asked numerous times if he will reimburse the Washington taxpayers for his security cost and each time he replied, "We are going to follow the law." (FYI – reimbursing the taxpayers for a campaign expense would also be legal.)  Over the weekend, the state GOP announced they will deliver a petition asking Inslee to reimburse the taxpayers. (KOMO News and Seattle Times)
Inslee pledged that he would not accept a position in a new Democrat Administration if he is elected to a third term.  "There was one position in Washington, D.C., that I thought I was interested in," Inslee said. "I will not be serving in that capacity. But I am looking forward to serving as governor, if people give me this option."  We have seen from Inslee's 2012 pledge to veto any tax increases; he has difficulties keeping promises to Washington voters.  And, unless he plans to run for a fourth term, there is no real incentive for Inslee to keep this promise as well. (Crosscut)
Western Washington
Eastern Washington
Notable Tweets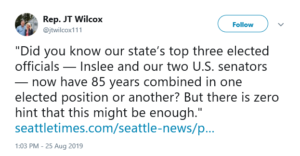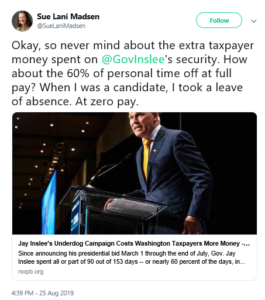 Like what you read?
Do you like The Morning Briefing? Forward this to a friend! It helps us grow our community and serve you better.
If you feel we missed something that should be covered, email us at [email protected].
If you don't want to receive this email each morning, click here to opt-out of The Morning Briefing.