As Shift has reported, the dirty little secret behind the minimum wage debate sweeping Washington State and liberal cities across the United States is not about helping low-wage workers. It's about helping elect Democrats and creating more union dues to, in turn, give to those Democrat politicians.
The latest liberal activist to blurt out the truth was none other than Seattle billionaire Nick Hanauer, in a tweet intended to insult GOP State Senator Michael Baumgartner for deciding not to schedule another minimum wage hearing before a legislative deadline this week.
Hanauer tweeted: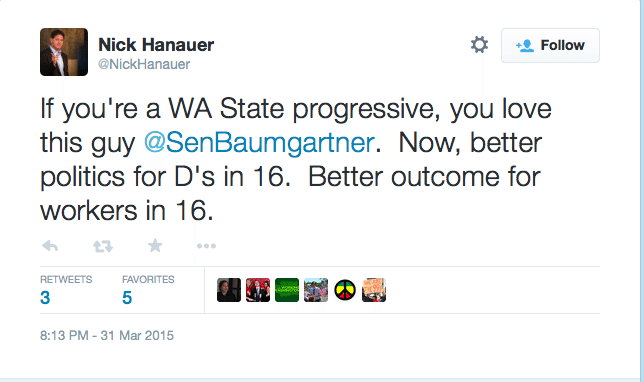 Hanauer's tweet references his attempt to blackmail lawmakers with a statewide $16 minimum wage initiative in 2016. Earlier this month, Hanauer threated to go to the ballot with "a statewide $16-an-hour minimum-wage initiative in 2016" if the state Legislature did not pass the statewide $12 minimum wage bill. The initiative, which he calls "$16 in '16," is something Hanauer said he is "dead serious" about doing.
Well, Hanauer's blackmailing attempt failed. And, by his tweet, we assume Hanuaer will move forward with his "$16 in '16" plans. Of course, he has already taken steps to follow through with his threat. As Shift pointed out, Hanauer has assembled a team of far-left activists. His team includes an assortment of the usual suspects (union executives and writers from The Stranger).