Here at Shift, we love to expose the cozy deals in Olympia and highlight the super-lefty extremists – luckily (?) for us, Seattle has an inexhaustible supply. But the point is, you expect those types of messages from us.
That's why we feel compelled to emphasize: No really, Manka Dhingra, the Democrats' state Senate candidate in the 45th District (Redmond-Kirkland-Woodinville), is a mega-lefty.
Below is a sampling of what we're talking about:
Dhingra really, really hates Republicans, especially Republican women. Last October she posted, then deleted (the day before she announced her campaign), this little gem: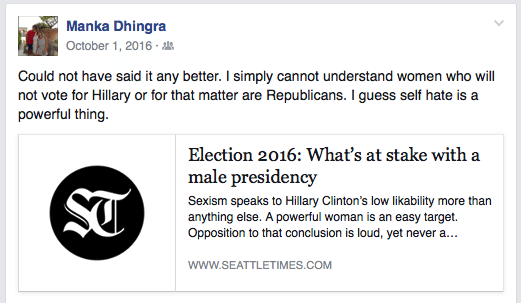 Considering the 45th is a pretty 50/50 district (Republicans / Democrats), just think how many self-loathing, self-hating women are among Dhingra's potential constituents! Surely they'd get a fair shake from her as their state Senator…right?
Maybe that's why her opponent's mere existence is getting under her skin. Jinyoung Lee Englund is her Republican opponent. Dhingra said on a lefty podcast, "First of all I'm very impressed the Republicans found a woman, let alone a Korean American" The statement practically drips with contempt. Does she think Englund is another one of the self-haters that she simply "cannot understand"? At least Dhingra isn't the only lefty working overtime to be dismissive of Englund.
Dhingra was too devastated by the 2016 election to do her taxpayer-funded job. We all need a sick day once in a while – if we have the flu, for instance, not because we need to pout over election results. But Dhingra, a Senior Deputy Prosecutor for King County, called in sick for just that reason.
She told that same podcast, "I was fairly devastated by the result. It was not something I expected. I actually called in sick to work the next day because I – I couldn't get off my couch." Hard to believe a Senior Deputy Prosecutor would admit to something like that. Take a listen:
Sure enough, according to her timesheet, she did indeed take the day off. Your tax dollars at work!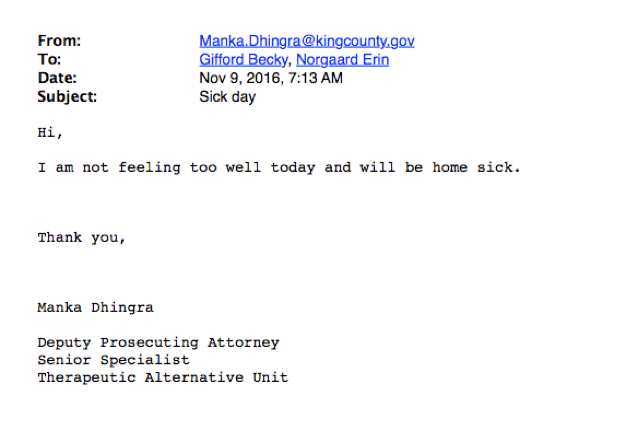 Editors note: while pouring over her emails awhile back, we did discover she emailed in asking for a sick day the day after the election… but we needed some way to confirm she actually hadn't come down with an illness. We gave her the benefit of the doubt, figuring that no one would be so pathetic. After listening to her podcast appearance, it's clear she came down with a severe case of the sads.
If she believes in something, then it "shouldn't be a partisan issue." The same person who "cannot understand" a woman who is a Republican and thinks they're all self-haters also loves to frame her side of an issue as being somehow above partisanship. How high-minded!
On K-12 funding she said, "Fully funding public education system [sic] should be everyone's first priority, because regardless of partisan issues, I think we should all be able to agree that we all want to leave the world a better place for our children." Great – does that mean she'll be voting to fund education first? Her party won't.
She recently tweeted, "Gun responsibility and safe communities should not be a partisan issue." But she used the hashtag #flipthe45th in the tweet, so…it was a non-partisan message about how important it is to flip control from Republicans to Democrats?
Massively raising taxes and curtailing the 2nd Amendment don't even really need to be debated, in Dhingra's vision of non-partisanship. She believes they should somehow be elevated above such petty squabbles – so long as the end result conforms with what she wants. What's that sound? It's the beep-beep-beep of the Debate Is Over truck, ready to back over you and anyone else with reasonable objections or a different philosophy.
Gov. Inslee thinks her race ranks in importance to the country just behind the New Jersey and Virginia governors races. Inslee said on Pod Save America:
"And the third is the 45th legislative district in the state Senate in the state of Washington, OK? And I'm serious about this. I'm serious about this. "We got a great candidate, Manka Deerga [sic]…Because when we start winning these races, it's a signal nationally, and it's going to tip, this one seat tips the entire ballot measure and legislature [?]."And you know what I can do if we get a majority? We'll start moving our climate change legislation right here in the state of Washington."
Maybe that "national signal" Inslee is talking about is to Inslee's best buddy, billionaire Tom Steyer. Will he pour more of his money into this race? Steyer desperately needs some wins – his prior attempts to buy elections in our state haven't gone too well. But there's no doubt, Dhingra would be a reliable vote in Olympia for every tax and environmental scheme Inslee and Steyer can cook up.
And there's no doubt it would all be above partisanship! Because Dhingra, Inslee and Steyer are above such things – and if you can't understand that, you must be one of those self-haters.