Look, nobody is going to accuse Gov. Jay Inslee of being the hardest-working man around. His frequent late arrivals to the office and large blocks of "workout time" on his calendar attest to that (Source [1] [2] [3] [4]).
If his life was a Dos Equis ad, he'd be The Most Uninterested Guy in the World.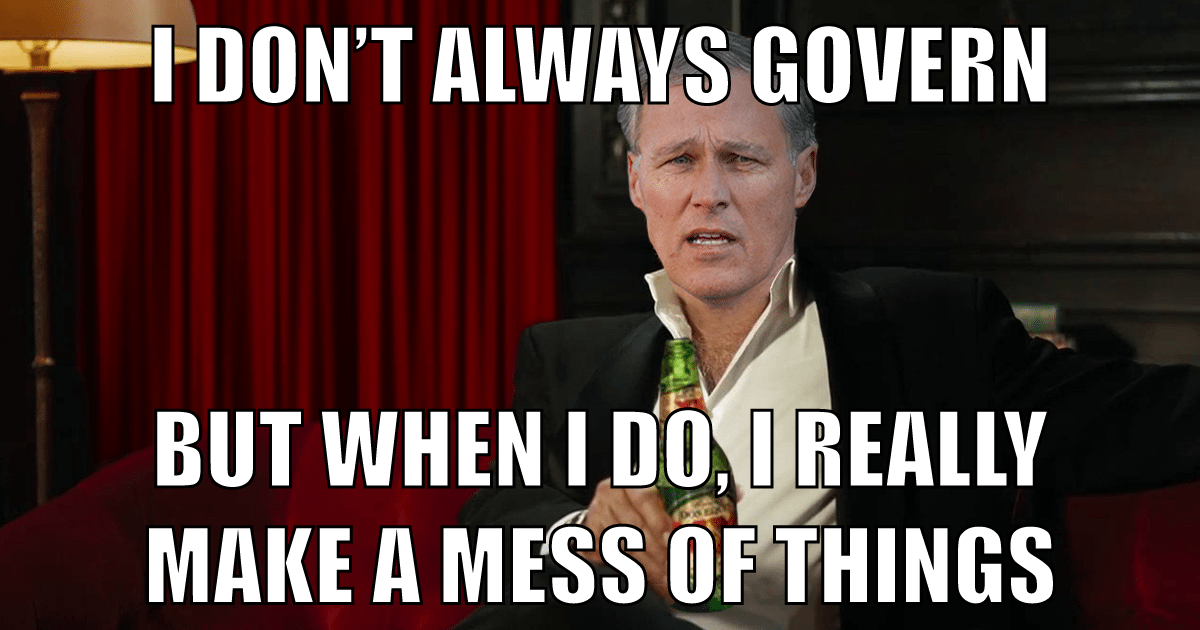 But maybe Inslee might want to start putting a little more work into his work week. His accomplishments this year in the Legislature could charitably be described as "light."
Yep, if Inslee's legislative influence was expressed as a movie title, you'd have to choose "The Man Who Wasn't There."
Worthy of FAIL Blog
How did Inslee manifestly fail this year? Let us count but a few of the ways.
No carbon tax. There is nothing in this world Jay Inslee wants more than a carbon tax. After all, he wrote the book on it, as he incessantly reminded voters in 2012.The Legislature isn't so hot on the idea. Inslee loyalists file carbon tax bills every session, but neither chamber has ever even voted on the idea. Inslee simply doesn't have the votes or legislative support for his most fervent wish. Ever notice how Inslee's failures are good for your pocketbook?
No capital gains income tax. Inslee does have legislative support for this one – at the very least, a good chunk of House Democrats support this one. It's funny, though. This one, too, hasn't been brought to a vote by the House. Democrats have never proven that they have the 50 votes needed to pass one. Regardless, credit Senate Republicans with keeping this new tax dead as a doornail in Olympia.
Did absolutely nothing about Hirst or The Evergreen State College crises. Legislators needed to address the atrocious Hirst ruling by the state Supreme Court, which has effectively halted new building in rural areas of the state.

Inslee was remarkably blasé about the problem, telling legislators in the spring that they needed to settle McCleary and the budget first. When they did, he still didn't act like Hirst was important. When the House and Senate adjourned without fixing Hirst or passing a capital budget, Inslee as usual blamed Senate Republicans for everything. But a solution? He doesn't have one. Could it be Inslee secretly likes halting all development in rural Washington? Many of his closest allies do.

And when ridiculous protests were wracking The Evergreen State College, with students screaming at professors and administrators, wackos calling in death threats, and vigilante protestors carrying bats to intimidate people, where was Inslee? The most he deigned to do was to say in a press release that he was monitoring the situation.

Yet Inslee found plenty of time, while ignoring Hirst and the deteriorating situation at Evergreen, to meet with the leaders of Mexico, Canada, and Chile of all places. Last week he took the time to address the "casual video game" industry. What a busy guy!