When he should have been celebrating a record-spending legislative session – nearing $70 billion and counting in the new budget – in which Democrats achieved several long-standing special-interest priorities (state income tax, etc.), Democrat Governor Jay Inslee chose one of his final bill signings for 2021 to once again prove he is a backstabbing "snake" (to use the description chosen by tribal leaders) who does not keep his word.
Just as he has done repeatedly since moving into the Governor's mansion, Inslee has thrown fellow elected officials and his own supporters under the bus, broken his "word" (for what that's worth) and vetoed multiple deals he promised to keep.
In 2015, Inslee was embarrassingly ejected from that session's budget negotiations by both Democrats and Republicans, because he couldn't be trusted to keep his mouth shut. Inslee narrowly avoided a government shutdown the same year as a result of his meddling. 2016 brought out Inslee's veto pen killing 27 bills negotiated by Republicans and Democrats (more on that later), causing the legislature to send one bill at a time to his desk for signature to ensure he kept his word. In 2018, Inslee was trying to derail the budget negotiations by forcing a carbon bill into the proceedings, which in 2018, the Democrats were not yet totally on board with. (They are now, if you have not been paying attention).
Also in 2018, which turned into a banner year of Inslee going back on his word,  he vetoed a bill that he had previously supported (hiding legislative records from the public) to make him look like a man of the people, after initially saying he would sign it. As a result of Inslee breaking his promises, Democrat Senator Leader Lisa Brown, retaliated and killed Jay's 2018 carbon bill, then later resigned in disgust over his apparent lack of ethics (though her new-found principles did not keep her from accepting a job in the Inslee administration when she needed a job).
It's now 2021 and Inslee is at it again. Again, it's all about carbon. Democrats negotiated a package that tied the implementation of Inslee's long-sought low carbon fuel standard and carbon tax schemes to a future transportation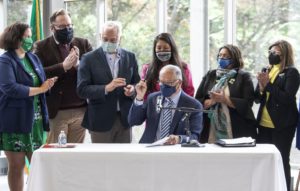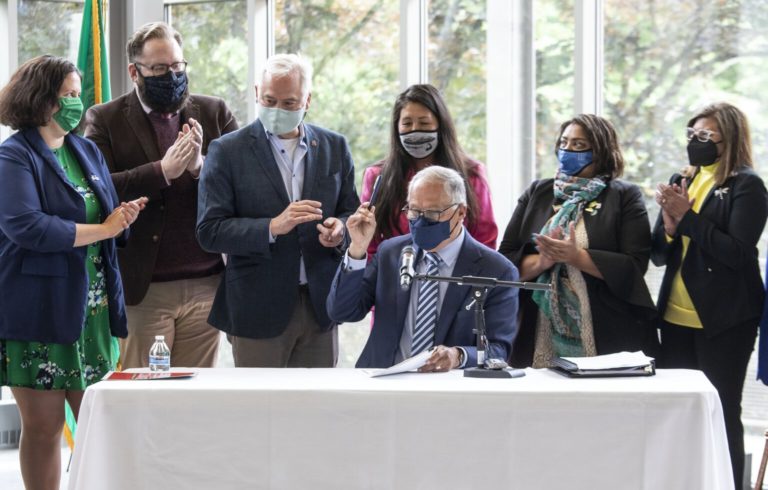 funding tax increase. Inslee, upset that the legislature would restrict carbon taxes, vetoed the funding restriction so he can immediately move to raise the price of a gallon of gas with his carbon schemes. Of course, Inslee still wants the additional gas taxes in the future, but he's magnanimous in his willingness to wait a little longer before inflicting another dime tax increase on the cost of a gallon of gas on Washington drivers. Inslee just has to be satisfied for now that his two carbon bills that are estimated to add anywhere from 50 cents to over a dollar to the cost per gallon – with virtually no environmental benefit for Washington taxpayers.
Apparently, it was never about building transportation infrastructure and fixing congestion, or even about reducing carbon emissions. For Inslee and his extreme green friends, it's an agenda all about more money for government, less cars, and lots more costly taxpayer-funded public transit.
In response to Inslee's reckless and illegal veto, Senator Mark Mullet said, "This sets a chilling precedent and poisons the well for all future negotiations on virtually any tough issue."
And, after this latest reminder that Inslee can't be trusted, Democrat Senator Hobbs (who has had trust issues in the past) is backing away from the transportation package negotiations with the governor's office claiming (in the understatement of the century) that he can't work with Inslee because he can't be trusted.
To cap it all off, both Democrat House and Senate Leaders, Speaker Laurie Jinkins and Senate Leader Andy Billig, are planning on taking Inslee to court, AGAIN, for his overreach.
Perhaps there is no honor amongst thieves after all.
Of course, Democrat Representative Joe Fitzgibbon, Chair of the House Environmental Committee, is over the moon with Inslee's veto. For Rep. Fitzgibbon, it's all about getting cars removed from our roads and moving everyone onto bicycles. Rep. Fitzgibbon is at least consistent – he's been pushing for sky-high carbon taxes for years.
It's a wonder that Democrats and tribal leaders were surprised by this latest act of arrogance, as Inslee has a habit of waving his veto pen with much aplomb. Back in 2016, when he vetoed those 27 bills passed by the legislature, and in a rare display of bi-partisanship, the Democrats and Republicans in the legislature returned the favor by overturning all 27 of Inslee's vetoes.
It should have been obvious by now to any political observer that, after his nearly four decades in the public square, Inslee doesn't care about his friends, enemies or frenemies. His actions are all about Jay Inslee. If the COVID pandemic has shown us anything, it's the fact the Jay Inslee is drunk with power and will do whatever necessary to maintain the dictatorial control he craves.
There is one thing Inslee's friends can rely on him delivering. A quick sharp pain in their back, as he runs to the press to make himself look good at their expense.