As Shift reported, Jay Inslee struck out on all of his top priorities, including a new state income tax on capital gains, a new cap-and-tax plan to raise energy prices, and the opportunity to jam through a fuel mandate (by executive order, not legislative vote) to raise the price of gasoline. All in all, Inslee proved himself to be an ineffective leader who could not even muster enough support from among members of his own party to pass a single one of his priorities out of the Democrat-controlled state House.
Inslee has lashed out, attempting to blame Republicans for his failures. But, the reality is Inslee simply does not command the pull—or the respect—needed to be an effective leader.
Inslee's staff is getting quite defensive over our green governor's blaringly evident failures during the 2015 legislative session. So, when the Seattle Times' Jonathan Martin tweeted about Inslee's "miserable year" in Olympia and attached his article on the subject, Inslee spokesperson Jaime Smith jumped to her boss' defense with a bizarre accusation. She accused the Seattle Times of gearing up a campaign against Inslee's 2016 re-election bid. Check out the interaction below.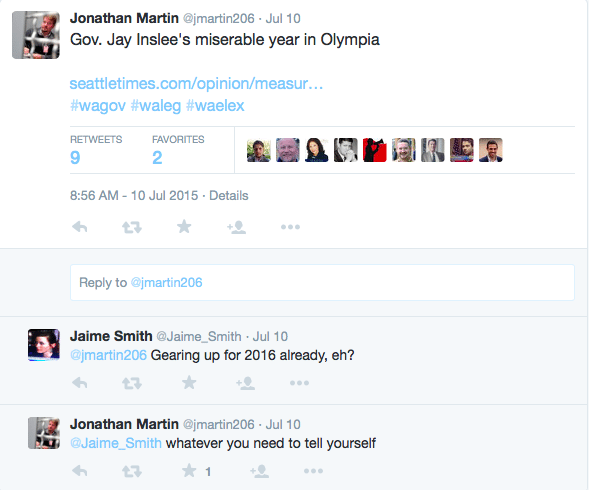 But, that not the only time Inslee's staff made the accusation. Check out this series of recent tweets courtesy of the governor's office.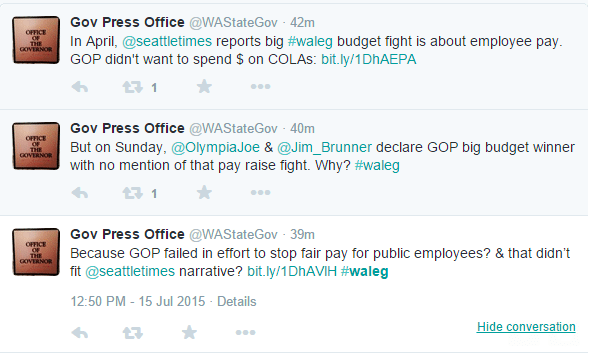 It appears as though Inslee's failures have de-railed his staff.