On the Friday before Labor Day weekend, the Washington State Supreme Court ruled that charter schools were unconstitutional. Though deliberately handed down the day before a long holiday weekend, the court's decision failed to fly under the radar as intended. In fact, the court's decision has sent shockwaves across our nation, garnering highly critical responses from national news outlets.
The Wall Street Journal recently delivered a biting criticism of the court's decision, calling it a "grim surprise" that is "as politically driven as it is overreaching and legally flawed." The Wall Street Journal,
"The reality is that local school boards are responsible mainly to unions thanks to collective bargaining. Tenure protections all but guarantee incompetent teachers lifetime job security. Because charters are liberated from state tenure and collective-bargaining, they can dismiss lousy teachers.
"The liberal majority's real concern is preserving the union monopoly. Thus the court bars charters from tapping $2 billion in funds that the state constitution specifically restricts to so-called common schools. But the intent of this constitutional provision was to prevent the legislature from siphoning off designated education funds for other programs. Charter schools are public schools too."
The Seattle Times' editorial board joined in on the cutting criticism of the ruling, calling it a "perplexing" decision with "serious" repercussions. The Times also demanded the court move to reconsider its ruling. The Seattle Times,
"The timing of the ruling — about 11 months after hearing arguments and after charter school classes commenced — was perplexing, but its repercussions are serious. More than 1,200 students are enrolled in the state's nine charter schools, eight of which are starting their first year. In 2012, voters approved Initiative 1240 to authorize publicly funded charter schools that give higher priority to serving at-risk kids. Charters have greater flexibility to respond to students' needs, something the traditional system does not provide or encourage enough of."
The Times goes on to call for the state Legislature to "act to find a way to ensure Washington's charter schools continue" failing a different outcome from the court. Unfortunately, Jay Inslee is standing in the way of just that happening.
Salon.com pointed out that Inslee did not support the 2012 charter school initiative—he was and remains indebted to the Washington Education Association (WEA), a union that put $1 million into electing him in 2012. That reality does not bode well for the chances of our green governor calling a special session to resolve the problem. Lisa Harper, deputy spokesperson for Inslee, as much as confirmed that Inslee will not move to act when she stated, "It is not practical to call a special session on a whim."
Calling a historic—and all around shocking—ruling by our state's Supreme Court that leaves thousands of students and parents in a cloud of uncertainty a "whim" reveals Inslee's out-of-touch understanding of the decision's consequences. That, or Inslee simply does not care. Rather, he is more concerned with pleasing the WEA—as he has proven in the past—than with placing children and education first.
Cutting criticism from national and local news outlets has not moved Inslee to act. But, perhaps a well-versed letter addressed to him by a middle school student will. A parent of a charter school student recently posted the following letter written by her son to Facebook. Check it out below.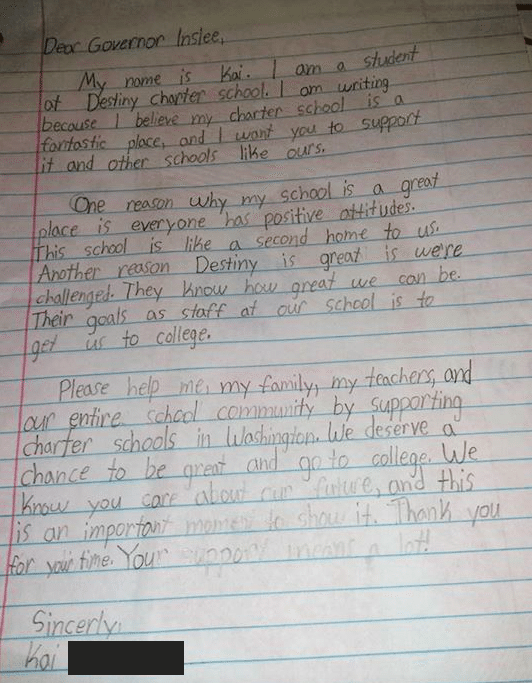 Kai's mother described the background to the letter: