Last week, state House Democrats serving on the House Education Committee demonstrated how beholden to the Washington Education Association (WEA) they really are when they blocked SB 6194, the public charter school fix already passed by the state Senate.
In a 10-10 vote split along party lines (the bill needed a 11-vote majority), the snare bill failed a roll-call vote.
Democrats' stance against voter-approved charter schools prompted an almost immediate reaction by advocates. As the Washington Policy Center reports, a couple of hours after the bill was blocked more than 600 charter school students, families, and teachers rallied within the Capitol in Olympia petitioning Democrats to support public charter schools.
Editorial boards in newspapers across the state, including The Seattle Times, The Yakima Herald and The Olympian, joined charter school supporters in their plea to Democrats. The Seattle Times wrote,
"Voters wanted charter schools as an option in this state. The Senate approved a bill that answered the Supreme Court's concerns. The House Education Committee has deliberately let the issue languish and now seems to be obstructing a solution.
"Which brings us back to those 1,200 charter-school students. Without a remedy, those schools will be decimated, unable to plan, apply for grants, keep their fine teachers. That is unacceptable.
"Time for Speaker Chopp and Rep. Sullivan to make sure the full House gets to vote on this charter-school remedy."
The question is whether or not it's all too little, too late with the 2016 legislative session coming to a close. Charter school advocates have done everything in their power to convince Democrats to do what is best for underprivileged students rather than the special interest groups that fund their campaigns. But, by and large, the media cannot say the same.
News outlets have been woefully complacent concerning the future of voter-approved charter schools in our state. Sure, most of news outlets have stated their public support for them, but they have also utterly failed to call out individual Democrat lawmakers standing in the way of charter schools.
Democrats have either stated their outright opposition to public charter schools or they have been shamefully passive, refusing to take a stance. In either case, news outlets have failed in their responsibility to hold these lawmakers responsible to their constituents.
So, in order to fill that void, we've made a list of Democrats that must be called out. They have taken a position that is contrary to the will of they constituents for no other reason than to satisfy the WEA's wishes. These Democrats must be exposed for their special interests-driven agenda.
The list could go on. Recently, Rep. Roger Goodman (Kirkland) has been the subject of public charter school advocates' ire. Check out the ad below,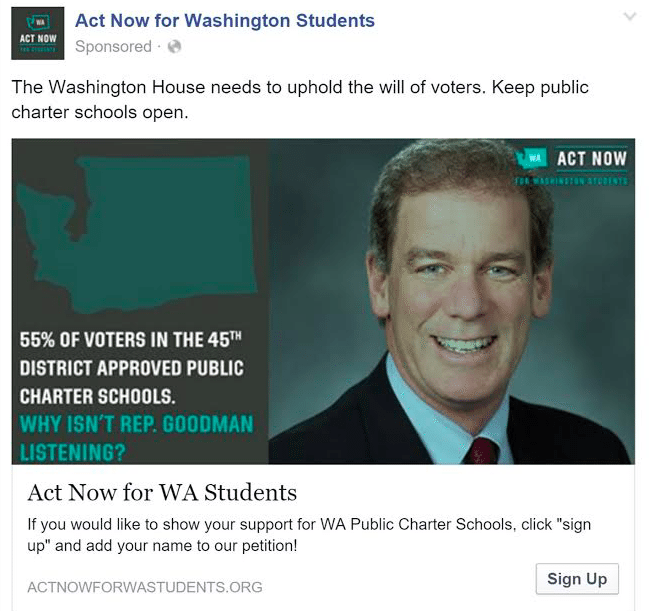 Unfortunately, the fate of public charter schools in our state rests with the Democrat-controlled state House. That's not a good position to be in, especially considering Democrats' special interests-driven agenda. For its part, news outlets have not done enough to hold Democrats responsible to their constituents.