Governor Inslee continues to push the false fact that only 66% of Washington adults have been vaccinated. He used this false fact in an email to his campaign supporters last Friday.  It is clear that Jay Inslee is the most partisan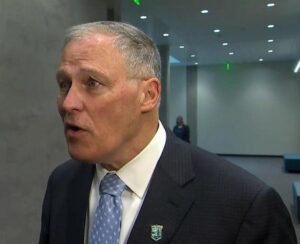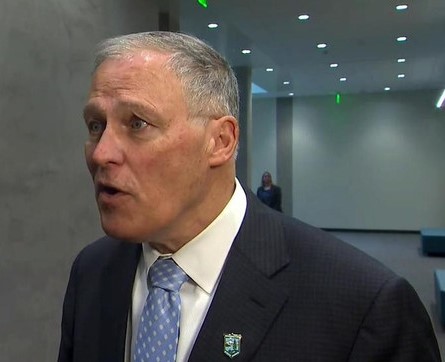 governor in decades, which is why you have to look to his campaign communications to know what he is actually up to.
In the email to his supporters, Inslee stated, "We just passed a major pandemic milestone: 66% of Washingtonians 16+ have initiated their COVID-19 vaccinations," and "This means we're well on track to fully reopen at the end of this month."
Yet, the overwhelming facts show that the state's vaccination rate has been above 70% for over a week and Washington should be fully reopened NOW.  As Shift previously reported, on Monday the Biden White House sent out a congratulatory message to Washington State for achieving a 70% vaccination rate.  At the same time, Inslee's Department of Health was reporting the state had only a 64% of Washington residents over the age of 16 had been vaccinated.
In explaining the 6% difference between the state's figures and federal figures, Inslee's team stated the federal government 1) counted its vaccination of military personal in Washington State (which the state strangely refuses to consider); 2) used more current census information (the feds use current 2020 census data, while Jay Inslee is happy to use old 2019 data, since it serves his political purposes), and 3) did not include 16- and 17-year-old residents (which the state does).
Thus, the federal government had a more accurate data base by including more Washington adults and not including a small population of older teenagers.
One thing to remember, is the vaccination rate among older teenagers is actually quite good considering they have only been eligible for a few weeks. Current state figures show more than 116,000 16- and 17-year-old residents have already received the vaccine, which is more than 50% of the 231,000 individuals in that age group.   Yet, even if no 16- or 17-year-olds had been vaccinated, that would only drop the state's immunization percentage by approximately 2%.
So, in order for Inslee's 66% to be correct, we have to 1) believe military personnel are not Washington residents, and 2) believe the 2019 census data the state is using is more accurate than the 2020 census data the federal government uses.
As we have seen many times in the past 16 months, Governor Inslee has consistently relied on poor and inaccurate data to make his decisions, which always seem to benefit either his political supporters or himself. We guess we should not be surprised that he is doing it one last time and refusing to fully reopen Washington State so he can cling three weeks longer to his unilateral and undemocratic control of the state's economy.