Federal Democrat officials are using a different set of COVID vaccination numbers than Washington State Democrat officials, and this is causing confusion on whether or not the state can fully reopen economic activity.  
The Biden White House tweeted on Monday a congratulatory message to our state for finally reaching 70% rate for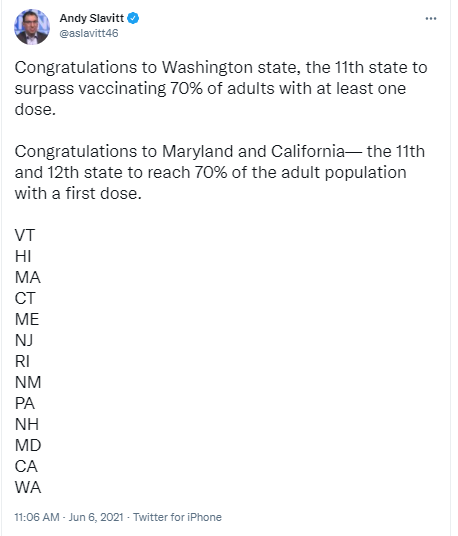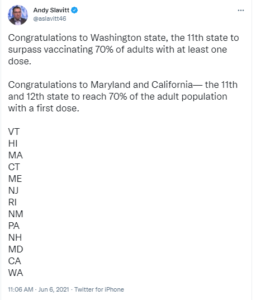 adults receiving their first immunization shot.  Yet the state-run site still had the state's immunization level at 64% on Monday.  This is an important difference since the governor had previously stated that full activity will be allowed once 70% of the state has been vaccinated.
However, rather than Jay Inslee embracing the federal definition and setting our state free from his dictatorial decision-making, he decided that his control over the state was more important than opening the economy.
In a media release, the Washington State Department of Health attempted to explain the discrepancy.  There are three primary differences.
1)The federal numbers include those who have received the vaccine from federal sources or from out of state (for some reason the state does not count these vaccines, for military personnel and others).
2) The federal figures are based on 2020 census information, while the state is based on old 2019 information.
3) The federal percentages are based on those over the age of 18, while the state calculates its figures on those over the age of 16.
Thus, the federal figures are clearly the most accurate for determining COVID recovery, unless you are a governor clinging desperately to his control over the state.
Otherwise, is there any other reason for the people of the state of Washington to stay locked down for the remaining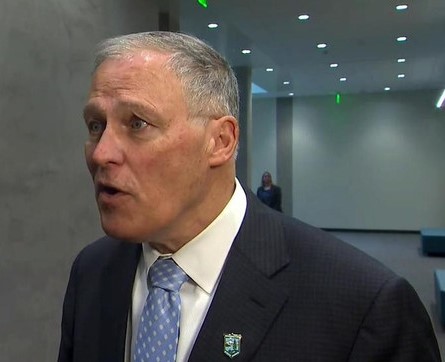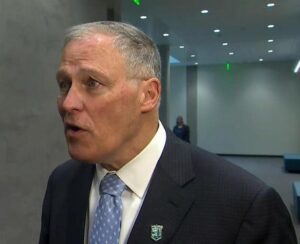 three weeks of June because a small number of 16- and 17-year-olds haven't been vaccinated yet? Haven't the people of Washington State, and the business owners struggling to survive, suffered enough, without waiting another three weeks for Jay Inslee to decree he has saved us all from COVID?
So, while the governor keeps talking about the importance of the "science" and using specific data points to reopen the state, facts show the state has reached the 70% vaccination data point, and it is his own faulty data that does not reflect current reality.  Since the governor does not want to give up his dictatorial control of the state, he is in no rush to correct and update the state figures.