California is already feeling the impact of applying its cap-and-trade scheme to gasoline prices—something it did earlier this year. Though extreme "green" activists downplayed (and continue to minimize) any potential increase in gas prices, the evidence paints a very different picture.
Extreme "green" organizations have pointed to the "minimal" impact of cap-and-trade in California as evidence of success. Indeed, on the surface, the impact of the scheme looks minimal, with a slight increase in gas prices when cap-and-trade was implemented. Here' a graph of California's gas prices through December 2014 into early January (via the Washington Policy Center),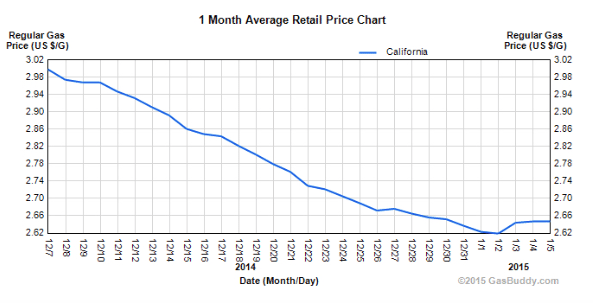 But, looks can be deceiving. The Washington Policy Center's Todd Meyers pointed out a clear increase in California's gas prices as a result of the former state's cap-and-trade scheme in a recent article. Here's a graph comparing California and Washington's gas prices over the past few months (via GasBuddy.com),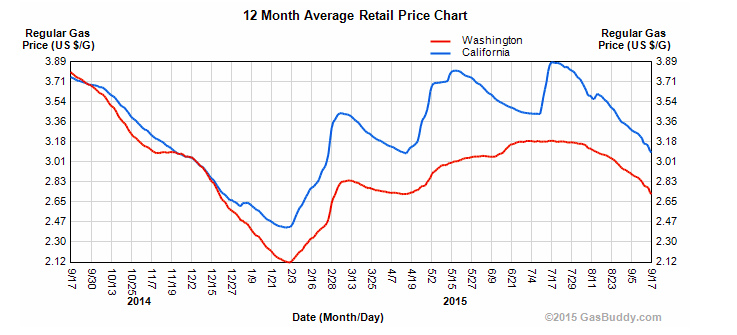 As the graph reveals, by the end of January, a mere month after the cap-and-trade scheme's implementation, Californians paid 33 cents more for gas than Washingtonians. Myers writes,
"That gap has continued to hold. At some points during the year, California was paying about 80 cents more per gallon than Washington. As of last Friday, Californians were paying 36 cents a gallon more than in Washington. California's gas prices have also been much more volatile than in Washington."
Extreme "green" activists will, as they have done before, dismiss the gas price increase as a result of a variety of other factors not pertaining to the cap-and-trade scheme. Likely, they will blame oil companies. But, as Myers writes, "you can't cite gas prices as evidence in your favor when it works and then claim the same data from the same source are meaningless when they show your claims to be obviously false."
The goal is higher gas prices
Perhaps the most important detail concerning the cap-and-trade approach to remember is the Left's true intention. Myers explains,
"But, gas price increases aren't incidental to cap-and-trade. They are the goal. The left wants gas prices to go up. I don't know whether cap-and-trade advocates know this but don't want to admit it or whether they are truly so mystified by economics they actually believe cap-and-trade won't increase gas prices.
"Either way, those who claim California's cap-and-trade system is reducing carbon emissions at low cost simply aren't looking at the data."
Increasing gas prices is exactly Jay Inslee's goal for Washington State. And, unfortunately, it is a goal he is determined to see happen on his watch. Inslee failed to push his extreme green agenda—particularly a sketchy cap-and-tax scheme—through the state Legislature during the 2015 legislative session.
Inslee's cap-and-tax scheme would have increased gas prices
According to research, Inslee's original cap-and-tax scheme threatened to reduce the average annual employment by approximately 56,000 jobs over the next 20 years. Nearly 6,000 of those jobs would have been in the manufacturing sector. The study also found that the total aggregate income for workers and business owners would have been reduced by an annual average of $3.1 billion per year. That figure, divided by total Washington households, is equivalent to a reduction of $1,200 in annual income per household.
The average household could have expected an increase in gasoline, natural gas and electric bills by nearly $60 a month—and that figure does not include the indirect cost increases in consumer goods, such as groceries.
For obvious reasons, Inslee failed to garner enough support from members of his own party to pass his cap-and-tax scheme out of the Democrat-controlled state House. Incidentally, this year was not the first time Inslee's extreme environmental ideas were rejected by his fellow Democrats. As a member of Congress, Democrat Senator Harry Reid refused to even bring Inslee's cap-and-trade plan to the Senate floor for a vote, after it passed the House of Representatives.
Failing to convince others of the merits of his own policy approach, Inslee has decided to take matters into his own hands. Inslee is now pursuing his extreme "green" agenda by bypassing the state Legislature and imposing a new carbon rule via a cap on carbon emissions. This summer, Inslee directed the state Department of Ecology (DOE) to begin developing new carbon reduction regulatory rules that he thinks he can impose on the state using his executive authority.
Inslee knows his cap-and-tax scheme will not make a difference
The most frustrating aspect of Inslee's insistence on raising gas prices on working families is that he—and his extreme "green" supporters—know that the cap-and-tax scheme will not impact carbon emissions. As KIRO Radio's Dori Monson pointed out, no one—not even Inslee and his extreme green supporters—actually believes a cap-and-tax scheme will make a difference. They just don't care.
In the end, extreme "green" policies are not about reducing carbon emissions. They are about even bigger government at the expense of taxpayers.