Washington Democrats have an enthusiasm problem. Their party's presumptive presidential nominee, the leader of their ticket, doesn't inspire voters here. A socialist who won't even call himself a Democrat, Bernie Sanders, prevailed over Hillary Clinton in a decisive victory in our state.
And, as we all know, Jay Inslee isn't a gubernatorial candidate they have much boast about.
So, Democrats are grasping at straws for something to push as a rally point for voters. Apparently, they have settled on Donald Trump.
In a desperate attempt to build support (his campaign admitted that people don't like him), Inslee is resorting to attacking the GOP as "Trump-like."
Last week, Jay Inslee's campaign sent supporters this email: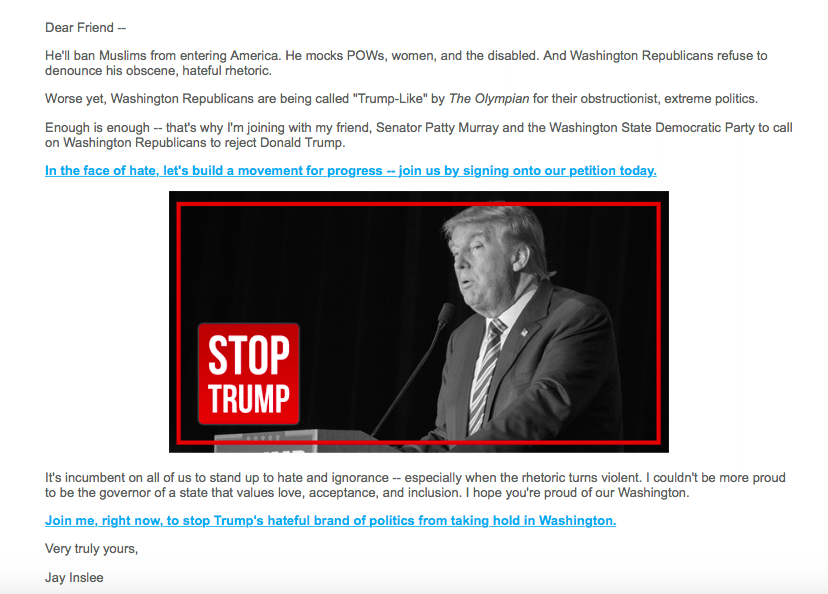 His campaign director "followed-up" with this email:

The email refers to an article in The Olympian — the only newspaper to endorse Inslee in 2012 — that refers to State Senate Republicans firing Transportation Secretary Lynn Peterson over her incompetence. The article reads:
"There are a dozen or so other Inslee appointees who similarly need confirmation, and, in a Trump-like warning, one Senate Republican said on Twitter that other heads will roll if agency leaders don't shape up.
Pathetically enough, Inslee and other Democrats have decided to take that comparison — made concerning a single Senate Republican's tweet — and run an entire attack effort on it.
Of course, the "Trump-like" comparison made by The Olympian (however insulting the news outlet meant it to be) is in reference to the rather strong analogy made by a single Republican lawmaker vowing to hold ineffective, incompetent government bureaucrats accountable. It is not — as Inslee's email suggests — a linkage between Washington Republicans and Trump himself..
However, Inslee is a large part of the problem in the utter failure to hold state government accountable for inefficiencies. In fact, at every turn, Inslee has worked to maintain the status quo in Olympia — protecting ineffective bureaucrats and special interests on the taxpayers' dime.
One of the most stunning examples of Inslee's inability to govern is when he created a new government agency to solve the inefficiency problems of an existing, failing government agency. Just this year, Inslee created the "Blue Ribbon Commission on the Delivery of Services to Children and Families."
The new agency's agenda falls under the responsibilities of the Department of Social & Health Services (DSHS). DSHS has completely failed to do its job. So, rather than reform an agency that is falling short, Inslee created another agency to do that job.
Under Inslee, the level of incompetence at the highest level of state government has been shocking. Scandals in the state Department of Corrections, the Washington State Department of Transportation, and the State Department of Social and Health Services can all be traced back to the incompetent and ineffective appointments Inslee has made.
Like everything else, accountability in our green governor's administration has taken a back seat to his extreme "green" agenda. As a result, Inslee's administration has been an utter disaster.
Inslee has no record to stand on, nothing to point to as a major accomplishment. And, Democrats know it. That's why they are resorting to the pathetic "Trump-like" attacks.