As negotiations over the supplemental budget continue, House Democrats have expressed outrage over the actions of Senate Republicans for a rather bizarre (and highly hypocritical) reason. On Friday, Senate Republican leaders decided to make their most recent offer public. The public nature of the offer didn't sit well with House Democrats.
Almost immediately, Democrat leaders began accusing Republicans of "game-playing" and "D.C.-style politics." They informed the press that they don't want to negotiate the supplemental budget in public. Check out these tweets (which House Democrats ironically re-tweeted):


It's interesting that House Democrats are so upset over Senate Republicans making their offer public. You see, just last year, Democrats were taunting Republicans to publicize their budget offers. Check out these tweets circa 2015: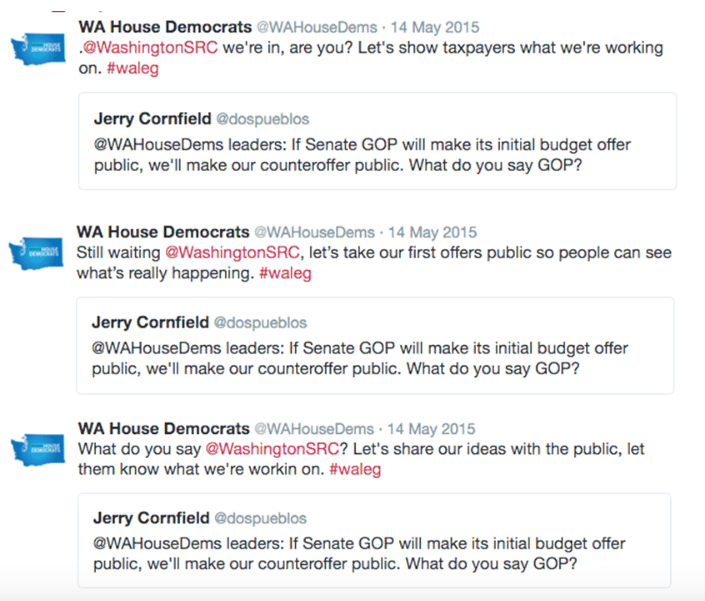 The hypocrisy doesn't stop there, as during a media availability last year, Democrat leaders re-enforced the "why don't Senate Republicans publicize their plan" talking point. Via TVW:
Democrat Sen. Sharon Nelson: "Ask [Republicans] to see what they've proposed. Go ahead and ask them, I mean if they're willing to share it with the press."
Crosscut's John Stang: "They won't tell us what they proposed either."
The Spokesman-Review's Jim Camden: "If they're willing to share what they proposed are you willing to share what you proposed?"
Democrat Rep. Pat Sullivan: "Yes!"
Based on previous statements (which don't quite match up with current actions), Jay Inslee appears to support publicizing decisions made by lawmakers. Jaime Smith, a spokeswoman for Inslee, recently stated that the public deserves "to see what kinds of decisions their leadership are making and what goes into making those decision."
Democrats' latest attacks on Republicans are the height of hypocrisy – something that we've come to expect from them. It's interesting to note that Democrats eagerly call for greater government transparency when it suits their agenda, though they never actually follow through. But, when Republicans call for transparency and actually follow through, Democrats accuse them of playing a hyper-partisan game.
It's fairly easy to see who the hypocritical partisans are in this case – and it's not the Republicans.