Last week, the state Senate passed a much needed, bi-partisan, three-years-in-the-making transportation package on a 27 to 22 bi-partisan vote. As Shift has reported, the transportation package includes some aspects with which both sides do not particularly agree. It is, after all, a compromise plan.
For Republicans, that means a Democrat-backed gas tax increase of 11.7 cents and granting Sound Transit the authority ask voters for $11 billion for its ST3 plan via a ballot measure. However, the package does include key reforms that Republicans fought hard to incorporate. These reforms are essential for protecting hard-earned taxpayer dollars and transportation funding.
One reform would direct the sales tax paid on transportation projects back into transportation, instead of into the state general fund. Currently, our state charges itself sales tax on materials used in road-construction projects. The "longstanding practice" allows the state to transfer gas-tax money from the state transportation fund to the general fund. The purpose of the scheme is to evade a constitutional amendment (passed by Washington voters) that restricts fuel taxes for transportation purposes.
By ending the practice and eliminating the state sales tax on public road-construction projects, approximately $1.5 billion to 1.8 billion more revenue from the state fuel tax would go to road projects. The reform would go along way toward preventing future transportation funding shortages.
Republicans also insisted on a vastly important safeguard against Jay Inslee's use of an executive order to implement his fuel mandate scheme. The package includes a provision that would pull funding from transit if the state were to adopt a low carbon fuel standard. If the standard were adopted, "all non-bondable revenues — such as fee-based money going toward transit and bike paths — would instead be moved into the main transportation account." Without this safeguard, Inslee would certainly move forward with his plan that would increase fuel prices by $1 plus per gallon.
Unfortunately, as Shift has reported, Democrats and far-left organizations are not happy with the reforms and safeguard. Extreme "green" organizations—along with Jay Inslee—have labeled the transportation package a "poison pill" due to the safeguard against the fuel mandate. Sound Transit and transit extremists complained that $11 billion wasn't good enough. They want the full $15 billion taxing authority they requested.
But, perhaps the most shocking—and telling—objections to the transportation package came from Democrat lawmakers. Democrat Sen. Bob Hasegawa expressed remorse that, if the package passed, the Democrats would lose leverage for raising taxes in the operating budget. Describing a hostage situation involving our state's transportation needs, Hasegawa warned fellow Democrats that the Legislature was not "even halfway through this legislative session." He said, "If we let the transportation package go, I'm afraid we're going to lose our leverage to get a good operating budget out as well."
Democrat senators who appear to have heeded Hasegawa's warning include Sen. Cyrus Habib. Shortly after the package passed the state Senate, Habib made his frustration known on—oddly enough—a congratulatory Facebook status posted by Bellevue City Councilmember Kevin Wallace.
Wallace post the following status on his Facebook page: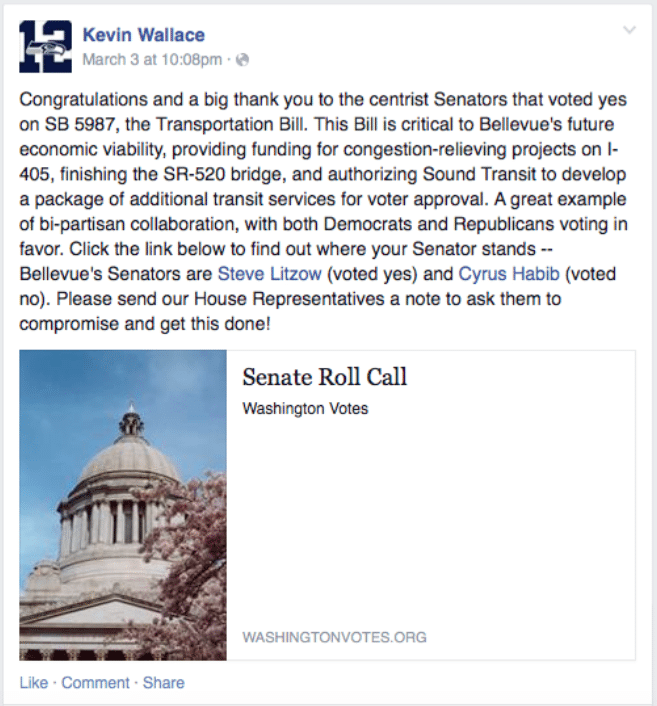 Habib attacked Wallace with the following,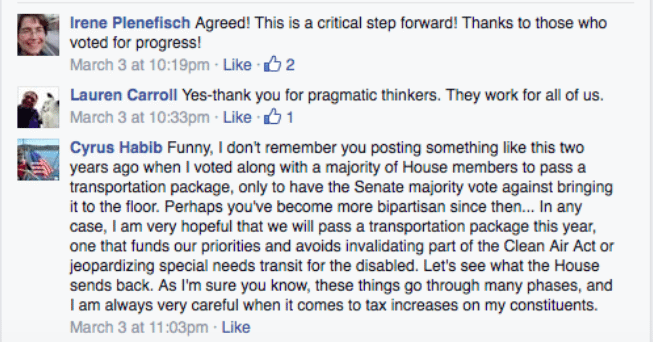 Wallace responds to Habib by pointing out that the House transportation bill in question was highly partisan. Communities across the state have waited years for a transportation package that addresses pressing needs. The Legislature can no longer wait to pass a bi-partisan package.
Habib then claims the transportation package passed by the state Senate is not bi-partisan. Specifically, he accuses the package of weakening the Clean Air Act. The Washington Policy Center's Todd Myers took issue with Habib's assertion.
Here's what happened after: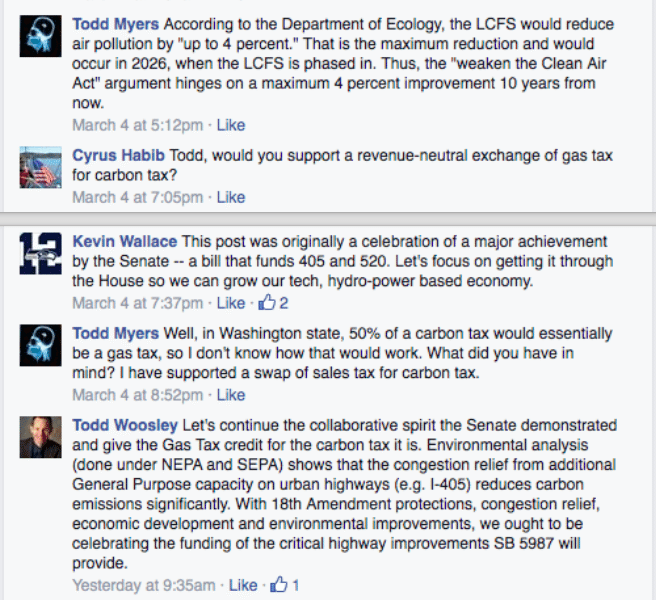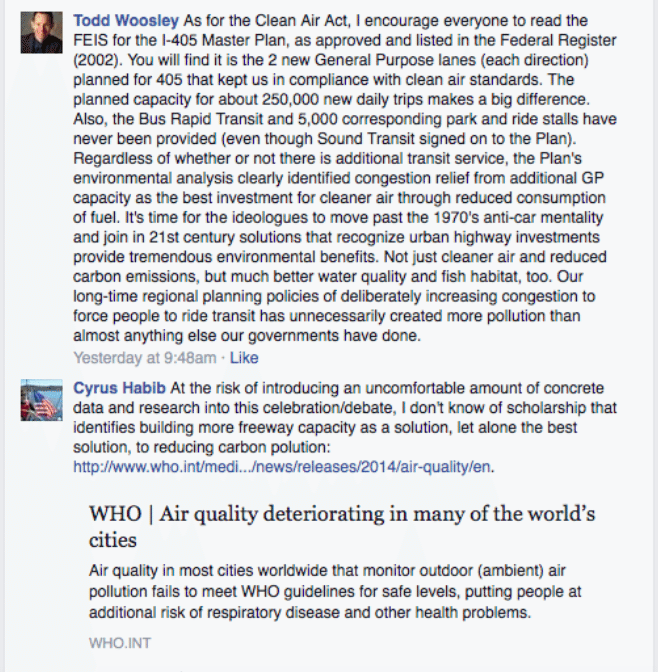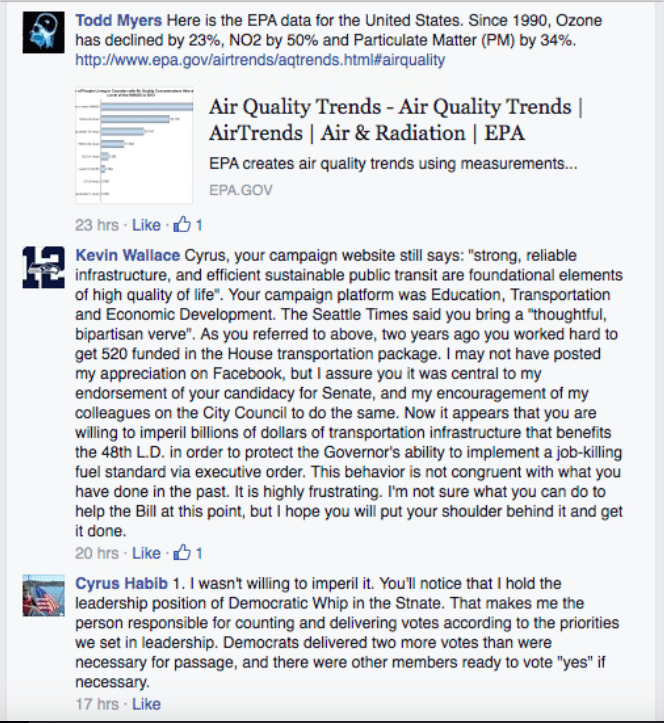 So, what's the big take-away from this exchange? Democrats—like Sen. Cyrus Habib—consistently, even predictably, ignore the facts and spew far-left "green" arguments provided to them courtesy of extreme environmental organizations. When—presented with reality and facts—their arguments unravel, Democrats resort to retaliatory, unfounded accusations. Often these accusations project exactly what said Democrat is doing/saying on to the opposition. In this particular case, once Habib's "green" talking points fail him, he resorts to accusing the opposition of sounding like a "Fox News talking head."
Here's hoping Cyrus takes the facts presented to him under serious consideration. Because, if the rumors are true, he is considering a run for Lieutenant Governor in which case his approach toward reality will not cut it.