As hard as it is to believe, Democrat Congresswoman Suzan DelBene is just as bad as Jay Inslee when it comes to desperate fundraising techniques. Sadly, we've become accustomed to DelBene's bizarre fundraising tactics since she first bought her seat in Congress in 2012.
It wasn't too long ago that DelBene was pandering for money, supporters and votes by using liberal hot-button issues she—presumably—believed were the most important ones facing our nation, as if no one told her our nation is dealing with a debt crisis, crazed terrorists, or a failing healthcare system.
Well, DelBene is at it again. Here's the latest email she sent to supporters: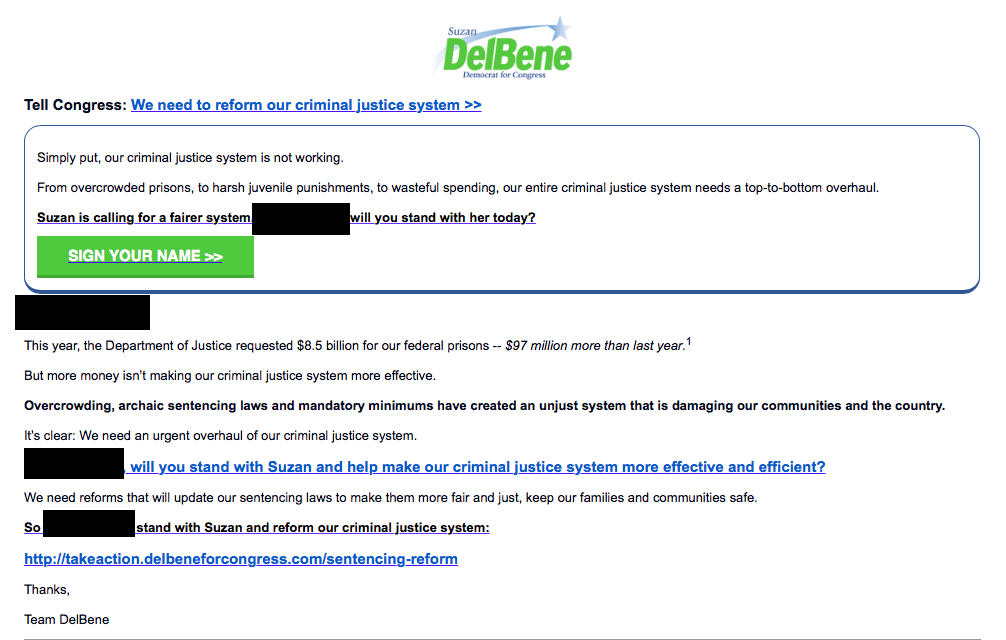 Never mind that "fairer" to DelBene likely means shorter sentences for criminals, her tactic tells you a lot about her real political aim. You see, DelBene would be better off taking concern over the Department of Justice's budget request to the person who sets those priorities, her party's leader President Barack Obama. But, that would assume she actually does care about the issue rather than merely using the names of those who sign her petition for fundraising purposes down the road.
Begging for support using liberal hot-button issues isn't the only bizarre fundraising scheme DelBene is repeating. Last week, she sent out the following email: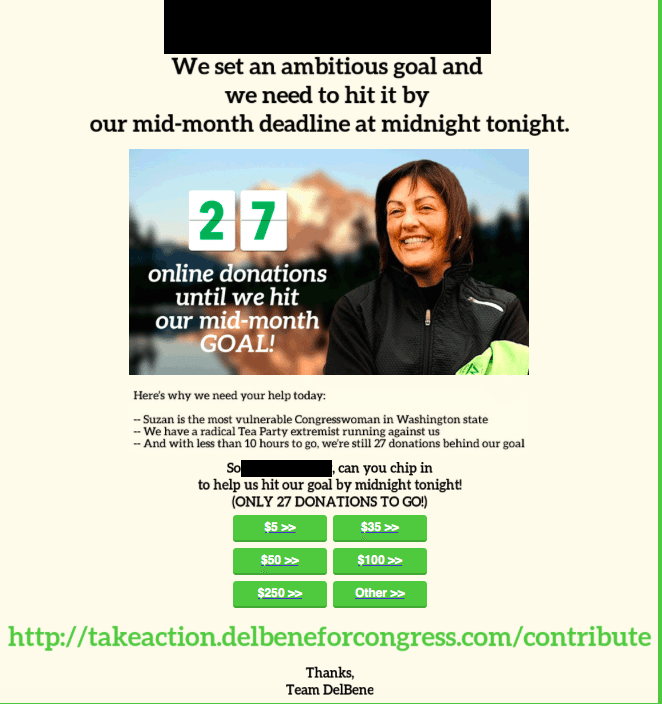 Multi-millionaire Suzan DelBene, who bought her seat in her second congressional campaign, wants her supporters to believe she needs just 11 small donors to meet a made-up mid-month goal. The previous email she sent claimed she needed 27 donations—which, incidentally, is the exact number she claimed to need months previously. Either that's a coincidence or someone on DelBene's campaign just really likes the number 27.
Certainly, DelBene's fundraising technique isn't well thought out. It's just shameless fundraising at its worst.