Democrats have been resorting to rather strange ways to raise money for their campaigns. Almost as strange as their party's fixation on creating a state income tax.
A few weeks ago, Jay Inslee's campaign staff attempted to peddle his paint-by-numbers-looking drawings in a bizarre fundraising ploy, offering potential contributors an "opportunity" to receive one of his "originals." To receive an Inslee "original," all one had to do is make a donation. Interestingly enough, the embarrassing scheme came to a swift end after Shift poked fun at it.
Well, as previously mentioned, Inslee isn't the only Democrat engaging in weird fundraising tactics. Democrat U.S. Rep. Suzan DelBene (1st District) has spent the last couple of weeks pandering for money, supporters and—presumably—votes by using issues she—again, presumably—believes are the most important ones facing our nation.
Here are three of our favorite examples.
DelBene's out-of-left-field "save the elephants" email. The "save the elephants" line is quintessential, shameless pandering for support—a fact that makes it all rather embarrassing.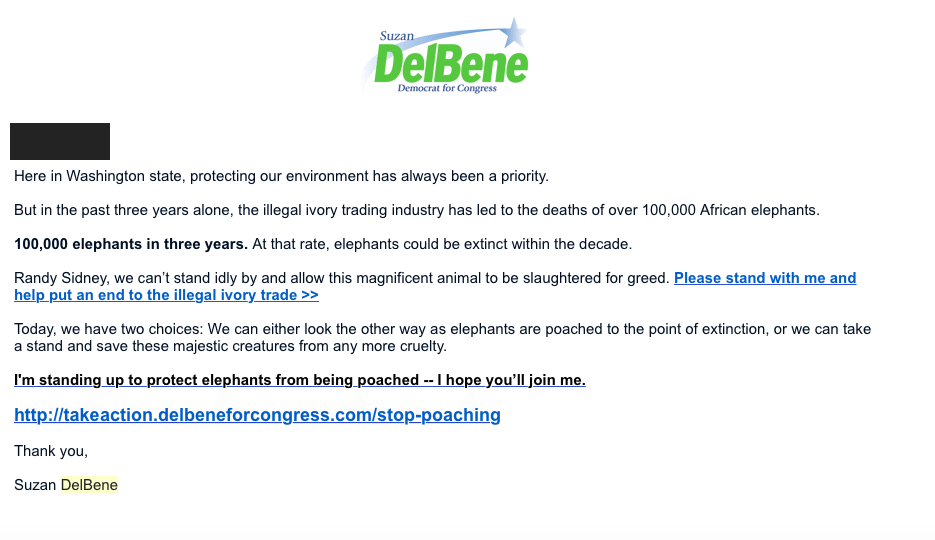 DelBene's I-need-a couple-of-hundred-dollars-even-though-I-am-multi-millionaire who bought her seat in Congress email. This particular email kicks off by DelBene apologizing for writing "so late" on a Sunday night and informing recipients that she just needs $354 to meet her end-of-month fundraising goal. Of course, the absurdly low and oddly specific figure begs the question of why DelBene—someone who spent more than $2.8 million of her own money on her 2012 campaign to first get elected to Congress—cannot just cover the $354 herself. And what is DelBene's campaign budget that $354 more than a year before the election makes such a huge difference?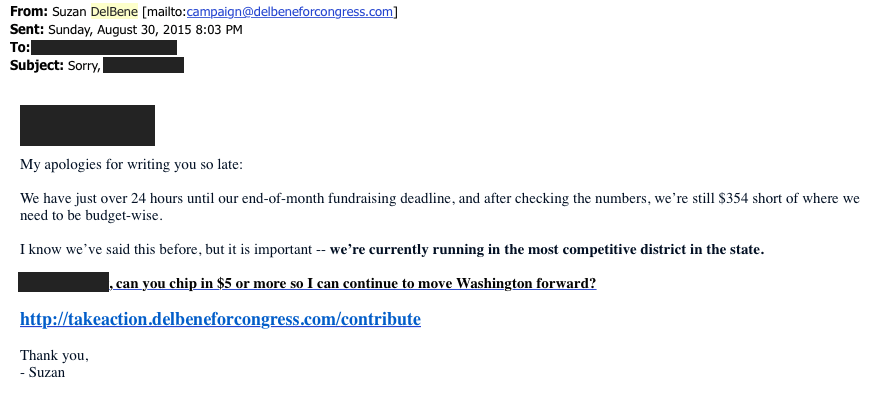 DelBene's shameless latch-onto-controversial-issues-to-grab-attention email. This email—which includes the subject line: "I want to be clear"—asks recipients to sign a petition demanding the removal of the Confederate flag from all federal sites. Meanwhile, our nation is struggling with stifling debt, the Obama administration just negotiated a terrible Iran nuke deal and ISIS is murdering thousands of innocent people and assuming more and more power in the Middle East. But, by all means, let's "be clear" about what to do about Confederate flags on federal sites.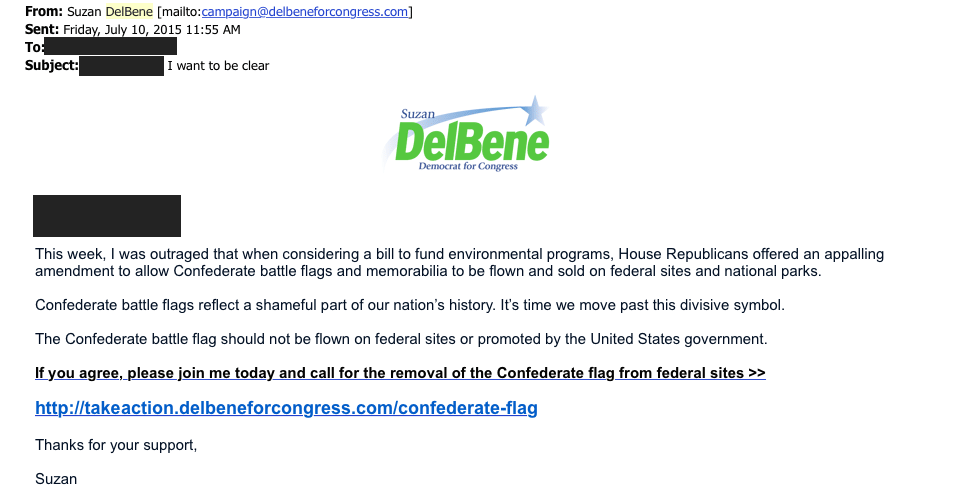 As an added bonus, DelBene appears to feel the need to spell out her feelings/reactions for her supporters—presumably because she assumes they are not well versed in the English language. Simply put, it's strange—and rather annoying. After all, most people can spell "I-N-C-R-E-D-I-B-L-E" and "AMAZIN G" without DelBene's email help.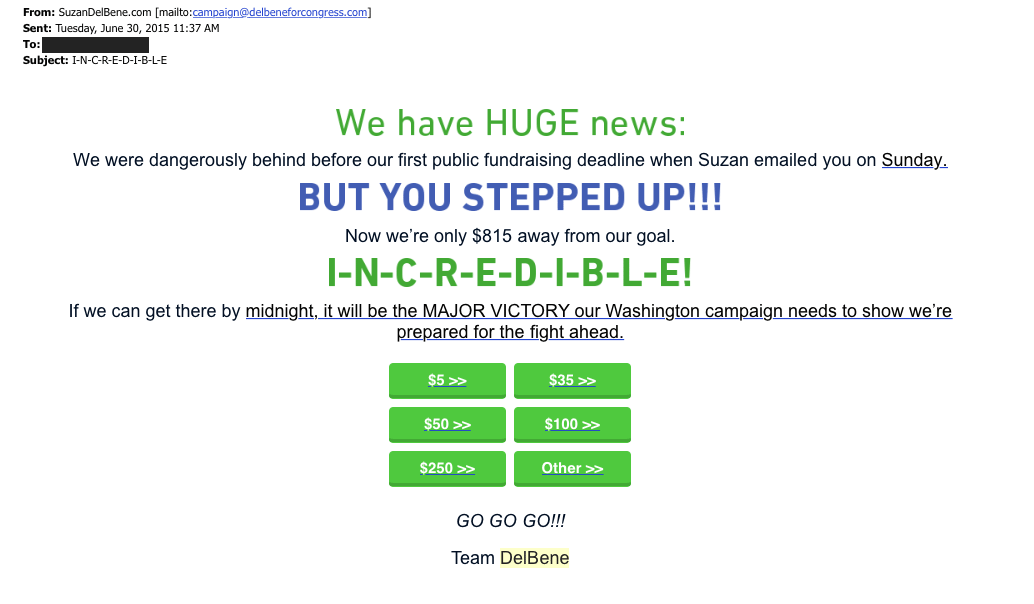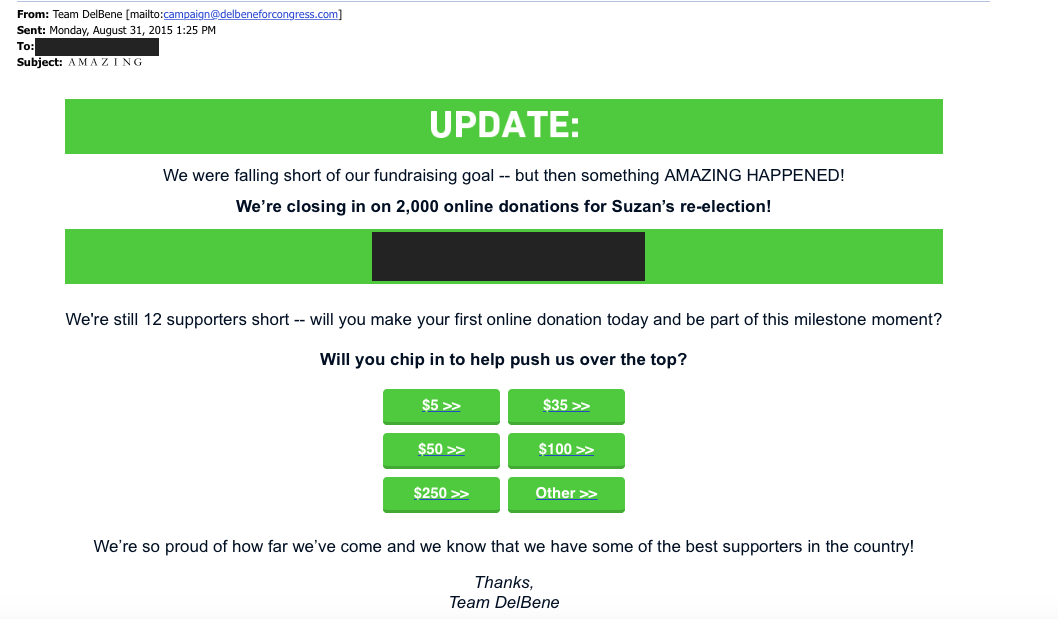 Incidentally, rather than worrying about spelling out words for her supporters, DelBene should worry about her ability to keep track of her deceptions. Notice in her "A M A Z I N G" email DelBene needs 12 supporters to get to 2,000 on August 31st. Yet, on August 21st, ten days before, she needed 9 supporters to get to 2,000. Check out the email below – and perhaps the answer is that three people asked for their money back.