Democrat U.S. Representative Suzan DelBene has once again, and over and over, asked supporters for an absurdly low amount of money to meet her fundraising goals. Of course, it was all just a desperate attempt to increase her fundraising numbers before the end of April.
Apparently, DelBene is still struggling to convince supporters to send her money. So, she's using the age-old tactic of telling supporters that there's just a bit more to go before she meets the goal.
Here are some of her latest emails.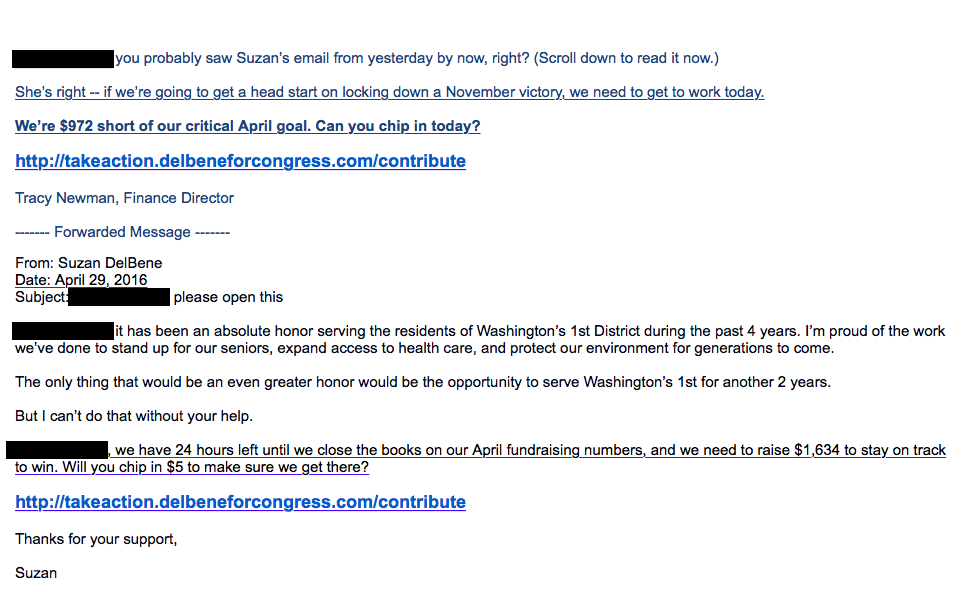 The problem is that DelBene's fundraising tactic doesn't make much sense. DelBene is, after all, someone who spent more than $2.8 million of her own money on her 2012 campaign to first get elected to Congress. DelBene dropped that serious coin – being a Microsoft millionaire can be a good thing after all – after losing a 2010 election, in another district, where she put over $2.2 million of her own money into the race.
Simply put, DelBene is a multi-millionaire who bought her seat in Congress and asking her donors for another $357 by the end of the day is absurd. Considering that fact, the very relevant question is: why can't millionaire DelBene cover the $1,634 or the $972 or the $357 to "stay on track to win"?
The obvious answer is that, now that she has some name recognition, DelBene no longer wants to pump her own money into her political career. DelBene now prefers to use her donors' money to retire outstanding campaign debt rather than spend more of her sizable fortune.
Notably, DelBene's absurd fundraising strategy makes sense considering that her consultant is Tracy Newman, the same hired gun behind Jay Inslee's desperate fundraising appeals.