You can always count on Democrat U.S. Rep. Suzan DelBene (1st District) for a healthy dose of hypocrisy. As Shift reported, DelBene — like so many of her fellow Democrats — has decided to make the issue of getting "dark money out of politics" a primary focus of her campaign for re-election. Here's her latest email: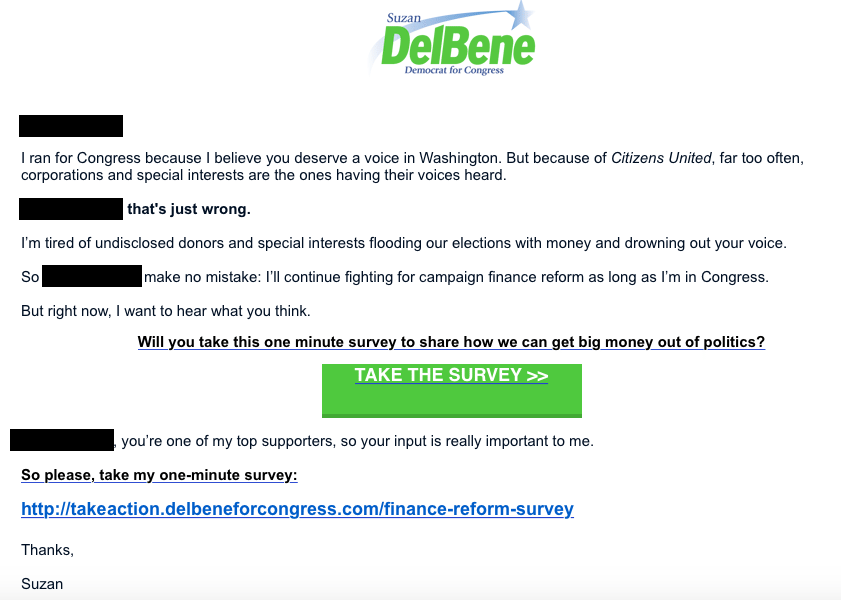 DelBene's blatant partisan agenda on the issue is exposed by the simple reality that, if she were truly passionate about the issue, she would start fixing the problem where she can: with her own party catering to extreme "green" California billionaire Tom Steyer. Of course, she hasn't done that.
DelBene's hypocrisy is made still more obnoxious by the reality that she is a millionaire who bought her seat in Congress in 2012 by spending more than $2.8 million of her own money – and that was after losing a 2010 election, in another district, where she put over $2.2 million of her own money into the race.
Nevertheless, DelBene continues to insist on pandering for money, supporters and votes by using liberal hot-button issues. Meanwhile, our nation is dealing with a debt crisis, crazed terrorists, or a failing healthcare system… not that DelBene seems to care much about such issues.