Socialist Senator Bernie Sanders, a non-Democrat running for the Democrat nomination for President, held a rally at Seattle's KeyArena on Sunday. Reportedly, the Sanders' campaign turned away many would-be attenders. More than 5,500 were left outside. But, it's unclear why.
Seattle Center staff estimate that 10,300 were inside the arena to hear Bernie speak. Key Arena has a capacity of 17,000. So, it would appear that the Sanders' campaign just wanted to claim that they had to turn away attendees.
In any case, a handful of familiar faces managed to get inside and meet Bernie. Check out the picture below: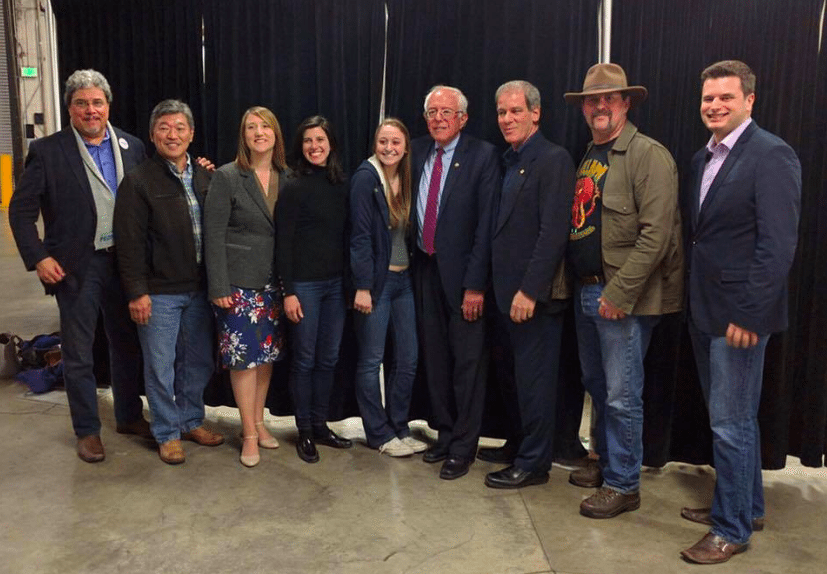 Sanders is surrounded by some of his BFF's from the state Legislature. From Left to Right: Democrats Luis Moscoso (1), Bob Hasagawa (11), Noel Frame (36), Jesse Farrell (46), Unknown, Bernie, Roger Goodman (45), Brian Blake (19), David Sawyer (29).
While Sanders draws most of his Washington State support from young "fellow travelers" in Seattle who aren't old enough – like State Representatives Noel Frame and Jesse Farrell – to remember what a disaster socialist policies were for millions across the world during the Cold War, the Vermont Senator also attracts old-line suburban Lefties like state representatives Roger Goodman and Luis Moscoso.
It's further proof that there is little difference between Washington Democrats and self-proclaimed socialists like Sanders and Seattle Councilmember Kshama Sawant. As the Democrats surrounding Sanders above can agree, bigger government and higher taxes – what's not to smile about?