You are probably enjoying the respite this week from fundraising emails, now that Washington State's pre-legislative session freeze has started, though at Shift we must admit enjoying some of the fake desperation and hypocrisy of the last-minute begging. A serial offender at the deadline game is Democrat Attorney General Bob Ferguson, who has been reduced to campaigning for an undefined future office based on the work of his staff.
That's pretty much all Ferguson has, using the taxpayer-funded work of State Attorney General Office staff attorneys as justification for why you should give him more money (though not necessarily keep him in the job of Attorney General, since he is really running for governor as soon as that pesky Jay Inslee gets a DC job).
In a recent campaign email, Ferguson lists several cases he has allegedly prosecuted, such as the case against Greyhound for enforcing federal immigration law or the case against "Arlene Flowers" for private business owners exercising their constitutional rights, as proof he deserves another campaign donation. Ferguson's team must be reveling in the fact their candidate is able to spend public dollars on cases that make great campaign talking points but make little impact on actually improving public safety.
It's a two-for-one. Criminals go unprosecuted, Bob gets a donation check.
Every time a new case is filed, the obligatory press releases (produced with tax dollars) and sometimes, if AG Ferguson gets lucky press coverage from a compliant mainstream media, are produced to pad the resume for his next campaign.
Ferguson, who also specializes in using the office of the Attorney General to prosecute his political enemies, uses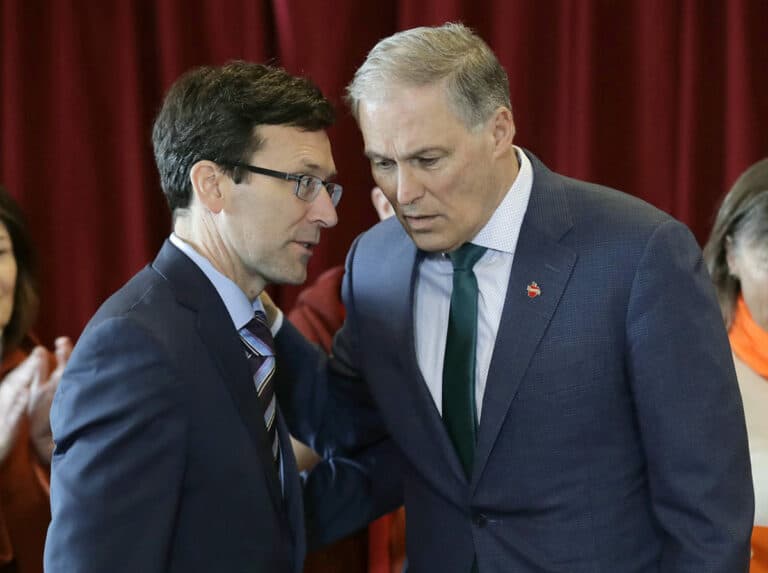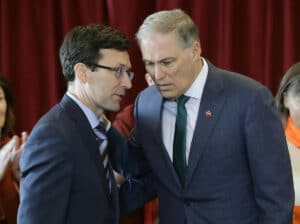 public dollars to arbitrarily select who gets prosecuted and who doesn't. Looking down this list of cases highlighted in the campaign email, it's a who's who of liberal interest groups wanting vengeance on people they want out of the way.
Love him or not, just take a look at the creepy prosecution of Tim Eyman by Ferguson over the last few years. That certainly has all the markings of a personal vendetta.
But Eyman is not the only focus of Bob's circus.
Ferguson garnered plenty of attention for his many lawsuits against the Trump Administration, now at over 95 suits, over the last five years. For a man who wants to run for governor, the Trump lawsuits are a gift to court the Democratic base and lock down far-Left support, blocking out potential rivals. No other Democratic gubernatorial hopeful has the taxpayer-funded platform Ferguson does for "confronting" Trump and giving activists on the Left what they want. Hundreds of thousands of dollars on legal fees have been wasted, unless you ask Bob, who believes the cost is 'negligible'.
Gun control (for legal gun owners only, criminals don't care), forced/unfunded mandates on businesses, and false tax evasion charges all to promote Ferguson for his next office, currently held by the other great spender of taxpayer dollars, Democrat Governor Jay Inslee.
The lawsuits didn't stop when Trump left office, though the number of new cases (only seven) has fallen significantly. The highest profile lawsuit is against the Post Master General Louis DeJoy, who just happens to be a Trump appointee. DeJoy is trying to reduce Post Office service hours because the agency is losing money, but that doesn't stop Ferguson from virtue signaling with a lawsuit so he can claim to his base that he is stopping a Trump-appointee from doing their job.
And, similar to the ethical problems which now-Secretary of State Steve Hobbs faces, Ferguson is obviously planning on shifting his vast war chest of over $3,000,000 from his Attorney General account to his anticipated run for Governor. Ferguson, like Hobbs, will have to get written permission for each donation given to him for his Attorney General run before it can be transferred to the Governor's race.
Don't hold your breath on that happening anytime soon.
If Ferguson is successful in his run for Governor, which isn't guaranteed since there are plenty of other big-spending Democrats wanting the top job, we are likely to see the same vindictive behavior against his political enemies.
Meanwhile, Ferguson continues to raise money for his campaign for re-election whenever he can, and we all get to pay for the campaign highlights with our tax dollars.