Let's go hypothetical for a moment.
Imagine if in 2020, disgraced State Representative Matt Shea had decided to run for re-election after his support for extreme and violent actions had been published. And suppose during the campaign that Washington State Republican Party Chairman Caleb Heimlich posted factually incorrect tweets attacking Shea's opponent.
What do you think the reaction of the state's media would be?  Do you believe they would say nothing?  Or do you believe this would be a front-page story for the Seattle Times, Spokesman-Review, Everett Herald, and Crosscut, with local political reporters all scrambling to contact other Republican elected officials asking whether they agree with the State Republican Party Chair's actions supporting such an extremist.
The reporters would be asking elected Republican officials if Heimlich should resign his position. All candidates endorsed by the GOP would be asked if they revoke the endorsement in light of the Chair's actions.
Basically, the media would be doing their job.  They would be asking our public servants tough questions.  The public has the right to know how far our elected officials are willing to go to condemn violent and extreme beliefs.
Now, let's move to the current reality of 2021.
The Twitter account of admitted abolitionist and candidate for Seattle City Attorney Nicole Thomas Kennedy is full of vile comments against police officers and support for arsonists and people who commit other violent acts.  You can read Thomas Kennedy's posts (some she tried to delete) here.
Despite knowing how extreme Thomas Kennedy is, and that two former Democrat governors (Gary Locke and Christine Gregoire) have endorsed her opponent Ann Davison, Washington State Democrat Party Chair Tina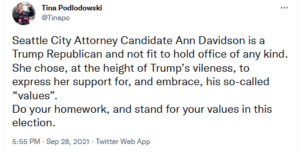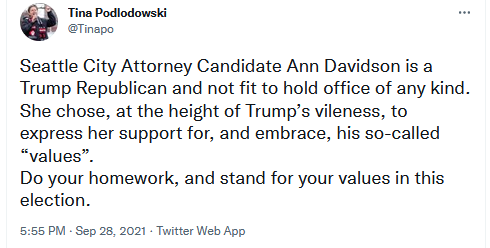 Podlodowski still posted a tweet blasting Ms. Davison with statements she knew were not true. (Podlodowski labeled Davison a "Trump Republican" despite Davison repeatedly saying in 2020 and 2021 that she was voting for Biden, that she caucused for Hillary Clinton in 2016, and voted for President Obama twice.)
Chair Podlodowski's tweet and subsequent comments were supportive of the extreme and violent beliefs of Nicole Thomas Kennedy.  There is an obvious major divide within the Washington State Democrat Party when two former two-term governors endorse one candidate and the state party chair is supporting such an extremist.
So, are Podlodowski's actions and the divide within the party being reported on by the media?  A search of the state's five largest newspapers – the Seattle Times, News Tribune, Spokesman-Review, Yakima Herald, and Everett Herald reveals that none of them have even mentioned the tweet by Chair Podlodowski supporting the extremist Thomas-Kennedy, let alone asked Democrat officials if they support or condemn the party chair's actions.
Plain and simple, for whatever reason, Washington State media members have refused to do their job.
Why aren't the media reporting that the Chair of the ruling party in Washington State is supporting a candidate with such extreme and violent opinions?
Why aren't reporters asking current Democrat officials like Governor Jay Inslee and Attorney General Bob Ferguson if they side with former Governors Locke and Gregoire, or with Chair Podlodowski? Shouldn't the voters in the state know whether or not the state's officials responsible for public safety support the extreme platform of Thomas Kennedy and the actions by their party chair to assist her campaign?
Why aren't journalists asking state legislators (who are very dependent on the financial and grassroots support of the party) if they support Podlodowski's actions?  Doesn't the media believe Eastside voters have the right to know if their Democrat Senator Patty Kuderer (a member of the Senate's Law & Justice Committee) supports the actions of her party chair and the radical ideas of Thomas Kennedy?
Why aren't the media asking all the local "non-partisan" candidates endorsed by the Washington State Democrat Party if they support Chair Podlodowski's actions?
Why isn't the media doing their job?