The budget passed by the state Legislature and signed by Jay Inslee does not fully fund the Washington Education Association's (WEA) so-called smaller class size initiative (I-1351). That means lawmakers must, at the very least, delay it.
The state House passed, by the necessary two-thirds majority, a bill (HB 2266) that would delay the start of I-1351. The state Senate ran into more of a speed bump when it came to its turn to approve HB 2266 late last night, and could not muster the two-thirds majority needed to pass the bill. That's because Senate Democrats decided to use the vote as an opportunity to first press for Republicans to agree to "pass a separate bill that died earlier in the session that changes some high school student assessments."
Senate Democrats refused to abide by an agreement of how to deal with I-1351 by refusing to vote for the delay – unless the Senate passed the WEA-supported testing bill first. Due to that blackmail request, the Senate adjourned until Friday
As could be expected, the WEA and its affiliates are not happy with the prospective delay of their latest money-grab. And, they are not holding back on their criticism of the move—criticism that includes a plethora of half-truths and bold-faced lies. Here's what the Lake Washington Education Association (LWEA) recently posted on Facebook: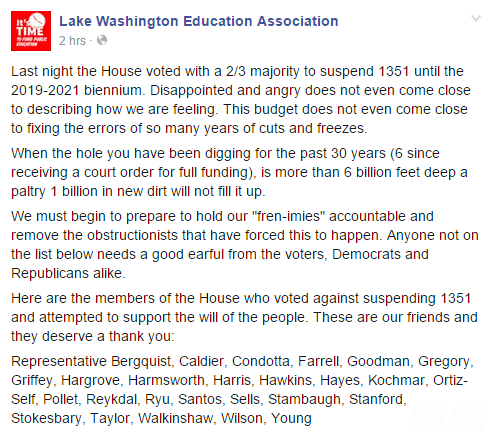 First, the state Supreme Court ordered the state Legislature to fully fund K-12 education via the McCleary decision in 2012. Even a student not taking the math tests the WEA wants to get rid of could tell that's hardly six years ago.
Second, the reference to "a paltry $1 billion" in education funding is absurd. In total, the new state budget spends $2.9 billion more on public schools, increasing spending from the current $15.26 billion to $18.15 billion. To be clear, that's a whopping increase of 19%. In fact, since the 2012 McCleary decision, Republican lawmakers have worked to increase "state spending on public schools by over $4.5 billion, a 32% increase in four years."
As the Washington Policy Center points out, the new budget "represents one of the largest one-time increases in public education spending in state history." Check out this graph that illustrates the increase: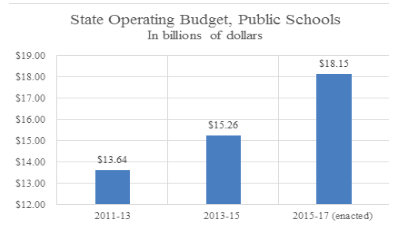 The LWEA's response is, simply put, childish. The union cannot deny the state budget works to improve education. It's just throwing a fit that it doesn't pump millions into its own selfish interests.