Certainly, a Democrat member of state House leadership was attempting to praise the state employees at the Department of Licensing (DOL) when he responded to a request from SHIFT asking Washingtonians for personal examples of challenges with state bureaucracy with the story below.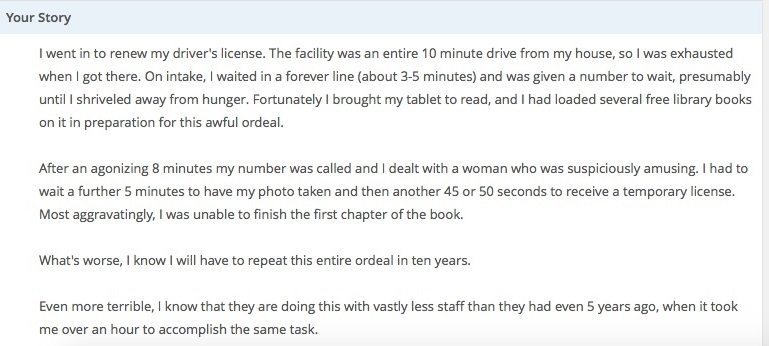 But, instead, he proves the point about the need for government to improve.
The Democrat representative points out that DOL is operating "with vastly less than staff than even 5 years ago," yet his wait time during a recent visit was much shorter. Doesn't that make you wonder what DOL employees were doing wrong 5 years ago that took so long?
We appreciate that said House Democrat is a reader of SHIFT (we have been told that Jay Inslee has his staff read it to him as well), so we hope he'll help our readers out a little more with other experiences with state government.
Maybe he could describe his next trip on a Washington State Ferry, and let us know whether or not he is asked to get off the boat due to overload issues. Or, even more illuminating, how about a narrative on his next experience trying to get the Department of Ecology to give him permission to use his own private property?
Better yet, if he really wants to let the public know where real government waste occurs, perhaps he could describe a meeting with Frank Chopp on the subject of how Democrats have managed to reduce support for public schools since Chopp began his term as state House Speaker in 2002. I'm sure that would be a really funny read.