Thankfully, the state Senate won the recent legislative transportation battle, and, most importantly, forced Jay Inslee  to accept the Senate's consumer protection provision as part of the agreement on a transportation package. The consumer protection provision ensures that our green governor does not bypass the state Legislature and jam through a fuel mandate by executive order.
If Inslee does try to appease his million-dollar campaign donors, the consumer protection provision would pull funding from transit and other items which Inslee and his far-left environmental friends like, and move the taxpayer dollars into fixing our roads.
While Inslee may have conceded defeat, his liberal supporters aren't giving up so easily. Their last-ditch efforts include a variety of advertisements and email blitzes to supporters.
The primary pro-fuel mandate message is the improvement of air quality and reduction of asthma. The Washington Policy Center points out,
"Ben Serrurier of Climate Solutions had this to say about the need for an LCFS: 'This is about air quality, in places like Pierce County, and Seattle.' The Lung Association has a video claiming 'That's why we need a clean fuel standard. Less air pollution means fewer suffering from lung disease.' And the Washington Environmental Council sent an e-mail claiming 'Washington needs a clean fuel standard – less air pollution means healthier kids and a healthier Washington.'"
However, these claims don't even stand up to Inslee's own science. The Washington Policy Center,
"The Lung Association has specifically highlighted particulate matter as a pollutant of concern. The LCFS they claim will improve air quality will actually only reduce PM 2.5 by up to 0.5 percent by 2026. You read that right, one-half of one percent, ten years from now."
During the month of January, Seattle saw the highest levels of PM 2.5 levels during the past year. The chart below demonstrates the PM 2.5 levels versus what they would be with a fuel mandate. As you can see, the line is indistinguishable.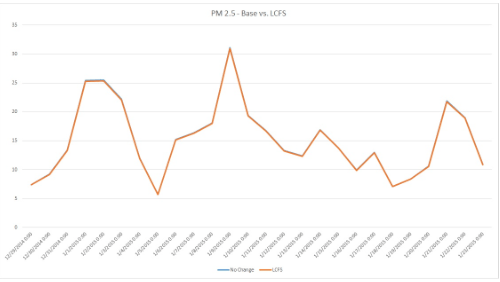 Unfortunately, the facts have not dissuaded extreme green advocates from claiming a fuel mandate would improve air quality. The Washington Policy Center,
"Those facts haven't stopped the environmental community from spending their resources to claim the LCFS will help air quality. The results have been as effective as the LCFS itself. The Coalition for Clean Fuels Jobs bought the front page of The Seattle Times online, encouraging people to tweet, "We deserve cleaner air, and better transit. Remove the Clean Fuel Standard poison pill from the transportation package. #WALeg." The total number of tweets they generated: 0. It seems fitting."
There are ways to improve air quality and, by extend, reduce the risk of asthma. A fuel mandate is, simply put, not one of those ways.
But that won't stop Inslee and his left-wing liars from trying to scare the public into accepting his scheme.