Prior to the end of this year's regular session, Jay Inslee threatened not sign any more bills until lawmakers agreed to a supplemental budget. Apparently, our green governor believed that would effectively veto the bills.
The only problem is that Inslee evidently did not realize that, unlike the President of the United States, he does not have what others know as "pocket veto" power. Fortunately, in Washington State, if a governor ails to sign a bill by the defined timeframe, the bill simply becomes law.
In order to (partially) follow through on his threat, Inslee was forced to make state history and veto 27 bills in one night. Adding to the ridiculousness of it all, Inslee's stunt forced him to veto several bills that he had himself asked the Legislature to approve.
As Shift pointed out, Inslee's ultimatum was nothing more than a weak and ineffective stunt that, ironically, only added to lawmakers' workload. The Tri-City Herald writes:
"Most [lawmakers] were perplexed by the move. If the governor had made the threat with a week or two to go, it might have been more motivational. But he made the challenge so close to the end of the session that there was no way lawmakers would suddenly be able to get their act together and approve a budget.
"The stunt actually added to the workload of lawmakers because both chambers ended up overriding the vetoes. Getting a veto override in the state Legislature is not an easy accomplishment. It takes a two-thirds majority vote of the members present in both chambers to get it done."
Lawmakers managed to cleanup Inslee's mess by overriding his vetoes. But, that's not where Inslee's veto bizarre behavior ended.
Back in 2014, lawmakers passed a bill allowing property owners to mark their boundary with orange paint. Inslee vetoed it, but gave lawmakers specific instructions for how to make the bill better. This year, lawmakers followed his instructions, amended the bill, and passed it again. Only, after the Legislature adjourned, Inslee vetoed the bill… that followed his exact instructions.
Republican state Representative Drew Stokesbary recently pointed out the bizarre behavior via Twitter: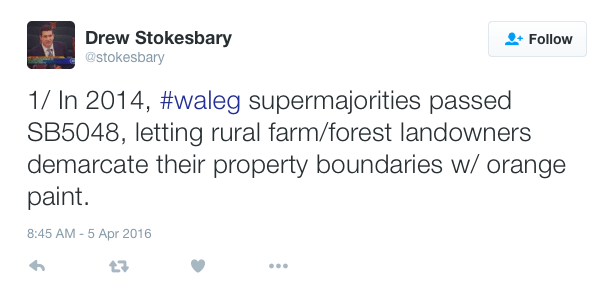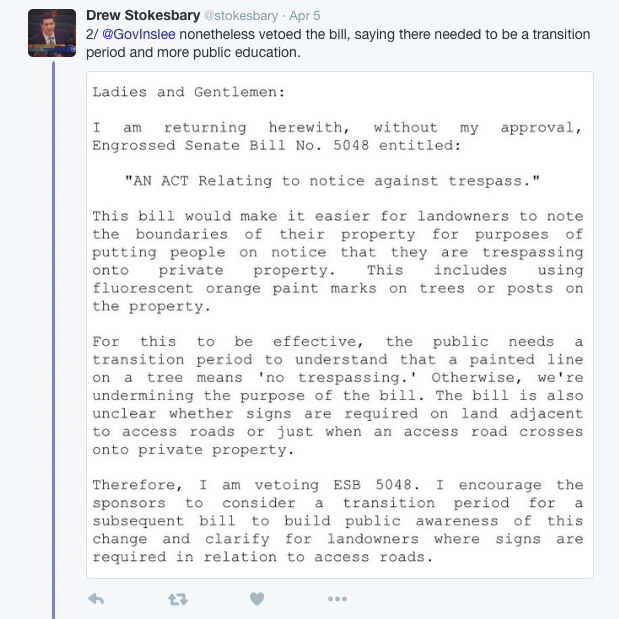 It's another example of Inslee's special kind of irrational, ineffective "leadership."