By Jim Keough, who served on Senator Slade Gorton's U.S. Senate staff from 1990 – 1993, and worked on Gorton's victorious 1988 and 1994 campaigns. 
In the early 1990's, I was honored with what I would argue was the best job in American politics: State Field Director for U.S. Senator Slade Gorton. This meant it was my job to work with other Gorton staffers to build and work with 39 county-based non-partisan advisory committees, annually coordinate 12 – 15 town hall meetings across the state, and implement an in-state schedule which ensured Slade regularly visited all corners of Washington State during Senate recesses and on weekends.
This provided me a front row seat in what his staffers referred to as the "Slade Gorton School of Public Affairs."  I learned more about politics in one car ride with Slade to Ellensburg then I did in earning a four-year degree.
Slade passed away in the midst of the COVID lockdowns on August 19, 2020, at the age of 92. Today services will be held for him at St. Mark's Cathedral to celebrate his life and his many accomplishments.
Like many who knew him, I have thought a lot recently about Slade, his impact on the country, the state, and on my life. As today's services have approached, I have heard from many of the people who worked for Slade who have gone on to make their own significant impacts in their own fields. Memories of those distant experiences, both on Slade's campaigns and working for the U.S. Senate, have come back as we relive our stories.
Ten years ago, noted Washington State historian John C. Hughes wrote a 400+ page book (Slade Gorton A Half Century in Politics) which is an excellent portrayal of Slade's public life. His intellect was universally respected, he was always well-prepared, and his ability to strategize political tactics was unmatched.  He was also the most honest and decent man I have ever met.
Slade was deeply partisan and worked hard to elect fellow Republicans. Yet his strong partisanship never blinded him from standing up for what was right. He was the first Republican elected official in the country (when he was the Washington State Attorney General) to call for President Richard Nixon to resign in 1973, and he supported the impeachment of President Donald Trump in February 2020.
While I do not possess Hughes' talents to effectively describe the very unique Slade Gorton, I do have three brief and personal stories which describes a few of his admirable characteristics.
CAUSING THE FIRST TRAFFIC JAM IN FORK'S HISTORY
In the middle of a three-day tour of the Olympic Peninsula in 1993, we scheduled a "community breakfast" in Forks which the civic leaders wanted to organize for Slade. It was their hope to thank him for standing up for rural workers when urban environmentalists sought to remove their jobs and destroy their communities in the name of the spotted owl. The mayor of Forks told me that likely 30 to 40 people would attend.
As we left our hotel and drove the five blocks to the community room above the city's largest restaurant, we saw the street filled with logging trucks and other work vehicles.  Workers in plaid shirts and suspenders, nurses in uniform, professionals in suits, and mothers with strollers were all heading to the same place.  We thought it must be for an event at the nearby high school.  Then as we drove closer, Slade's press secretary Deborah Brunton said, "Oh my God, I think this is for you Slade."
I dropped off Deborah and Slade and tried to find parking.  There was a large cheer as people instantly recognized the senator.  As I sat in traffic, I could hear many people thanking Slade for standing up for them and providing a much-needed voice for their concerns.
When I returned to the restaurant, the line was down the stairs and into the street with those who wanted to get into the breakfast. The room held over 150 people and there must have been 200 more wanting to get inside. The restaurant below hooked up its speakers to the sound system upstairs so more could hear. When Slade was introduced, the applause lasted at least five minutes.
I spent the breakfast outside talking with others who couldn't get in. I remember one woman who worked part-time at the local elementary school, telling me about the increase in alcoholism and domestic abuse due to the fears brought on by the urban environmentalists' destruction of their town.  Test scores were dropping, and students' absentee rates were increasing as the result of the family disruptions.
It took us well over an hour to get Slade out of the room at the conclusion of the breakfast because so many people wanted to shake his hand or give him a hug.  When we got back into my car, Deborah asked, "Slade, did you ever think you would receive such an appreciative reception in rural Washington?"
Slade pensively said, "No. Yet, I wish it never reached the point where that became a possibility."
PLAYING CATCH WITH A U.S. SENATOR
Slade is best known by many non-political types for saving Major League Baseball in Seattle in late 1992, when he convinced Nintendo's Hiroshi Yamauchi to invest $100 million to help purchase the team (which was threatening to move to Tampa Bay).  A group of local investors joined with Yamauchi and with Slade's help were able to overcome MLB's reluctance to having foreign ownership, successfully buying the team and keeping the Mariners in Seattle.
The new owners held a "2nd Opening Night" during the 1993 season on the day they officially took possession of the team. The new owners asked Slade to throw out the first pitch before the start of the game.
On this day, I was to pick up Slade at 7:30 AM, as the day's schedule was filled with media interviews to discuss the Mariners staying in Seattle with new local leadership.
The night before, Slade called me at home and asked, "Can you be here a half hour earlier tomorrow?"
"Yes," I responded.
"And…do you have a baseball glove?"
"Yes. I have a couple"
"How about a baseball?"
"Yes."
"Well, please bring them tomorrow."
While not certain what exactly Slade had in mind, I brought the baseball items with me when I picked him up the next morning.  When he greeted me at his front door, Slade asked about the ball and glove. I told him they were in my car.
"Go get them and meet me in the front yard."
I retrieved the items and went to the yard where I  was surprised to see Slade marching. He suddenly stopped and marked an "X" in the ground with the heal of his shoe. "This is 60 feet. Stand here." He took one of my gloves and the baseball and walked to the edge of the lawn. He turned and threw me the ball and we proceeded to play catch for about 15 – 20 minutes. This was Slade preparing to throw out that night's first pitch (the pitcher's mound is 60 feet and 6 inches from home plate).
I remember laughing to myself while we were throwing the ball back and forth. I expected I would have many great experiences working in politics, but playing catch at 7:00 in the morning with a U.S. Senator, while wearing a suit, was never one I imagined I would ever have.
That night, Slade did great with the first pitch. Many of his staff members went to the game and Slade joined us in the stands. He sat next to me while clutching in his hands the baseball he had used.  I asked if I could see it and he reluctantly let me pry it from his grasp.  I asked Slade if he was nervous when he threw the pitch. He turned to me and shyly said, "I have never been more nervous in my life."
GOING OUT OF HIS WAY TO HELP MY CAREER
After leaving Slade's office I did what many former Gorton staffers did, I began working in government/community relations for a major local employer.  I became involved in the industry's trade association, and I was able to get Slade to be the speaker at its annual luncheon.  As always, Slade delivered an insightful speech informing the business leaders of the challenges they faced in the U.S. Congress.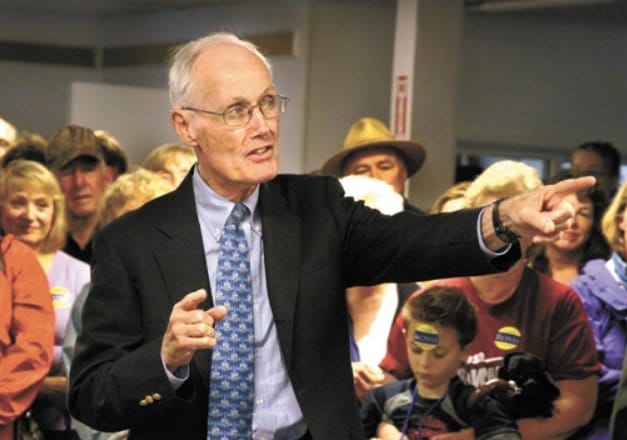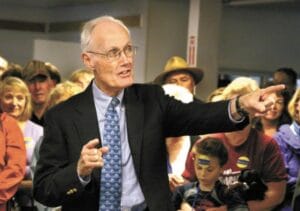 As Slade was ending his presentation, he surprised me when he said, "I am here today as your speaker for one reason.  I am here because Jim Keough asked me to be here.  He has worked on a couple of my campaigns and served on my senate staff. I am indebted to his loyalty. If my office can be of assistance to you, I am sure Jim will let us know and I will do what I can to help."
I was shocked by this uncharacteristic comment from Slade. My new boss was sitting next to me and joked, "How did the senator know I was doing your performance review this week?"
After that luncheon, local executives with other companies, who had never returned my previous calls, were suddenly calling me to talk about various industry issues.  Slade's comment was a major boost in helping me do my job.
Slade did not have to do this.  But he did.
It was as if Slade was the master, and I was one of his apprentices. He was giving me one last piece of assistance as I went off to my new adventures.
Even though I have always had problems with authority, I have always called Slade, "Boss."
On that day our relationship changed. While I still continued to call him "Boss," on that day he became my friend.
These stories reflect three of the many characteristics I admired about Slade Gorton.
Fighting for those who don't have a voice.
Preparation is fundamental to success.
Loyalty to those who have been there for you.
Over the years, there were hundreds of people of who have worked for Slade when he was either the Washington State Attorney General or a U.S. Senator.  We all have our stories of how the man impacted our lives.  Today those who attend his services will hear many of these stories.  Some will make us laugh, others will make us think, and some will make us cry.
Slade Gorton lived a full life.  And his impact will extend longer than the lives of those who will tell these stories.
Slade Gorton's legacy is now in the hands of those of us who knew him.
We live in unique political times.  As long as stories about Slade are told, we set the standards we should expect from our public figures.  There also remains the hope that future "Slade Gortons" will find their calling in public service and will help restore the much-needed characteristics that Slade brought to that calling.