You may have missed this, since local media rarely covers news from the state capital, but last week legislative leaders from both Republican and Democrat caucuses in Olympia participated in a press event to answer questions that should be front-and-center for Washington State residents. Even the governor showed up to share his wisdom.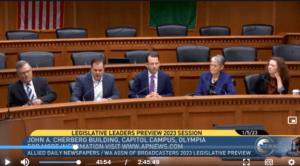 Unfortunately, at least if you listened to the Democrats, your opinions don't matter, and they know how to spend your money better than you do.
It is clear to the Democrats that, since they didn't take a complete shellacking at the polls last November, that they now have a mandate to do pretty much whatever they want.
Democrat Representative Tim Ormsby reiterated the Democrats "mandate" and that it's now time for "targeted investments", which is Democrat-speak for tax increases. Never mind that Washington seems to be the only state in the entire United States which hasn't given a tax break to its residents, despite record tax revenues (and federal government bailouts) over the last few years. That detail is lost on the power-crazy Democrats.
Despite record inflation, record gas prices, record food prices and out-of-control utility bills, Democrats still don't want to give Washington residents tax relief. The Democrats claim they have given targeted tax relief to small businesses, but that is not apparent to any small business owner, as taxes and government fees over the last few years have skyrocketed with many seeing double- and triple-digit tax increases.
The Democrats' top priority, apparently, is the lack of "workforce" to fix the issues Washington Democrats have inflicted on the state. For instance, on one hand, Democrats cut police funding, then on the other hand, they want more tax dollars to hire social workers to help drug-infested cities plagued by increased crime.
Then, when the questions got too tough, someone pulled a fire alarm. Seriously, during the first in-person press conference with legislative leaders in two years, an alarm went off and Democrats went scurrying. Really, the politicians had to evacuate the building over a false alarm. Never let an emergency go to waste, evidently.
This comedic episode was wrapped up in a different location with Democrat Governor Jay Inslee addressing the press and having to beg for applause (the only unsolicited applause he got was from his wife). Again, this actually happened.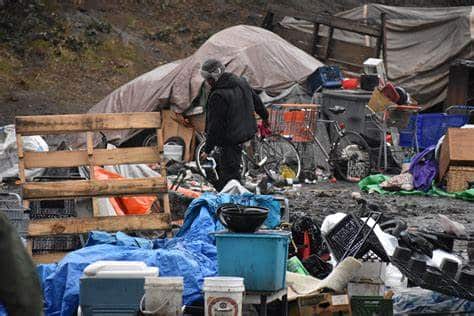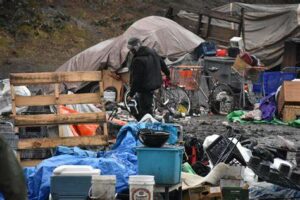 Inslee believes the Democrats have had great success dealing with Washington's homelessness problem. Despite the state spending $30-50 million dollars a year (according to Inslee), it's obvious homelessness is rampant and out of control. The response to his abject policy failure on homelessness? Inslee wants to double down and spend even more money perpetuating the same failed policies. Despite record state tax revenues, the Democrats have spent all that money, so Inslee wants to raise new taxes to pay for the new homelessness initiative, saddling the state with hundreds of millions of dollars in future interest payments because budgeting is not a Democrat priority.
But don't take our word for it. Let's recap Inslee's back-of-the-napkin reasoning for tax increases.
We need more housing – We have a lack of housing because Democrats have created an impossible to navigate permitting and zoning web of regulations to build anything bigger than a garden shed.
Increase access to behavioral health – A crisis created by Democrats by defunding law enforcement and increasing accessibility to drugs.
Need for more vocational training – But first, Inslee wants free government housing before you are allowed to learn what the government wants you to learn.
Changes zoning laws to free up land – which is such a good idea that Democrats have opposed Republicans' efforts to do that for years. An unusual logical slip from the usual Democrat dogma.
The whole dog and pony show demonstrated how the Democrats want to see the legislative session progress.
At the polls next year, perhaps the voters need to knock the Democrats down a peg or two. Maybe then they will start to listen to the real problems Washington residents face instead of their own arrogant assumptions.