The Washington Education Association (WEA) endorsed Jay Inslee over the weekend. The endorsement was not a surprise, especially considering all that Inslee has done to pander to the union's interests (even at the expense of working families and underprivileged children).
Here's the announcement via Facebook: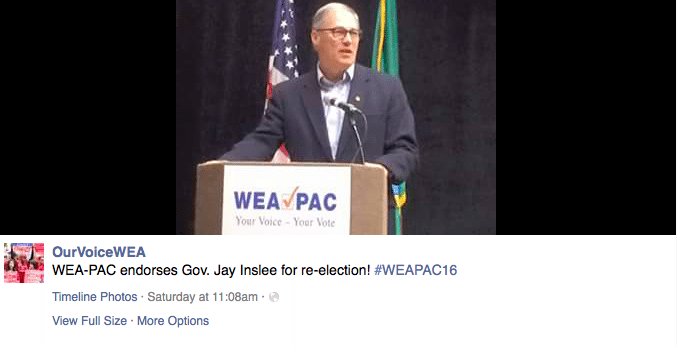 Like many Democrats in our state, Inslee has a close relationship with the WEA, which invested one million dollars to elect Inslee in the last campaign. Time and time again, Inslee has prioritized the teachers union's desires over the welfare of children in the classroom. So, in light of the recent endorsement, here are three [recent] ways that Inslee pandered to the WEA at the expense of Washingtonians.
When Inslee refused to take a public stance on a bill to save voter-approved public charter schools during this legislative session. That followed his refusal to call a special legislative session last fall to quickly address the state Supreme Court's misguided ruling striking down charter schools as unconstitutional.
When, at the start of the school year, Inslee refused to call the WEA's strikes "illegal." Instead, he stayed silent and allowed the strikes to drag on, leaving children at home and working families struggling to find childcare alternatives.
When Inslee supported House Democrats' supplemental budget calling for a whopping $487 million in cuts to K-12 class size funding, an act that benefits the WEA. The plan exposed Inslee and his fellow Democrats' stunning hypocrisy on education.
As he has proved, for Inslee, it's not about putting education first. It's about putting the WEA's special interest agenda – and the campaign cash that comes from supporting the union bosses – first.