Sound Transit is asking taxpayers for quite a lot via its latest tax-raising scam, Sound Transit 3 (ST3). The latest scam would take 25 years to complete (that's on the highly unlikely chance that it's completed on time), cost working families $50 billion (that's on the highly unlikely chance that it's completed on budget), and includes taxes that never end (that's the added insult to everything officials are asking of working families).
Specifically, ST3 would increase the sales tax rate to 10% in much of the greater Seattle area and 10.1% in Seattle, add a property tax increase of 25 cents per $1,000 valuation, increase our car tab taxes, and (adding insult to increase) the fact that these taxes will never end.
Often when percentages of tax increases are thrown around, it's hard to determine what that would actually mean for the average household. So, here's the breakdown of how much the average household could expect their living costs to rise should voters approve ST3 (calculations are estimates courtesy of an ongoing report conducted by former Washington State Department of Transportation Director Doug MacDonald):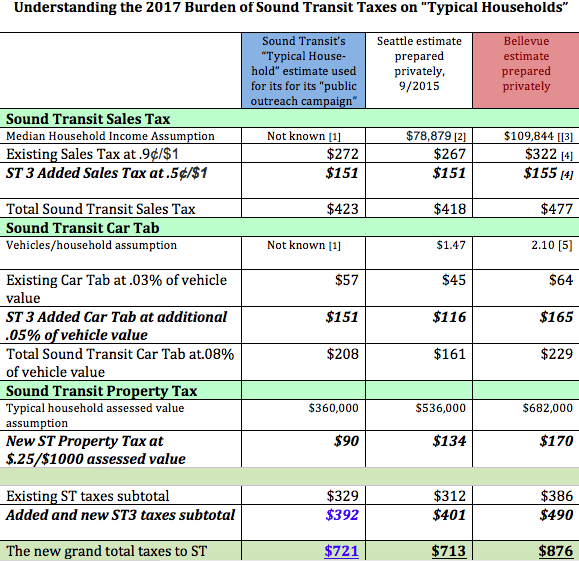 By MacDonald's estimates, ST3 would add $401 to what the "typical household" in Seattle pays in taxes to Sound Transit alone, bringing the new grand total to $713 per year. That's a whopping 128.5% increase. The average household in Bellevue would see a 126.9% increase.
The $50,896,026,000 Sound Transit says it needs to complete ST3 projects by 2041 would, for the most part, come from tax revenue. New taxes amounting to $27,603,561,000 would comprise about 54% percent of the needed revenue.
MacDonald estimates that fares would only bring in $752,750,000, making it a mere 1.48% of the revenue. Still more troubling is the reality that, in the past, Sound Transit has failed to meet fare revenue projections.
Sound Transit plans to spend the bulk of hard-earned taxpayer dollars on light rail. With total capital costs at $40,291,545,000, light rail is projected to cost $34,308,764,000 (or about 85% of total capital costs). Comparatively, the cost projection of Bus Rapid Transit rings in at $1,766,838,000 (or about 4.4% of total capital costs). And, Regional Express Bus is project to cost $299,986,000 (or mere .74% of total capital costs).
You can check out MacDonald's chart below: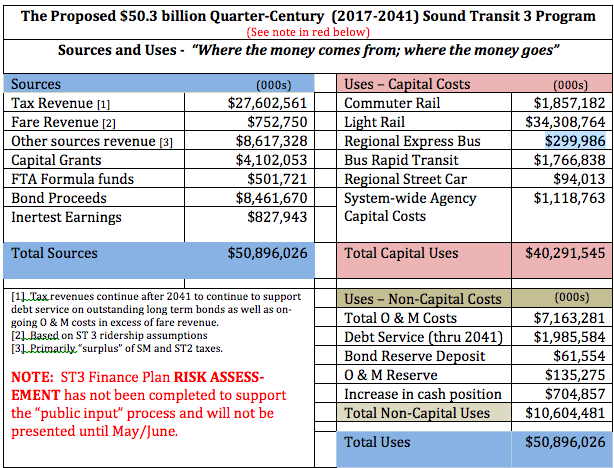 Given the added tax burden and cost projections, it's relevant to remember the some advice given by Ryan Snyder, Principal at The Transpo Group, and an adviser to the U.S. Department of Transportation on innovations in transportation technology. Snyder recently said during a presentation to City of Bellevue Transportation Department Staff and City of Bellevue Transportation Commission Members:
"It is my judgment that governments would do well to hold off on building any more light rail systems presently because of the coming world of demand primarily for highly flexible trips, increasingly primarily short trips, along with the advent of shared riding fleets, and ultimately self-driving vehicles.  These innovations are already causing a decline in the use of fixed rail and fixed route transit services."
If voters approve ST3, working families will have to spend billions and wait 25-years (probably even longer than that) to see any type of return for their money. There are important questions that must be considered: Is the money worth it? And, will the product be worth it after 25-years? Or, are there other, wiser tactics to decrease traffic congestion?